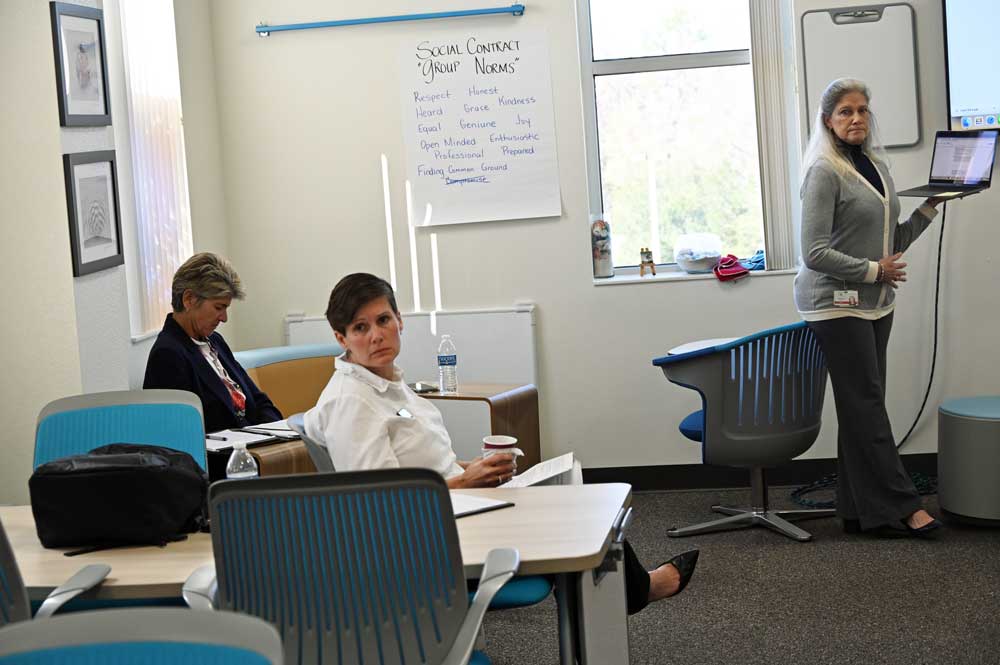 Sally Hunt claimed this evening in her own words that she had resigned her Flagler County School Board seat, four months after her election. It was not necessarily true.
Hunt made the claim in a phone message to FlaglerLive at 5:05 p.m., prompted by an extensive public record request FlaglerLive had filed earlier in the day. She then refused to confirm it.
She did not answer repeated phone calls or texts about it until just over three hours later, when she texted, "busy night. I have not formally resigned." Asked about the phone message, she texted: "There was miscommunication."
There was no miscommunication.
Pressed to speak, to avoid further miscommunication, she wrote: "I have no comment at this time."
Around the same time, a Democratic Party member texted FlaglerLive: "She's gonna talk to a 'couple of people' before she makes a final decision." Hunt, in another odd development during the evening, told others that she had sent her resignation to the governor by "snail mail," only to then pull the letter from the mailbox.
Hunt's claim, and her refusal to confirm it subsequently even as she spoke with members of the Democratic Club or community members about it this afternoon and evening, signaled a bizarre turn of events for a board member in office just four months. She has appeared increasingly conflicted by the glare she's been attracting recently, glare only likely to intensify after the conduct she exhibited this evening.




Hunt has been driving the momentum possibly not to renew Superintendent Cathy Mittlestadt's contract, causing blowback from her Democratic Party supporters. Some of those Democrats turned up at the last school board meeting earlier this week to voice their support for Mittlestadt, in veiled criticism of Hunt's approach. Hunt drew one supporter: Jill Woolbright, who spoke approvingly of Hunt, whom she'd likened to a criminal during the campaign.
"She's received lots of criticism from her party in terms of aligning with Christy Chong and Will Furry, and that that pressure has caused her to question whether or not she wants to continue to be a board member," Courtney VandeBunte said, referring to two right-wing members elected with Hunt. VandeBunte ran with fellow-Democrat Hunt for a different school board seat last year. "People who have supported her regret supporting her."
Vandebunte added: "I heard that resignation was a possibility, but it wasn't confirmed." (Within the party VandeBunte was lending her support to keep Hunt from resigning: "I feel very strongly about Sally completing her four-year term. Flagler desperately needs her leadership, and I would hate to see her resign," she said.)
But there was no question that Hunt had said herself that she had resigned.




FlaglerLive's editor was covering the swearing-in of two new city commissioners in Flagler Beach when Hunt called the news service's desk line in person from her cell phone late this afternoon. She insisted she did not want to leave a voice mail (which suggested even then that her call may have been tactical). Speaking to FlaglerLive's advertising director, Hunt said she had sent a letter to Gov. Ron DeSantis resigning her seat. She said she had done so before a public record request was sent by FlaglerLive for her emails and other documents, perhaps to imply that she may not have to comply with it (she does).
The public record request was sent at 3:15 p.m. to the school board's attorney, who handles all such requests and cc'd to Hunt, since it is a request for all her school business related email since Feb. 1, along with other documents about her visits to Rymfire Elementary and the frequency of her meetings with the superintendent.
Hunt was said by a Democratic Party member that she had been distressed by other public record requests filed earlier this week, tracing her contacts with Wadsworth Elementary Principal Paul Peacock, who is pursuing a grievance against Mittlestadt's administration and nursing wounds from his demotion last summer. Hunt has been speaking with Peacock and other members of the community about replacing Mittlestadt with Dusty Sims, the former, well-liked principal at Flagler Palm Coast High School who was close with Peacock. Sims is working at the Department of Education.
When an elected board member resigns from a local government board, it is customary for that board member to send an email to the chief executive of the agency or to the board chair, not to the governor. Neither School Board Chair Cheryl Massaro ("I have nothing") nor Superintendent Cathy Mittlestadt received communications to that effect from Hunt.




The fact that Hunt had not shared any such communication with either raises questions about her motives, if not her sincerity. But she was not answering questions Thursday evening–the very questions she had raised.
When told of the alleged resignation, Massaro said that if that were true, "to be honest with you, I think that she did not know what she was getting herself into, and I think it was difficult for her to manage her life and the businesses she has and the business of the school board. I don't think she was quite prepared for all this. It surprises me it happened so quickly, but it is what it is."
If Hunt were to resign, the governor would appoint her replacement, an appointment that could take weeks or months, but that may not be a mystery: DeSantis had endorsed Woolbright in that race. "He backed Jill the whole way, so Jill Woolbright might be back," Massaro said.
Reader Interactions