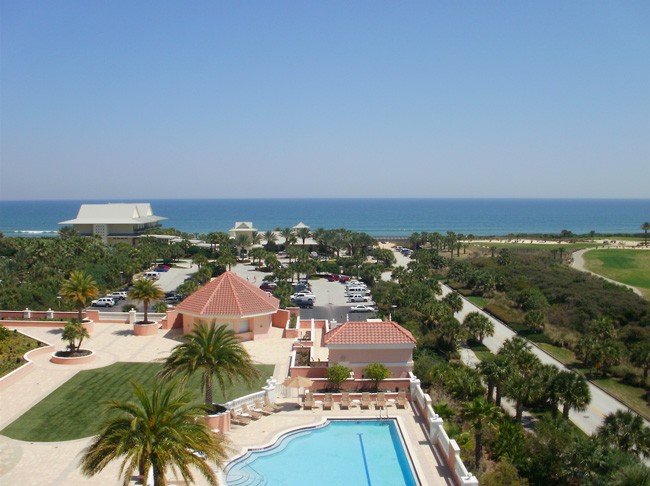 By Tim Hale
The prosperity of Hammock Beach and the prosperity of Flagler County are intertwined. That's what makes Salamander Hotels' proposal to build a 198-room hotel in place of an existing lodge at Hammock Beach key to the long-term economic health of the county.
Hammock Beach is the third largest private employer in Flagler county, with some 450 employees. The Hammock Dunes development (which includes Hammock Beach, Hammock Dunes and Island Estates) contributes almost 14 percent of the total taxable value for the county, according to Property Appraiser Jay Gardner. The tax revenue helps fund our schools, emergency services, and so on.
Unfortunately both Hammock Beach and Hammock Dunes are suffering from a national trend of declining golf club memberships and rising operating costs. Hammock Dunes recently responded by raising dues and initiation fees. Hammock Dunes would benefit from an influx of new visitors to Flagler who may be interested in private golf club memberships.
Hammock Beach has two revenue sources: members and resort guests. Unfortunately both are under intense pressure. Memberships have declined by 45 percent since peaking in the previous decade, and continue a slow decline.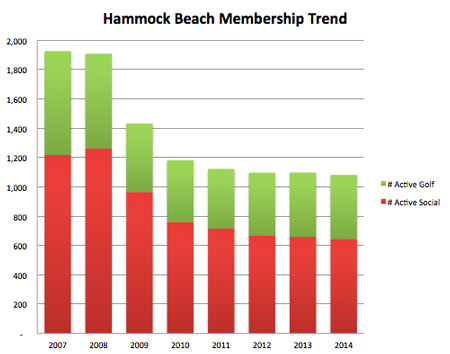 Hammock Beach Resort guest (and condo owner rental income) average daily room rates are also in decline.   This is very concerning since competing regional resort properties are seeing a rebound in their average daily room rates.  Amelia Island Plantation went through bankruptcy in 2009 and was redeveloped in 2010-2011 with premium hotels, a similar model to what Salamander proposes.
Hammock Beach is falling behind competing properties in the region.
These negative trends at Hammock Beach impact the broader Flagler county economy:
If we lose the current jobs at Hammock Beach, Flagler's unemployment rate would likely rise to 8.8 percent and we would have the highest unemployment rate in Florida.
We need to do something to reverse the economic trends at Hammock Beach.
Salamander's Hammock Beach Lodge redevelopment project proposes to invest $72 million to implement the same proven business model that is working at other Salamander properties as well as Amelia Island and Kiawah Island today. Salamander is not requesting any financial incentives from the county or the state. A $72 million investment dwarfs the other economic development activities in our county in recent years and would generate significant tax revenue and jobs for our county.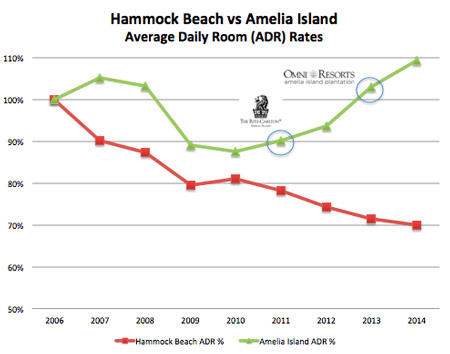 It will protect the current 450 jobs at Hammock Beach, create 150 new jobs and an additional 300 construction jobs.  These are direct jobs from the project,  plus another 23 percent in supporting jobs for a total job impact of well over 1,000 jobs.  That represents nearly 3 percent of all employment in Flagler County. The approval and implementation of Salamander's Lodge redevelopment project could dramatically reduce Flagler's unemployment rate, possibly into the 5 percent range from 7.6 percent today.
Salamander's Lodge redevelopment proposal is contained to existing developed land and does not have any negative environmental impact.  The buildings themselves are shorter and narrower than the existing Lodge building and are 15 feet further from the dune.
Because of these reasons (strong economic impact, no environmental impact and reasonable building size with minimal view impacts), there is overwhelming community support for this project by Hammock Beach property owners, as indicated by a Salamander straw poll that found 86 percent of owners in favor.
There are people who oppose the project but many have based their opinion on inaccurate information.  They have been told about "mega hotels on the golf course," which is simply untrue.  They have also heard about destruction of trees and the old growth canopy in the Hammock.  That is also untrue.  It is unfortunate that some people have misrepresented the scale and impact of this project in an effort to rally support from uninformed citizens.
---
A $72 million investment that dwarfs all other commercial projects in the county.
---
To correct those mis-perceptions, I ask people review the actual photos and plans shown below and make their own assessment of the impact, at the foot of the article. These pictures tell the true story.
Salamander's plan is modest and appropriate for the site.  The proposed land use (golf pro shop, golf cart barn, pro shop, lockers, restaurant, bar, meeting rooms, hotel rooms, member lounge and fitness) is the same land use as today.  The golf course is not touched and continues to be protected from future development.
Some have suggested Salamander build a premium hotel at another location in the county where Lubert-Adler also owns land.  There are two challenges with this solution:
The proposed hotel is small because it is meant to leverage the existing rooms, meeting space and amenities available at the larger Hammock Beach building. To move the hotel somewhere else would require a much larger new facility which could stand on its own.
The other land owned by Lubert-Adler in the county is on the Intracoastal Waterway in the Hammock and near Bulow Creek. These are undeveloped properties that contain many large, old oak canopy trees along the Intracoastal.  Do we really want to recommend Lubert-Adler disturb these lands instead of redeveloping and improve an existing site that has no environmental impact?
Salamander's Lodge redevelopment plan is the most important decision in years impacting the economy and future of Flagler County.  Despite exaggerated claims from opponents, pictures demonstrate it is actually a modest plan that can reinvigorate our local economy and put Flagler on the map as a premier destination, without a negative environmental impact.
Please join me in supporting this project and encouraging our County Commissioners to approve it for the future of Flagler County when the county commission meets to consider Salamander's application Monday evening in Bunnell.

Tim Hale, a Hammock Beach resident, co-owns Palm Coast-based Coastal Cloud. Reach him by email here. He wrote a somewhat different piece for the Observer with his wife Sara Hale, available here. Chris Goodfellow's more skeptical perspective on the project, published earlier this month, is available here.
The site plan proposes the redevelopment of an existing site with no impact outside of the site: