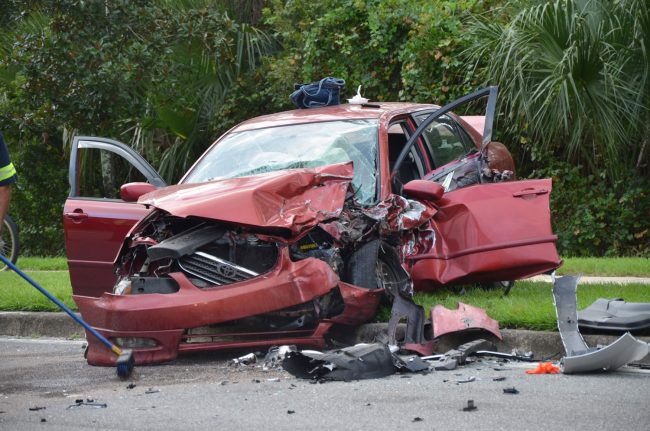 A two-vehicle head-on crash on Royal Palms Parkway in Palm Coast sent two women to the hospital as trauma alerts this morning and shut down Royal Palms from Belle Terre Parkway to Town Center Boulevard.
Royal Palms isn't foreign to vehicle crashes, but they typically happen at the intersections with Town Center or Belle Terre. This morning's crash, at 7:17 a.m., took place between the two intersections, in the long straight-away of the 35 mph collector road that parallels the south end of the P Section.
Both crash victims are Palm Coast residents. There were no other occupants in their vehicles. A woman was driving a white Chevrolet Equinox west on Royal Palms, just after getting off work at Florida Hospital Flagler. The other woman was driving a burgundy Toyota Corolla, going east. Some 470 feet east of the intersection with Point Pleasant Drive, the two vehicles collided.
The Flagler County Sheriff's Office is investigating. The cause of the collision is unclear for now. "We're still piecing that together. None of them were able to talk" at the scene, Sgt. Adam Biss said, referring to the drivers. "It doesn't look like it's a high-speed crash but when you get two cars doing 40 miles per hour, it becomes high-impact."
The Palm Coast Fire Department's Engine 25 and Battalion 20 were first at the scene and got to work on an extrication of the woman entrapped in the Toyota, said Palm Coast Fire Capt. Kyle Berryhill. "We did upgrade this to a severe crash," he said. The victims could have been taken to Halifax hospital in Daytona Beach by helicopter, but weather required ground transportation instead. Flagler County Fire Rescue's Rescue 92 and Rescue 62 transported the patients. The county's Engine 92 also responded from the county airport station.
The road was dry when the crash took place and the sun had just begun to rise (at 7:13 a.m.).
"It certainly wouldn't be a surprise to me if there was some kind of distracted driving but I'm not trained in that kind of analysis at all," Berryhill said.
The Palm Coast Fire Police regulated traffic around the crash, and John's Towing, the Bunnell tower, was called in to remove the two vehicles.