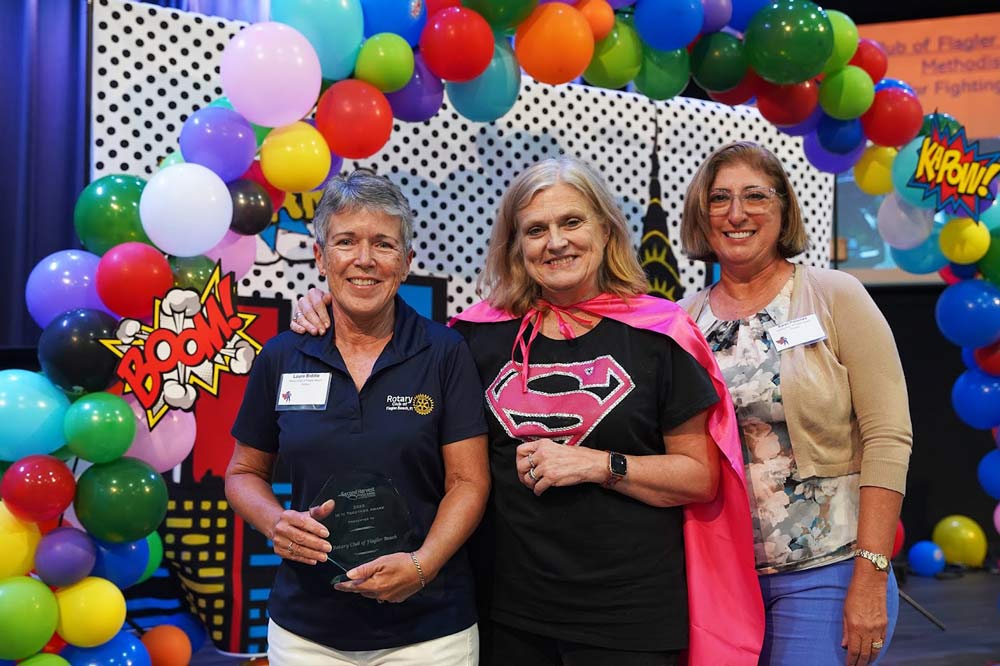 The Rotary Club of Flagler Beach is proud to announce that it has won the Second Harvest Food Bank of Central Florida's "In it Together" Award. Rotary Club of Flagler Beach was awarded the "In it Together" award at the Second Harvest of Central Florida Partner Network Conference that took place on July 17, 2023, in Winter Park, Florida.
The award recognized Rotary Club of Flagler Beach for its dedication, support, and consistent work done at its monthly "Project Share" food distributions in Pierson.




"It was a great honor and pleasure to receive this award on behalf of Rotary Club of Flagler Beach," said Rotarian Laura Biddle, who attended the conference and accepted the award together with Incoming Rotary Club of Flagler Beach President Karen Pastoriza. Biddle and Pastoriza are part of the Project Share leadership team who volunteer each month at the Pierson food distributions.
The conference brought together Second Harvest's partner agencies from Central Florida's seven counties. More than 500 people were in attendance.
"The event was phenomenal, with a fantastic keynote speaker and breakout sessions covering topics related to improving the food distribution process," said Biddle.
Rotary Club of Flagler Beach's monthly "Mobile Food Drops" in Pierson are carried out in partnership with Second Harvest Food Bank, Pierson Methodist Church, and San Jose Catholic Mission Church in Pierson.
The Mobile Food Drop is a unique and effective approach to distributing food in underserved communities. Second Harvest provides a truckload of fresh produce and other nutritious foods which is distributed by volunteers.




The Pierson monthly food distribution currently serves more than 400 families, which is approximately 2000 people each month. It takes about 50 volunteers to carry out the food distribution. Rotary Club of Flagler Beach spearheads the volunteer effort, drawing volunteers from club members, friends of Rotary, and the local Pierson community.
Rotary Club of Flagler Beach's commitment to Pierson began in 1998 with a Christmas toy distribution to 30 families. The Christmas toy distribution continues each December and has now grown to provide toys for over 1000 children in Pierson and in Flagler County every year.
Rotary Club of Flagler Beach added the monthly food distributions to its outreach efforts in Pierson in 2011. In 2017, Rotary Club of Flagler Beach began its partnership with Second Harvest and held its first Mobile Food Drop on the campus of San Jose Mission Church in Pierson.
Rotary Club of Flagler Beach, through its dedication to fighting hunger in Pierson, is actively carrying out Rotary International's commitment to fighting hunger and malnutrition throughout the world.