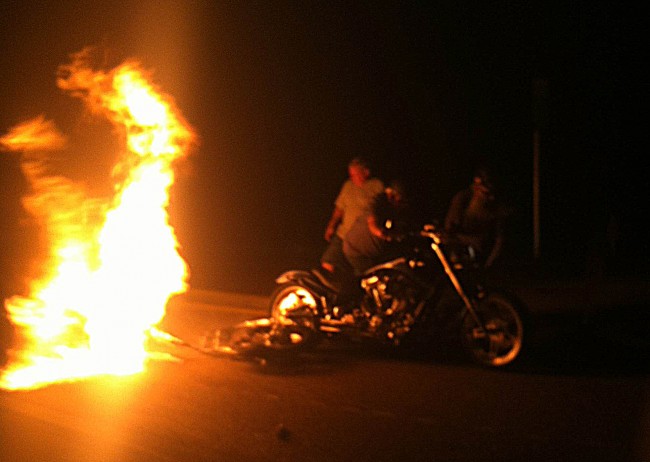 Ronald Salyer, a 55-year-old resident of Middleburg in for Biketoberfest, was killed in a fiery crash on U.S. 1 at County Road 304 late Saturday night when his motorcycle collided head-on with a van that had driven into his lane.
Salyer was riding a 1998 UKC motorcycle south on US1 with his cousin, Randall Hatcher, riding his own motorcycle behind him.
Gary Wyatt, 65, was at the wheel of a Ford van, with two passengers, including 74-year-old Eugene Kovacs of St. Augustine, riding north. It was 9:45 p.m.
US1 is currently under construction between Old Dixie Highway and just south of Bunnell: both southbound lanes are closed to traffic as they are being rebuilt. The northbound lanes have been split to accommodate northbound traffic on one lane, and southbound traffic on the other, with a temporary yellow divider between the two lanes.
According to witnesses, as relayed by a Florida Highway Patrol investigator at the scene, Wyatt was approaching the area of the Mobil station at County Road 304 in his van when he encountered a black sedan, apparently stopped in the northbound lane. Wyatt swerved left to avoid striking it, the investigator said.
Wyatt's van immediately struck Salyer on his bike, who was riding in the opposite direction, and had no time to react.
The motorcycle exploded on impact, splitting it in two, and a fire engulfed the wreck. The van ended up in the median, several feet north of the wreckage, facing north. "This was an immediate crash and involved in fire," the FHP investigator said. The black sedan "took off," the investigator said, immediately after the crash. Charges are pending against Wyatt.
George April, who works for John's Towing, the Bunnell wrecker, was first on scene: April happened to be parked at the gas station because it had been a busy night already. Two wrecks involving motorcycles had just taken place on U.S.1, north and south of the fatal wreck, though both other incidents resulted in minor injuries. April was waiting to respond to the wreck north of CR304 when he heard the collision, then saw the explosion. He rushed over with a fire extinguisher.
"I was sitting there, I heard the crash, I looked, I saw the explosion, I grabbed my fire extinguisher, called 911, and when I got up there I tried knocking down the flames because the body was laying within a couple of feet of the first bike," April said. "I tried to get him out of the way and knock the flames down."
At that point, he said, "we weren't sure whether the guy was all right or not." But once April and others moved him, "we realized he was gone."
Salyer was not wearing a helmet.
Flagler County Fire Rescue and the Bunnell Fire Department responded, as did the Palm Coast Fire Police, which closed all traffic on U.S. 1, northbound ans southbound, from the intersection with Karat Path to the intersection with Belle Terre Boulevard. The road was closed until about 1:30 a.m. John's Towing cleared the wreck.
Salyer's death is the first fatality attributed to this year's Biketoberfest in Flagler County, which began in Volusia Thursday. A grave wreck at U.S. 1 and Matanzas Woods Parkway Friday evening required the evacuation by air of Allen Shepard, who was taken to a trauma unit at Halifax Hospital in Daytona Beach.