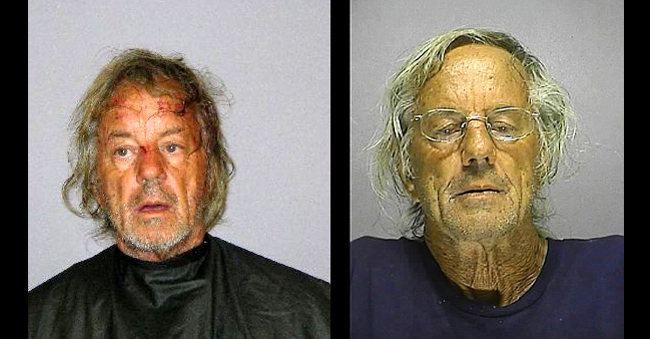 Flagler County Sheriff's deputies apprehended 68-year-old Ronald Pinkerton of Port Orange, who fled from Volusia County deputies early this morning, but not before Pinkerton drove his vehicle into a Flagler County Sheriff's Office's patrol car.
Pinkerton's mug shot from the Flagler County jail shows him lacerated and bloodied.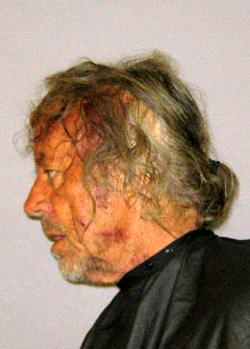 The incident started around 2:05 a.m. in Flagler when the Volusia County Sheriff's deputies reported Pinkerton had fled from them in his 1988 Ford van around 1:45 a.m. It's not clear why he was fleeing, though Volusia deputies reported the man's van was traveling erratically between 40 to 50 miles per hour and had ran a red light. Several motorist had to take action to avoid a collision with Pinkerton.
The Port Orange Police Department was the first law enforcement agency to attempt to stop him. Pinkerton also failed to stop for Holly Hill and Ormond Beach Police Officers as he continued north on U.S. 1.
Volusia deputies followed Pinkerton into Flagler on U.S. 1, where Flagler deputies joined the effort to stop him. Deputies stopped traffic at various intersections with U.S. 1 and deployed stop sticks, but Pinkerton continued to drive the vehicle with two flat tires. Deputies reported the traffic at that hour was minimal and Pinkerton maintained speeds between 40 and 60 miles per hour. One Flagler deputy maneuvered his patrol car in an attempt to stop the van, but Pinkerton used his van to attempt to collide with the patrol car. When he was unsuccessful in that attempt, Pinkerton then drove his van across the right lane of U.S. 1 and intentionally struck another Flagler County Sheriff's patrol car which had been positioned in the median. The deputy was not injured in the collision, but the patrol car had to be towed.
Pinkerton continued driving north on U.S. 1 until he drove off the road near the Department of Transportation's weigh station north of Palm Coast Parkway. The vehicle became stuck in the soft dirt. Deputies attempted to remove Pinkerton from the vehicle, but he resisted. A deputy had to deploy his Taser before they were able to remove him from the vehicle and take him into custody.
"This man was intent on doing harm to a law enforcement officer. He is fortunate that he was not severely injured as a result of his actions," said Flagler County Sheriff Donald W. Fleming.
Pinkerton was being held in the Flagler County jail Thursday on $36,000 bond. Pinkerton is charged with aggravated fleeing and eluding, aggravated assault of a law enforcement officer and aggravated battery of a law enforcement officer after he intentionally rammed his vehicle into the deputy's patrol car. He is facing additional charges from the Volusia County Sheriff's Office of fleeing or attempting to elude a law enforcement officer and reckless driving.
He was arrested in May in Volusia for trespassing.
Pinkerton's was one of two incidents involving a suspect ramming cop cars on Thursday. Justin Dale Nance, 26, of Lakeland, was arrested after ramming three police cruisers in Clearwater. A cop randomly scanning tags got notice that the 2007 Hyundai Nance was driving was reported stolen. Polise set chase, Nance eluded, and eventually hit three cars before being arrested. There were no injuries. Nance had a loaded .22-caliber Beretta pistol in his pocket, throwing it under the car before he was arrested, the St. Petersburg Times reports.