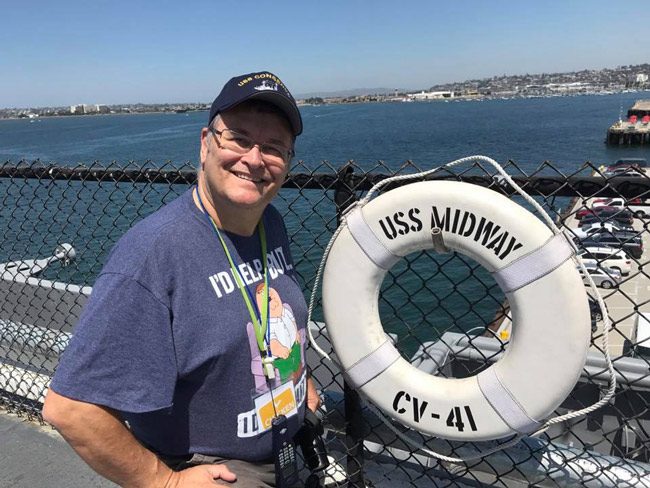 Services for Ron Charles are scheduled for Sunday, Nov. 18, at Craig Flagler Palms Funeral Home, 511 Old Kings Road South, Flagler Beach, with a 1 p.m. reception and a 3 p.m. service. All welcome. The following obituary was provided by Ron's family.

Ronald Charles Gitschier Jr., 56, passed away peacefully November 7, 2018 at Mayo Clinic in Jacksonville, Fla.
He was born on June 13, 1962 in Lowell, Mass., to Patricia Pimentel and Ronald Charles Gitschier Sr. As a young child Ron was known to travel many miles on his bicycle from town to town, distances his mom never knew about. He enjoyed hanging at the city planning department in Lowell at City Hall. An article in the Lowell Sun mentioned him as the youngest map-maker in Lowell at age 9.
Ron enlisted in the Navy in 1981 and shortly after married his wife Sandy on July 9, 1984, in Honolulu, Hawaii. Ron and Sandy were blessed with three children during their marriage: Linda Marie Gitschier, born in 1985, Ronald Charles Everett B. Gitschier, born in 1991, and Donald Albert Seth Gitschier, born in 1993. Ron and his wife in December 2017 were blessed with a grandson, Jasper Jay Mark Kramer, born in Mt. Shasta, Calif.
Ron served our country for 23 years. During his time in the service he served aboard the USS Conserver ARS 39 from 1982 to 1985, based in Pearl Harbor, Hawaii, and the USS Abraham Lincoln CVN 72, in Norfolk, Va., and was part of the commissioning ceremony. He also served aboard the USS Theodore Roosevelt CVN 71, Norfolk, Va., and the USS Doyle FFG 39, Mayport, Fla.
Ron served our country during the Kuwait Liberation Campaign, Operation Desert Storm and the Persian Gulf War. He received the Navy Unit Commendation, Joint Meritorious Unit, the Kuwait Liberation Campaign Medal and two National Defense Medals, Navy Achievement Medal, just to mention a few. Ron was always proud and honored to serve his country. Ron's wife and children were also proud of his service to our country and supported him through his career despite the sacrifices. Ron retired after 23 years of service, EM1, Petty Officer First Class, in December 2004, and settled in Palm Coast, Fla., with his wife and children. He was admired and well regarded by all his shipmates.
After retirement he worked for a brief period for the US Postal service and Home Depot. He made many friends at Home Depot that he enjoys chatting with every time he shopped there. Needless to say, a quick shopping trip never happened.
Ron's deepest passion was radio, and throughout his life, even during his career in the Navy, he remained involved in some way or another. He collected many airchecks and pictures of towers and conversed with many in the radio world. Many family trips included stops at radio station for meet and greets, not to mention listening to the static of AM radio on the car rides and then running to the pay phone to notify the station that he received reception from states away.
As a young man he worked at WLLH in Lowell and WOTW in Nashua, N.H. From 1998 to 1999 he worked at WYHI in Fernandina Beach, Fla. He was known as Rocky W. Shore here in Palm Coast on the Blizzard, 93.3 FM, where he engineered and DJ'd.
Ron always made himself available to help his radio buddies and enjoyed the opportunity to learn more through the years by assisting with side jobs throughout the state of Florida. His knowledge and love of radio provided him a great opportunity in 2007 to become the Chief Engineer and News Director at then-nascent Flagler Broadcasting's WNZF. Everyday he could be heard on the radio: "This is Ron Charles with the local news." He was affectionately known as Capt. Ron by David Ayres, the station's General Manager.
WNZF is Ron's second family. He loved his job and the people he worked with. Ron was recommended as the person to get the station started and was instrumental in building the station from ground up, assisting with the tower installation and setting up the studio. Through the 10 years that Ron has worked for Flagler Broadcasting he's been instrumental in the addition of the Beach 92.7, KIX Country 98.7, KOOL 100.9 and most recently 105.5 BEACH in St. Augustine. He also worked for WNSS 89.3, Houston Christian Broadcasting, as the engineer. During his time at Flagler Broadcasting, Ron worked hard as the engineer to maintain the station even through storms and hurricanes, ensuring that the community received information during these emergencies. As News Director he reported the news with fairness and integrity.
Ron has accomplished much in his short life and is highly regarded, respected and admired by all those who have known him, including friends and family. He will be remembered as a humble, intelligent man with integrity, sincerity, compassion and willingness to help others. He will be dearly missed by his family as well as his friends.
He is survived by his loving wife Sandra Gitschier, daughter Linda Gitschier, son Ronald C. Gitschier, son Donald Gitschier, grandson Jasper Kramer, father Ronald C. Gitschier, Sr, sisters Catherine Gitschier, Carol Croswell, Kelly Hamilton and brothers Kevin Gitschier, Mark Gitschier, Frank Marcott, David Marcott, Darrin Marcott and Michael Gitschier, as well as many cousins, nephews, nieces and friends.
The world has said goodbye to a wonderful husband, father, brother, uncle, friends and shipmates. He will be deeply missed by all.
"Fair winds and following seas." When we miss you the most, we will look deep in our hearts and find you there.