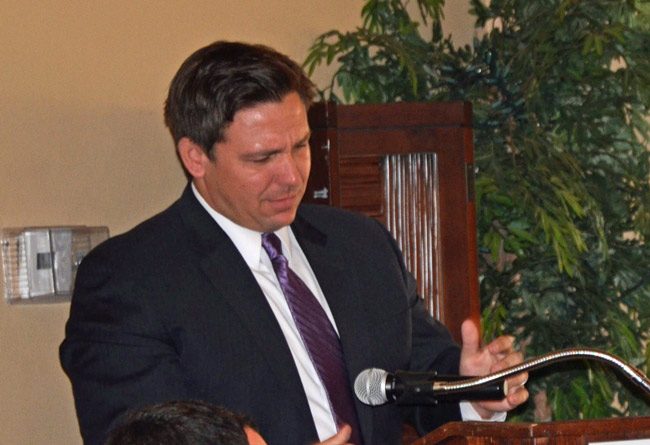 U.S. Rep. Ron DeSantis used frequent appearances on Fox News during the primary-election campaign to deliver his conservative message to voters, helping him secure the Republican nomination for governor.
But on the first day of the general-election campaign, DeSantis on Wednesday became embroiled in a controversy as the result of a Fox News interview, with Democrats charging him with racism.
After accusing his Democratic opponent, Tallahassee Mayor Andrew Gillum, of being "too liberal" for the state and questioning his leadership as mayor, DeSantis said Gillum, an African-American, was "an articulate spokesman for those far-left views" and is a "charismatic candidate."
DeSantis said Gillum's policies, which include support for an increase in the state tax on corporations and an expansion of government health-care programs, would reverse economic gains made under Republican Gov. Rick Scott.
"Let's build off the success we've had under Gov. Scott. The last thing we need to do is to monkey this up by trying to embrace a socialist agenda with huge tax increases, and bankrupting the state," DeSantis told Fox. "That's not going to work."
But DeSantis' use of the word "monkey" in relation to the first African-American candidate ever nominated by a major party for governor in Florida drew a firestorm of criticism from Democrats.
"That was more than a dog whistle. That was absolutely a racist, disgusting statement," U.S. Rep. Lois Frankel, D-Fla., said in a phone conference with reporters. "I don't think there's any other way to interpret it."
But DeSantis' campaign said Democrats were mischaracterizing his comments.
"Ron DeSantis was obviously talking about Florida not making the wrong decision to embrace the socialist policies that Andrew Gillum espouses. To characterize it as anything else is absurd," said Stephen Lawson, a spokesman for the campaign.
"Florida's economy has been on the move for the last eight years and the last thing we need is a far-left Democrat trying to stop our success," he said.
A Fox News anchor said the network did not "condone this language," while pointing viewers to the clarifying statement from the DeSantis campaign.
But the controversy is a sign that race may be in issue in the campaign for governor in the nation's third-largest state, which like the rest of the country is becoming more demographically diverse. It is also a sign of what is likely to be a hard-fought, negative campaign between the two candidates.
In an interview Wednesday morning with CNN, Gillum accused DeSantis and President Donald Trump, whose support was a critical factor in DeSantis' success, of "both scraping from the bottom of the barrel."
"I actually believe that Florida and its rich diversity are going to be looking for a governor who's going to bring us together, not misogynist, not racist, not bigoted," Gillum said. "They're going to be looking for a governor who's going to appeal to our higher aspirations as a state, who's going to talk about what it means to build a Florida that makes room for all of us and not just some of us."
Both Trump and DeSantis have likened Gillum's policy positions to "socialism."
"I'm trying to make Florida even better. He wants to make Florida a Venezuela," DeSantis said Tuesday night after trouncing Agriculture Commissioner Adam Putnam in the GOP gubernatorial primary.
DeSantis also said Gillum, who has the support of U.S. Sen. Bernie Sanders of Vermont and billionaire George Soros, a major donor to liberal candidates, is out of step with mainstream Florida voters.
"There is a difference in getting some of the Bernie Sanders people to vote for you in a primary and then going to the broader Florida electorate and trying to sell that message," DeSantis said. "I don't think that's going to sell. I don't think that dog will hunt in Florida."
–Lloyd Dunkleberger, news Service of Florida