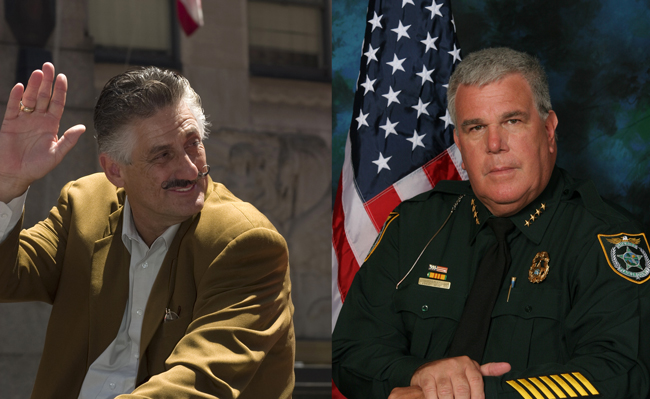 At the risk of overloading this site with yet another Don Fleming story (the Bunnell City Commission, with Elbert Tucker's exception, turned what was supposed to be a workshop with Fleming on law enforcement possibilities in the city into an orchestrated, embarrassing circus of Bunnellian chest-beating last week; Fleming was then an art critic a few days later), here's one more, though Fleming risks being upstaged by Rollie Fingers, Phil Niekro, Ferguson Jenkins, and Jim Palmer–Major League Baseball greats who are all coming to the Hammock Beach Resort in Palm Coast later this month to honor Fleming.
KinderVision, the national nonprofit personal safety and crime prevention program associated with Major League Baseball, provides education to protect children, teens, and young adults from sexual exploitation, abduction, and molestation. The organization announced last week that the 2010 "Greatest Save" Law Enforcement Award for Florida will be presented to Fleming.
The sheriff will be recognized as a guest of honor at "The Greatest Save" Celebrity Banquet on Sunday, Sept. 26, at 7:00 pm, at the Hammock Beach Resort. It's open to the public–if you can afford it: It's $100 a plate for adults. It'll be hosted by Rollie Fingers, who, having been a great game-saver, happens to be the organization's national spokesman. (Rollie Fingers used to be the greatest relief pitcher in history racking up 341 saves in 17 seasons with Oakland, San Diego and Milwaukee (from 1968 to 1985) until the Yankees' Mariano Rivera outsaved him (Rivera has 555 saves and counting.)
Fingers will be joined by the other three baseball players who were in their prime in the 1970s and 80s.
The banquet is part of a three-day event. The Youth Baseball Clinic at the Indian Trails Sports Copmplex, on Sept. 25, from 1 to 4 p.m., is free. The celebrity golf tournament on the 27th is not. You'll have to pay through the nose to make it to that one: $330 per individual, or $900 per team (that is, a threesome). The entry fee includes the golf tournament with one of the baseball celebrities, the cart, and the gratuity. The organization is unclear about whether the $330 fee includes the banquet or not.
"Sheriff Fleming has been a strong supporter of KinderVision's mission from the beginning and hosted our first law enforcement training in Florida," said Douglas Sebastian, founder of KinderVision, in a release. "He has provided our crime prevention resources on the FCSO website and tirelessly assisted in getting our safety information into the community and area schools. We share his vision for making Flagler County the safest place in the country for kids."
Fleming's words, provided for the same release: "We are pleased to partner with KinderVision and Major League Baseball. Their commitment to the safety and security of young people across the nation is to be commended. KinderVision provides educational literature which is not only informative, but is presented in such a manner that children of all ages can relate to and benefit from the knowledge gained to prevent them from becoming a victim of crime. When we all work together toward a common goal, the safety and protection of our children, our communities become safer."
KinderVision, a non-profit, started in 1991 as a result of the kidnapping and murder of seven year old Leticia Hernandez in Southern California. Hernandez was missing for 15 months before her skull was found by a ranch caretaker in Valley Center. She had disappeared on Dec. 16, 1989, while playing in front of her home on Bush Street in Oceanside. Suspicion centered on a man who lived near the Hernandez family. But the case has never been solved.
Developed, according to KinderVision's website, with the assistance of law enforcement and research, including an interview with a convicted child killer, KinderVision's educational material aims to be an ongoing resource for families, schools, law enforcement, and all youth-serving organizations to teach children and youth how to be safe from sexual predators and exploiters.
The "Greatest Save" notion gets its source from the groups idea that the greatest save of a child is the one that never needs to be made.
KinderVision's "The Greatest Save" Weekend with a Saturday youth baseball Clinic, Sunday Celebrity Banquet and Monday Celebrity Pro Am, is done in partnership with Major League Baseball alumni and held annually to raise awareness in the community and money to provide KinderVision safety education resources locally.
To register for the Palm Coast banquet, go to the KinderVision website. For questions, please contact Nancy Sebastian at 765/437-1904 or email [email protected].