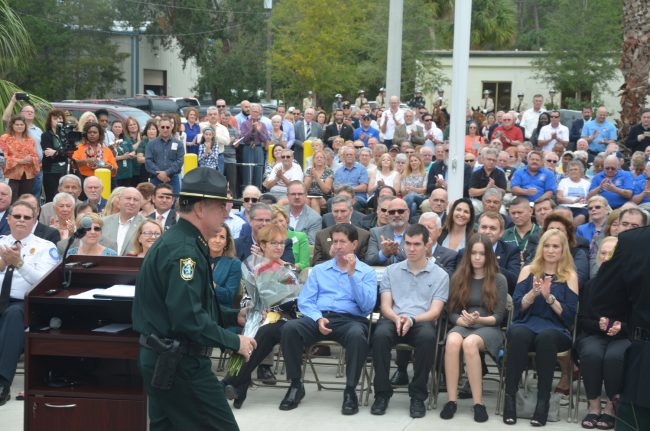 There were several touches of grace, nostalgia, even tenderness during Sheriff Rick Staly's swearing-in this morning in Bunnell: the hug he exchanged with former Sheriff Jim Manfre, the oath of office he recited following the lead of Judge Emerson R. Thompson, Jr., in whose Orange County courtroom Staly would often appear as a young cop in the 1980s, and—in a page out of former sheriff's candidate Mark Whisenant, who last fall interrupted a candidate forum to acknowledge his wife's support with a kiss and a hug—the bunch of red roses Staly presented his wife Debbie before launching into his inaugural speech.
Each detail humanized the 61-year-old sheriff, whose policies tend more toward steel and sternness than rose petals: what greets you as you enter his office is a dark-wood cabinet with three handguns tracing his four-decade evolution as a cop, from his days at the FBI National Academy to his days as undersheriff at the Orange County Sheriff's Office, topped with a rifle he got for Christmas, a Henry Golden Boy, "law enforcement edition," as he describes it. The display tends to overwhelm the small framed image of Abraham Lincoln to the side, with a few words of wisdom from the 16th president.
And those touches aside, there was no question this morning about Staly's message, in words and symbolism: he went as far as changing the orientation of his office, with his desk facing east, from against the west wall, and the décor intended to reflect, in Staly's words, that "there's a new sheriff in town."
He didn't use those words in his speech to a crowd of hundreds, but might as well have: "As your sheriff we will be tough on crime," he said, hewing closely to prepared remarks he'd worked on over Christmas (a copy of the speech was distributed to reporters just before the ceremony). "If you are a drug dealer, gang member, burglar, commit domestic violence, drive impaired, prey on our seniors or are just a dirtbag criminal in general I want you to know the vacancy light is on at the Green Roof Inn." The new county jail happens to have a green roof. "My deputies are coming after you so get out of town now. You will have to go far because all our surrounding sheriffs have agreed to work together to catch you and put you in jail."
---
Audio: Sheriff Rick Staly's Full Speech[media id=413 width=400 height=300]
He spoke as if crime were a rampant problem, but it hasn't been: after spiking from 2002 to 2007, the crime rate countywide, including in cities, has declined seven of the last eight years, and appeared to be declining still in the first six months of 2016, reflecting a statewide trend. But Staly was intent on sending a touch-on-crime message paired with a vigorous defense of law enforcement "at a time of unprecedented unrest in policing across the country."
"As a sheriff I have walked in your shoes as a Florida deputy sheriff," Staly said, addressing the ranks, about 70 of whom stood in uniform and at attention in back of the crowd. "I know the unique requirements, responsibilities, challenges and skills needed to serve in a Florida Sheriff's Office. I promise you that I will never forget my roots." He spoke of the two-tone badge he wears to represent his roots as well as the sacrifices of those felled in the line of duty (Staly was shot in the line of duty). "Every time I wear my badge it will be a constant reminder of my covenant to you and a reminder that I was a Deputy Sheriff first," he said.
"My commitment to you and your family is that I will do my best to always safely bring you home to your family. I have your back," he said, pausing for emphasis between every one of the last four words, which had become something of a mantra during his electoral campaign, and earned him the endorsement of the local cops' union. No local cop has been killed in the line of duty since an assailant ran over sheriff's deputy Chuck Sease in 2003 on an off-ramp on I-95, though a recently-retired deputy, Joseph Delarosby, killed himself in 2014 after struggling through various issues while on the force.
Staly focused on his tough-on-crime message in the early portion of his speech and on having cops' backs in the latter portion. The heart of the speech was devoted to his various initiatives, including what, if successful, may be the most innovative jail-diversion program for offenders: "If you truly want to turn your life around and be productive citizens in our community, we will help you," Staly said, as a reorganized division of the office "will have programs to teach you a trade or assist you in getting the substance abuse or mental help you need. We will work closely with diversion programs, faith-based organizations and our community partners to help you. We would rather you not be a repeat guest at our hotel."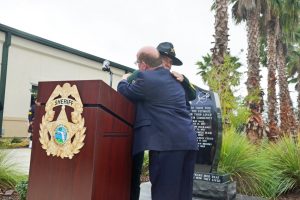 He has also created the agency's first Youth Services Section intended to prevent juvenile crime, and a Domestic Homeland Security Section to help prevent a lone wolf terrorist or active-shooter attack locally. "I would rather have our deputies respond to 100 suspicious incidents than one real attack," Staly said. As inaugural speeches are, Staly's drew outlines rather than delved into details, with the next few years to fill in the canvass.
The occasion for the hug with Manfre had been Staly's handing his former boss and rival his credentials as retired sheriff. The county's only other living sheriff was also in the audience, Don Fleming.
"As I told Rick I hope this is a tradition we've established of smooth transitions between incoming and outgoing sheriffs," Manfre said. "It provides stability, especially in these troubled times, keeps people's confidence that law enforcement is working together. That's what my symbol was of being here today—the cooperative passing of the mantle of leadership."
Fleming, who served two terms between 2005 and 2012, echoed the sentiment. "The tradition goes on and on and on," he said. "Rick has stepped into a seat, I told him I'm a phone call away if he needs anything, any help. I'm very proud of this agency as you know, and I'd like to see this agency progress in a more, how do you say it, traditional way."
The musical bookends of the ceremony were Lauren Staly—the sheriff's daughter—singing the National Anthem and the Coastal Florida Police and Fire Pipes and Drums band performing "Amazing Grace," its own warm-up act for its upcoming inclusion in the inauguration of Donald Trump as president in Washington in two and a half weeks. After Staly's speech, some of the guests indulged in a few refreshments, which included a bright yellow cake embossed with Staly's name, which the sheriff cut with his wife at his side ("it's like our wedding day," he told her) before showing his reconstituted office to three reporters.
There were pictures of Staly with Gov. Rick Scott and with President George W. Bush. It might have appeared as if the office were a no-Democrat zone (Staly is a Republican), but that was not the case. The sheriff pointed to a framed picture of Mel Colman, Orange County sheriff from 1972 to 1980, and the first of four sheriffs Staly worked for. Colman, reputed to have brought the Orange County Sheriff's Office out of its medieval period, died in 2002 of cancer.
"One of the advice that he gave me when I was undersheriff in orange County was that some of his majors used to give him a hard time on personnel decision," Staly said, "they want this person fired or that person fired, heavy-handed discipline. And he said Rick, it may have ultimately cost me my third term, but he said I always knew I was affecting not only that employee but their family, so I took those decisions very seriously, which is really what I would do here. Sometimes employees do things that they cannot recover from, and I get that. But most of the time people don't come to work and say, 'I'm going to screw up today.' People just don't do that. So I think you have to have some compassion and see if you can bring the employee up to the level that you expect. So as long as I'm in this office, Sheriff Colman will be there."