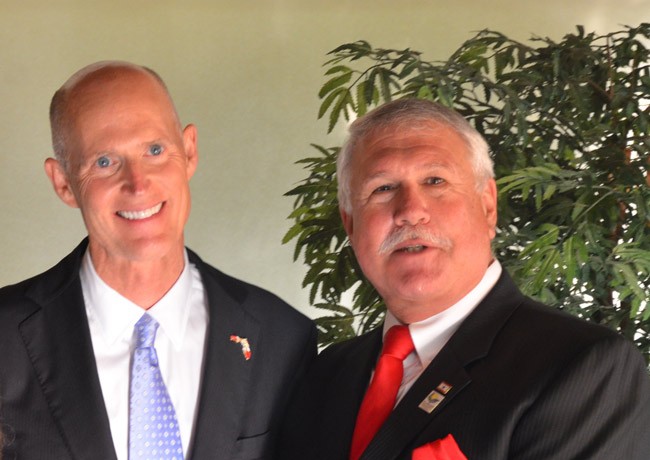 The Flagler County Sheriff's Office originally intended to hold its ribbon-cutting at the new Operations Center in Bunnell this week. Then it changed the date to the morning of Nov. 3.
That seemed odd. It was the same day as Palm Coast's grand opening of its new City Hall in Town Center, though that one is scheduled for late afternoon, just ahead of the inaugural council meeting in the new digs. To cynics, or observers of recent tensions between the city and the county, it looked like the county was trying to one-up the city.
It was nothing of the sort. The date was changed to accommodate Gov. Rick Scott's schedule: Scott has agreed to be at the sheriff's ribbon-cutting and grand opening at 10 a.m. Several county officials confirmed it today, among them Sheriffs Spokesman Jim Troiano: "The governor is coming. he'll be here at 10 o'clock on Tuesday," Troiano said. (Gov. Scott's office on Friday said the governor had to push back his visit to 11 a.m. because of a conflict.)
The county administration has been working on securing Scott "for a little while," Julie Murphy, the county's spokesperson, said. "We'd been waiting to hear back from the governor if he was going to be able to make it we waited, we waited, and we weren't hearing back," she said, so the original ribbon-cutting date was set–for what would have been Oct. 26 at 3 p.m. Two days later, on Oct. 21, the date was changed to Nov. 3.
Members of the governor's detail were at the operations center this afternoon, touring and preparing for the visit.
"There's a lot of places he could go, he's not running for reelection," Meeker said. "He doesn't have to come down see Flagler County. I think it's certainly a nice gesture on his part to remember Flagler County and come down and spend some time with us as well."
It'll be Scott's seventh visit to Flagler County since he became governor five years ago, but his first in his second term. He last visited on Sept. 9, when he conducted a campaign stop at Grace's Deli (which subsequently closed) on Palm Coast Parkway.
The sheriff's office moved into the new operations center earlier this month, in what used to be the old Memorial Hospital, in downtown Bunnell. The public got its first chance to tour the building, before the move, in late September. The Flagler County Commission bought the building for $1.23 million two years ago and had it transformed into a 34,000 square foot facility for the sheriff, whose personnel outgrew the offices on Justice Lane at the west end of town. Those offices have been converted into the female wing of the county jail, with a new jail for men next door opening later this year or early next.
Several local elected officials will be at the ribbon-cutting, with Scott's presence likely to act as a magnet for many more. "Frank Meeker of course will speak, and we will have the mayor of Palm Coast, the mayor of city of Bunnell and Sheriff Manfre, and the governor of course." Jon Netts is the Palm Coast mayor, Catherine Robinson is the Bunnell mayor.
"It's a huge thing for Flagler County, having the governor of the state of Florida coming here and having him dedicate a building," Troiano said, and "to see and listen and hopefully take comments from citizens about what's happening here in Flagler County. He'll have an opportunity first-hand to learn about Flagler County."
Only one previous Scott trip was related to government or broadly public matters: he briefly stopped in during the wildfires of 2011 to speak of the state's support for local firefighters, though he never actually saw the fires except from the air. His other visits have focused on new businesses (such as Flagler's Coastal Cloud), in line with the major theme of Scott's tenure–job-creation. He's also visited the county chamber of commerce and conducted two political trips, one of them to attend a local Republican group's dinner.
Meeker said he would be trying to catch the governor's ear on one matter that has occupied him for the past year, and cost him close to $2,000 to defend–an election commission complaint on a minor matter of campaign-literature wording that led to a $250 fine. "I'm going to ask him if I can get some help on changing the law–that people can file ethics and election complaints without any skin in the game. I'd like to see them pay a fee of like $250, and if it's picked up, then it's paid back. If it's found to be frivolous, they lose their money."