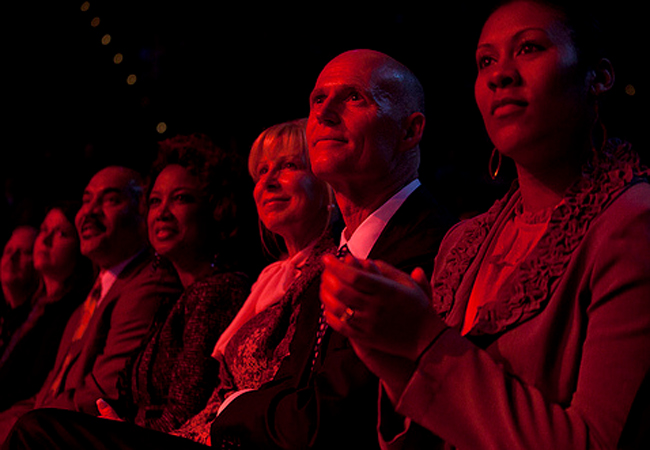 John Kennedy
News Service of Florida
TALLAHASSEE–They've already got Rick Scott coming – but Tea Party activists are now trying to bring the faux ship Dartmouth out of storage to serve as backdrop for the Republican governor's budget rollout next week.
Scott confirmed Tuesday that he'll unveil his budget proposal almost 200 miles away from the state Capitol – at Ferran Park in the Lake County city of Eustis. He'll be joined by what is expected to be several hundred Tea Party activists, the loose-knit collection of conservative activists who formed a core force of Scott backers in last fall's elections.
"Rick Scott is far more the 'people's governor' than Charlie Crist ever was," said Tom Gaitens, a co-founder of the Tampa Tea Party and an organizer of Monday's event. "Charlie was a product of a party. But Rick is much more part of a movement."
Gaitens said Billie Tucker, head of the Jacksonville First Coast Tea Party group, which hosted Scott rallies last fall featuring a model of the Boston Tea Party ship Dartmouth, is expected to haul the stage prop to Eustis for the afternoon event.
Tea Party leaders said they were encouraged by Scott's move – saying it showed the new governor continuing to ally himself with a movement committed to cutting taxes and reducing government spending. They said they welcomed Scott's political statement.
"We've seen in Washington already Republicans saying, 'thanks for your help getting elected, we'll see you in 2012,'" said Henry Kelley, a leader of the Fort Walton Beach Tea Party. "But I am curious about what he says in the budget. By joining him, I guess we look like we're endorsing his proposal. But I think many of us want to see some real reductions."
Scott appears likely to make good on shrinking Florida's $70 billion spending plan, which he has derided as "bloated." (Among the proposals: closing 53 state parks, including Flagler County's Bulow Plantation ruins and Washington Oaks Garden State Park)

If anything, Scott has drawn his stiffest opposition from fellow Republicans in the Legislature, with House Speaker Dean Cannon, R-Winter Park, and Senate President Mike Haridopolos, R-Merritt Island, among those saying they don't think it's possible to close a budget gap of at least $3.6 billion while also providing the $2 billion in tax cuts Scott is expected to recommend.
Scott appears intent on cutting enough from the budget to reduce property taxes and the state's corporate income tax. His proposal unveiled Tuesday to make the 655,000 government workers enrolled in the Florida Retirement System contribute 5 percent of their paychecks to the plan would pull an additional $1.3 billion into the state's cash-strapped budget.
Florida Democrats said Scott's homage to the Tea Party was disturbing – and distracting the new administration from its state goal of bringing 700,000 jobs to the state over the next seven years.
"Rather than focusing on the hard work of governing and working to bring jobs to Florida, Rick Scott continues to show Floridians he is only interested in celebrating his ego with the most extreme part of his political base," said Eric Jotkoff, a Florida Democratic Party spokesman. "Since becoming governor, Rick Scott has proven that he is more interested in being a political celebrity rather than being the serious leader Florida needs during these hard economic times."
Jotkoff's reference is to Scott's early Tuesday appearance on Fox & Friends where he praised a a Florida federal judge's ruling clouding the future of President Obama's healthcare overhaul and also previewed his proposed revamping of the state pension plan.
Scott, though, downplayed the political shadings of presenting his 2011-12 spending plan before Tea party activists.
"I'm trying my best to get around the state. I'm traveling almost every day," Scott said. "I talk to all sorts of groups."