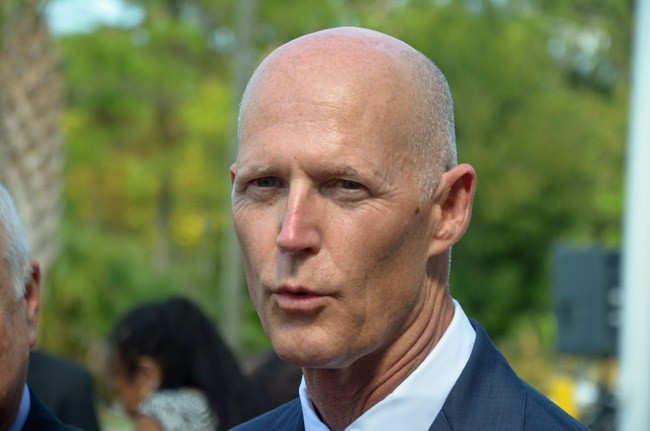 Just five months after lawmakers settled one of the most-contentious budget battles in years, Gov. Rick Scott proposed a spending plan Monday that would slash $1 billion in taxes, boost funding for education and slow the growth of payments to hospitals.
Scott's proposal for the coming budget year, which begins July 1, quickly came under fire for favoring special interests and relying on accounting gimmicks to produce enough money to meet his goals. And it could still be tripped up by one of the issues that ground the budget process to a halt this spring and required a special session in June.
The blueprint Scott proposed would increase state spending to $79.3 billion, up from $78.2 billion in the budget year that ends June 30, even as it cut taxes and slices positions — many of them vacant — from the state workforce.
In brief remarks at a business in Jacksonville where he announced the plan, Scott portrayed the tax cuts, a proposal to overhaul the state's economic-development incentive structure and his other measures as part of a drive to make sure Florida could better withstand the ups and downs of the business cycle.
"We've got to think about, how do we diversify our economy?" Scott said. "How do we make our small business the most prosperous small business in the country?"
In addition to the tax cuts and incentives plans, one of the centerpieces of Scott's budget is an increase in spending for public schools that would set a record for per-student funding. In an attempt to make good on a promise from his 2014 campaign, the governor would set aside $7,221 per student, a total of $20.2 billion. In nominal dollars, that would break the previous record for per-pupil spending, set nine years earlier, by $95.
The head of Florida largest teachers union, though, was unimpressed with a change that doesn't account for nearly a decade of inflation. In inflation-adjusted dollars,  Scott's proposal would still be $1,284 per student below the 2006 level.
"Before we add further tax cuts for businesses, we should be certain that we're taking care of the students of our state. … The state should get it right and make our public schools a top priority," Florida Education Association President Joanne McCall said in a statement issued Monday.
But the governor, who ran for office as a rock-ribbed fiscal conservative, also took fire from his right flank for a plan to use $250 million to create a Florida Enterprise Fund to try to lure businesses to the Sunshine State.
"In these special times of thanksgiving, Governor Rick Scott should be focused on shrinking the size of government and eliminating unnecessary regulation to protect and encourage entrepreneurs to pursue the American dream," said Chris Hudson, state director of Americans for Prosperity-Florida, a conservative advocacy group. "Adding hundreds of millions of dollars in special carve-outs to a few well-connected industries will not be the golden ticket Florida families need to keep moving forward."
The incentives plan has also faced pushback from skeptical members of the Legislature, which will take up Scott's proposals during the annual session that begins in January. While Scott didn't mention those criticisms specifically during his speech in Jacksonville, he argued that the funding was needed to make the state a leader in job-creation.
"We're competing. These are all competitive projects. … If we don't have the money to invest, we're not going to win," Scott said.
Scott's proposal would also make reductions in health-care spending and the size of the state's workforce. The governor proposes reducing funding for hospitals by $284.9 million below what they otherwise would receive by eliminating an automatic increase in Medicaid hospital rates and cuttingother payments.
That would come at the same time that the federal government is reducing payments for a hospital funding program, known as the Low Income Pool, that was at the center of this spring's budget meltdown. Scott said the remaining money from the federal government should be focused on the neediest hospitals, and he said the industry was enjoying record profits in Florida.
"Our hospitals are doing extremely well," he told reporters. "We've got to make sure as taxpayers we spend our dollars well."
The number of positions in state government would fall by 864. Scott would remove 1,368 jobs from the rolls, though the administration says the vast majority of those will be vacant by the time the budget takes effect, while adding 504 positions. The Department of Health would see the greatest share of the cuts, while the Department of Corrections would see an increase as it deals with repeated allegations of inmate mistreatment.
There were also questions about whether Scott's projected budget surplus, which he used to bankroll many of his programs, would stand up to scrutiny. Scott's office has argued that the surplus for the coming budget year is $1.6 billion — far above what is projected by the state's long-range financial outlook. The governor would instead decline to fund some of the items that are taken into account by the outlook's projection.
But legislative leaders did not sound keen on that plan Monday.
"The long range plan is typically a starting point for the House as we begin developing a budget," Michael Williams, a spokesman for House Speaker Steve Crisafulli, R-Merritt Island, said in an email. "However, each chamber will independently develop their own plan and neither chamber is constrained by many of the issues in the long range financial outlook."
Katie Betta, a spokeswoman for Senate President Andy Gardiner, brushed off both Scott's figure and the outlook's projection when asked which figure the upper chamber would use.
"The short answer is neither. … In January, we will have another round of estimating conferences, those will be the numbers the senators use to build the budget," she wrote.
–Brandon Larrabee, News Service of Florida