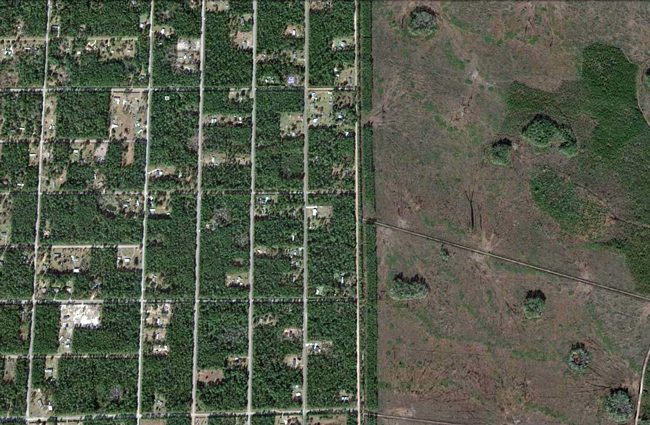 Flagler County Sheriff's deputies and detectives were called to Flagler Estates, the isolated and undeveloped quadrant in northwest Flagler County, Wednesday morning to investigate the death of a man found in the back seat of his car, deep in the woods, off of a dirt road there.
Richard Wyatt Smith, 45, of 12th Street in Elkton, had been reported missing by his wife earlier Wednesday morning. At 11 a.m., St. Johns County Sheriff's deputies spotted Smith's gray Nissan truck in the woods off of Eddie Street, in Flagler County's portion of Flagler Estates. Because the find was in Flagler, the Flagler County Sheriff's Office had jurisdiction for the investigation.
The vehicle had been driven into the woods about 200 feet, as if purposefully to evade detection. Deputies found Smith in the rear passenger seat. He was pronounced dead at 11:21. "There was what appeared to be a major laceration" to his left forearm, suggesting self-harm. There were no other visible injuries and no weapons in the Nissan.
Smith's parents told a deputy that Smith and his wife had been going through a divorce and that Smith, according to a sheriff's incident report, "has recently attempted suicide by overdosing on medication and consuming alcohol." His parents had been at the scene of the find. St. Johns deputies subsequently informed Smith's wife, and detectives and the Crime Scene Investigation unit reported to Flagler Estates, taking over the investigation.
The medical examiner later removed the body for an autopsy in St. Augustine, and John's Towing of Bunnell towed the Nissan.
Flagler Estates straddles Flagler and St. Johns counties, with more lots developed in St. Johns than some 2,000 lots in Flagler. The sparsely populated area is often an improvised recreation area, frequented by people on off-road vehicles. It has also been the scene of grim finds in recent years. Twice in six weeks in 2013, human remains were found in that area–those of Barbara Parchem, a 67-year-old waitress who'd gone missing weeks before, and those of Ed Scott Mullener, the victim of a murder, whose assailants were subsequently indicted and convicted.