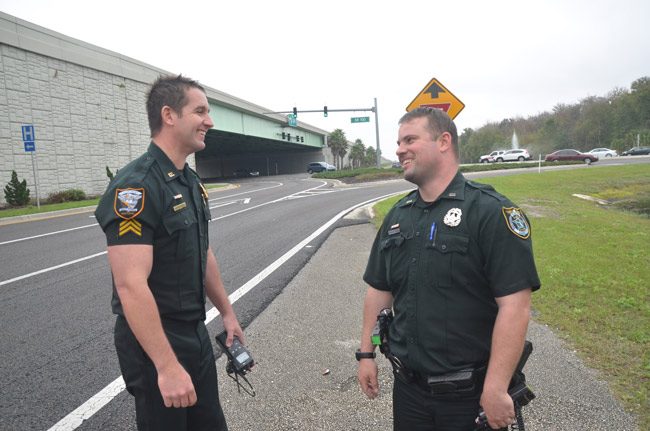 For two acts of selflessness and humanitarianism, Flagler County Sheriff's deputy Richard Petkovsek was named CrimeStoppers' Flagler Law Enforcement Officer of the Year at the non-profit organization's Northeast Florida chapter's 19th annual banquet
Sheriff Rick Staly had nominated Petkovsek, who was with the agency less than two years when he found himself at the scene of a car crash into a pond the frigid morning after New Year's Day in 2016. Petkovsek dove in and played a key part in the rescue of James Austin, 53 at the time, of Ormond Beach. Austin's car was fully submerged, and Austin himself had lost consciousness.
Petkovsek, who was in the water with deputies Jason Neat and Ryan Emery, Lt. Steve Cox and Dusty Snyder of the Flagler Beach Fire Department, and Flagler County Fire Rescue's David Lawrence and Dennis Moore, helped paramedics as they provided CPR to Austin, who was brought back to consciousness, taken to a hospital, and survived.
Neat, Petkovsek and Emery last month were awarded the Meritorious Service Award for their work in the rescue.
Another example of Petkovsek's character was noted three months after that rescue when he paid for a hotel room for a 67-year-old homeless man in Bunnell who was found sleeping on a park bench. "Petkovsek's concern and compassion in this circumstance demonstrates his genuine heart of selflessness and his dedication as a public servant," a release about his award stated.
"Deputy Sheriff Petkovsek exemplifies a life of dedicated service both professionally and personally," Staly wrote in his nomination letter. "Deputy Petkovsek is also a leader on his patrol squad and within the Community Policing Division as he has worked very hard to keep the community safe with 148 arrests, 502 traffic stops and 132 traffic citations in 2016." Staly is himself a Past President of CrimeStoppers and a current Board Trustee. The organization is currently headed by Ann Breidenstein, with Tom Bexley, the Flagler County Clerk of Court, its president-elect.
The Sheriff's Office hired Petkovsek in April 2014 after he'd worked at the Ormond Beach Police Department for six years. He is an active member of the Florida Army National Guard and participates locally in youth athletics. He's married to Yaritza Petkovsek. They have three children.
Undersheriff Jack Bisland and Chief Paul Bovino also attended CrimeStoppers of Northeast Florida's banquet.