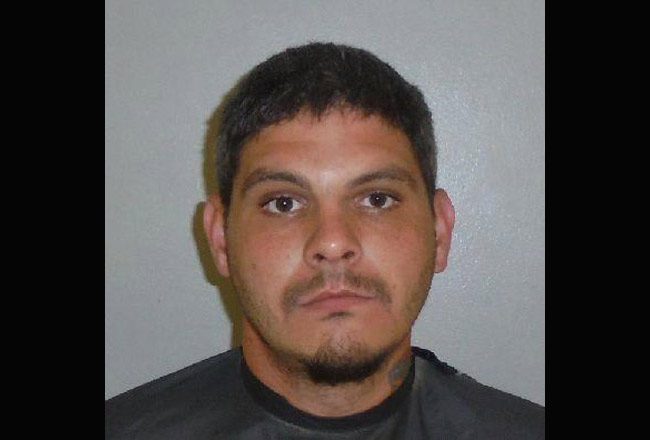 Daniel Reyes, 27, a resident of Palm Coast's Farnsworth Drive, is due in court before County Judge Melissa Moore-Stens Aug. 1 after he was charged with two successive hit-and-run crashes in the heart of Palm Coast on Monday afternoon.
Reyes was driving a gold 1997 Chevrolet Cavalier. According to a Flagler County Sheriff's arrest report, he first rear-ended a Ford SUV at the intersection of Palm Coast Parkway and Clubhouse Drive just before 4 p.m. on June 19. He then "reversed aggressively, cut the wheel and rotated 180 degrees," the report states. "The Chevrolet then accelerated away from that crash scene. The Chevrolet then ran the stop sign of Clubhouse Dr and Palm Coast Parkway SE and struck a silver Volkswagen Jetta. The impact caused the Chevrolet to roll and the Jetta to leave the roadway and strike a tree."
The driver of the Jetta then saw Reyes, who was wearing just gray shorts, get out of the Chevrolet and run into the woods.
None of the other drivers were injured in the crashes.
A sheriff's deputy found Reyes at Palm Coast Parkway and Florida Park Drive, with many abrasions on his body. He was not cooperative, according to the report, "and made the statement that all we cared about was writing tickets for the crash." He was read his Miranda rights and refused to answer questions. He was taken to Florida Hospital Flagler, and due to his injuries, he was given a notice to appear before the judge.
Reyes faces two counts of leaving the scene of an accident with property damage, a second-degree misdemeanor. Last year Reyes was sentenced to six months' probation on a drug paraphernalia charge in a plea deal that dropped a charge of domestic battery against him. A few months later he was cited for operating a motorcycle without license, but that charge was dropped.