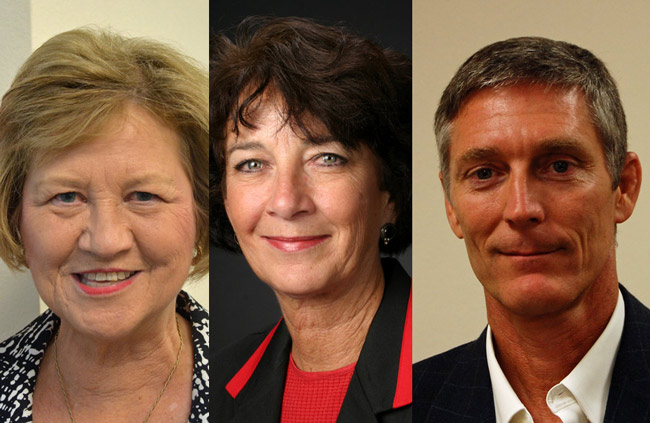 Qualifying for local and state elections ended today at noon in Flagler County, and you could tell from the sight of balloons, the sight chocolate cake and the trail of M&Ms in the county government building who the earliest winners are, because they drew no opposition: Tax Collector Suzanne Johnston, Property Appraiser Jay Gadner, and County Commissioner Barbara Revels.
Revels had a little less time to celebrate. When qualifying ended, she was in Supervisor of Elections Kimberle Weeks's office, ensuring that the school board's ballot language for a sales tax referendum–which the county commission had just approved in an emergency meeting–made it onto the ballot. That emergency meeting, which drew the ire of county and school officials after it was compelled by Weeks, was the first election-year surprise of the day.
The proceedings were interrupted by the second (and only other) surprise of the day: Abby Romaine, the radio co-host on WNZF's Free For All Fridays and the host of her own half-hour talk show, Center Uncensored, joined the race for the District 2 county commission seat Milissa Holland is vacating. Romaine is running as an independent. Two Republicans have qualified for the race: Frank Meeker, the Palm Coast City Council member, and newcomer Dennis McDonald, a member of the local chapter of the Ronald Reagan Republican Assemblies. Romaine rushed into the supervisor's office near the last minute after experiencing a few hiccups at her bank, as she was setting up her campaign account. But she qualified, paying the nearly $2,000 fee required absent petitions.
Also winning re-election, though his qualifying period ended earlier this month, was Jim Purdy, the public defender. All other seats up for elections this year have drawn contenders, some of them by the half dozen or more, including for Flagler County Judge, sheriff and the newly created congressional seat that includes Flagler. That one has drawn 11 contenders.
"I'm certainly very happy about the fact that I'm not having to get out and knock on doors, although I do enjoy meeting people," Revels, 60, said this afternoon. But she did not see running unopposed as a mandate. "Just because somebody did not file to run against mean doesn't mean that the electorate of Flagler County has wholeheartedly reelected me, and I understand that I and I get it, but I thank those who would support me."
Revels first won election in 2008 when she defeated Tom Lawrence, currently the Flagler County Tea Party Group's chairman, with 55 percent of the vote. "I'm only looking forward to this four years and see what life brings at that point," Revels said about her future plans. "I don't ever expect to be a career person like some people who are just born to be in office and serve constantly–I don't picture myself doing that." Revels may, by November, face an entirely different commission, as three other seats are contested.
Johnston, 62, was first elected in 2004. This is the second time she's won re-election by running unopposed, solidifying her status as one of Flagler's most popular elected officials, though not quite surprisingly so: hers is the government office whose employees have by far the most interaction with the public–for driver's licenses, vehicle registrations,the payment of taxes, and so on. That office has maintained a reputation for swift and courteous service, while Johnston herself is often seen roaming the office from both sides of the counter, actively tending to customers when necessary.
"She was smiling and her employees were very happy," Rae Nescio, director of finance and human resources at the tax collector's office, said, describing a jovial mood in the office. Johnston received a chocolate cake and plenty of other goodies. "You should read all the nice things my employees wrote on these cards. I got red white and blue balloons, and congratulations signs hanging up," Johnston said. The branch office in Palm Coast also sent her goodies. As for running unopposed, she had just two words: "Makes life easier."
For Gardner, 52, it's the third election win in a row without an opponent–including his first. "I feel great, I guarantee you that," he said. "It's a relief to be past that. I feel for all the guys that are politicking and struggling with it." He added: "I would say that I take it as a compliment that I didn't have any opposition. I give credit to my staff, obviously, for treating people so well and making them happy with us."
Nescio had been to his office, too, where the mood (and the service) is similar to Johnston's. "He was very happy. His employees are very happy too," Nescio said. "we all work well together. That's very important."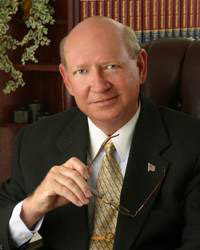 Purdy, the public defender, said in a statement from his Daytona Beach office: "We came to office on the promise that we would increase the quality of representation to our clients while working to improve the justice system in our circuit. I am most grateful for this vote of confidence in the job we are doing as it indicates to me that we are living up to this promise."
Romaine will no longer be co-hosting Free for All Fridays, WNZF General Manager David Ayres said. "The amount of air time she would get by doing that I don't think would be fair to whoever her opponents are," he said.
It's not clear whether she will continue Censor Uncensored. That show is not a WNZF original production; rather, Romaine pays for it as if she were buying advertising (Ayres would not say how much she's paying for the half hour), which, should she decide to keep the show from this point forward, raises issues of campaign spending and disclosure for herself, though not equal time matters for the radio station: the station is not required to match purchased air time with opponents' say, unless opponents buy advertising in turn. Nevertheless, Ayres said Romaine would likely have to include, in her show, a disclaimer that it is paid political advertising.
Romaine–whose show generally focuses on national issues–was briefly reached by phone this afternoon and said she'd return the call later. She had not by the time this story first posted.
"I'm surprised, honestly," Ayres said of her run. "But I think it's exciting and she offers another valid choice for voters, so let the process begin." Ayres over the years has become very familiar with all local politicians and local issues, having seen and heard both through stream through his studios almost daily. Asked about Romaine's qualifications for the county commission, Ayres said: "I have enough confidence in her that she feels she definitely is so I would have to share her confidence that she does have the qualifications."

Flagler County 2012 Elections: Qualified Candidates
Office
(Salary)
Candidate
Party
Sheriff
($120,253.00)
Donald W. Fleming (Incumbent)
Republican
James Manfre
Democrat
Janet O. McDonald
Write-In
John F. Pollinger
Republican
Ray Stevens
Republican
Karl Tozzi
Democrat
Property Appraiser
($111,657)
James E. Gardner, Jr. (Winner, unopposed)
Republican
Clerk of Court
($111,657)
Paulette Dunkel
Write-In
Ken Mazzie
Republican
Gail Wadsworth (Incumbent)
Republican
Tax Collector
($111,657)
Suzanne Johnston (Winner, unopposed)
Republican
Supervisor of Elections
($94,019)
Trey Corbett
Republican
Kimble Medley
Republican
Pam Richardson
Republican
Kimberle B. Weeks (Incumbent)
Democrat
Allen Whetsell
Republican
State Attorney
($150,077)
R.J. Larizza (Incumbent)
Republican
Stasia Warren
Republican
Public Defender
($150,077)
James S. Purdy, Unopposed
Republican
County Court Judge
($134,280)
Don Appignani
Craig Atack
Josh Davis
Mark Dwyer
Sharon Feliciano
Melissa Moore Stens
W. Scott Westbrook
County Commission District One
($48,061)
Daniel Joseph Bozza
Write-In
Charles F. Ericksen, Jr.
Republican
Alan Peterson (Incumbent)
Republican
County Commission District Two
Dennis McDonald
Republican
Frank Meeker
Republican
Abigail Romaine
No Party Affiliation (NPA)
Carole Ruffalo
Write-In
County Commission District Three
Barbara Revels (Winner, unopposed)
Democrat
County Commission District Four
George Hanns (Incumbent)
Democrat
Ross Herbert Whitaker, Jr.
Republican
School Board District 3
($30,405)
Colleen Conklin (Incumbent)
Non-partisan race
Deborah B. Laury
Non-partisan race
School Board District 5
Bill Corkran
Susan C. Dickinson (Incumbent)
East Flagler Mosquito Control District Seat 1

Julius 'Jules' Kwiatkowski (Winner, unopposed)
East Flagler Mosquito Control District Seat 2
Konnie Rae
Barbara Sgroi
East Flagler Mosquito Control District Seat 3
Shawn Byrnes
Edward Caroe
Steve Levy
Aynne McAvoy
Dunes CDD Seat 2
Kevin Kennedy
Jack Leckie
Dunes CDD Seat 3
Sumner S. Bryant, Jr.
Dennis Vohs
Dunes CDD Seat 4
Gary M. Crahan
Elliot Puritz
Grand Haven CDD Seat 2
Raymond G. Smith (Winner, unopposed)
Grand Haven CDD Seat 4
Stephen J. Davidson (Winner, unopposed)
Source: Flagler County Supervisor of Elections and state Division of Elections.