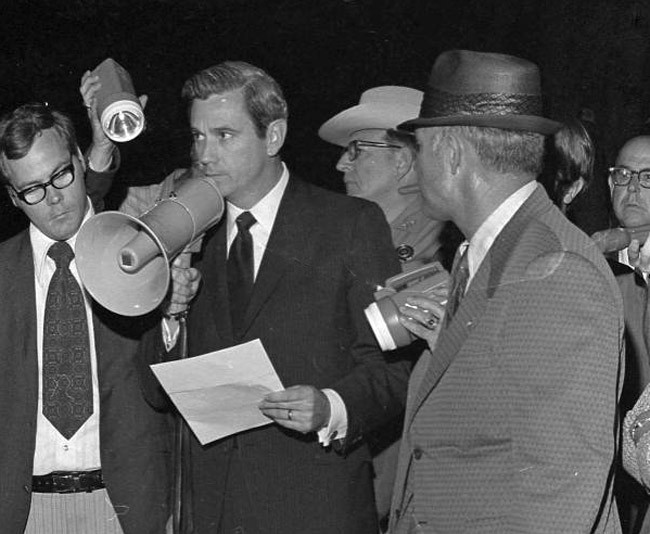 Former Gov. Reubin Askew and civil-rights leaders Sallye B. Mathis and Edward Daniel Davis were inducted Wednesday into the Florida Civil Rights Hall of Fame during a ceremony at the Capitol.
Askew, who died last year, was elected governor in 1970 and served two terms. He was named to the hall of fame in part because of his support for desegregation and his appointments of top black officials, including the first black justice on the Florida Supreme Court.
"We're talking about more than a problem of transportation," Askew said in February 1972, when the nation and Florida were debating busing as a means of desegregation. "We're talking about a problem of justice. Perhaps the time has come for all of us to decide if we're really committed to desegregating our school systems and providing an equal opportunity for all."
When Askew died in March 2014, Al Hadeed, the Flagler County attorney who worked with Askew, said at the time: "Gov. Askew was an incredible leader of this State. He really cared about creating public policy and serving the public interest. I count one of proudest moments of my career representing him and the Florida League of Women Voters in the Florida Supreme Court in striking a misleading ballot proposal that would have weakened the Sunshine Amendment. I worked with him on a range of other issues, the preservation of our state's heritage, protecting our environment, voting reform, and in all these he acted with principle."
Askew's widow, Donna Lou, accepted the honor on the late governor's behalf. "Reubin would be so pleased to be with these two wonderful people, Ms. Mathis and Mr. Davis. What a group to be together. Maybe they are having a little meeting today," she said, drawing laughter. Gov. Rick Scott announced the hall-of-fame selections in March.
Mathis, who died in 1982, was a longtime teacher in the Duval County school system and a civil-rights leader who was elected to the Jacksonville City Council. Davis, who died in 1989, served as president of the Florida State Conference of the NAACP and was an educator who fought for equal pay for black teachers.
–FlaglerLive and the News Service of Florida