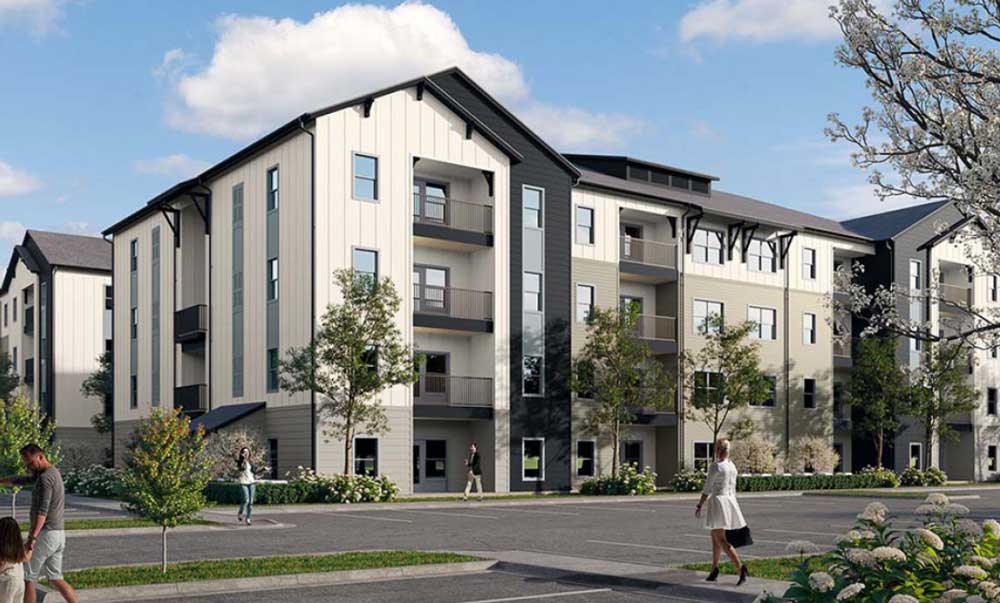 The Flagler County Commission Monday evening unanimously approved rezoning 28 acres just east of what will be the BJ's Wholesale Club shopping center, clearing the way for an eight-building, 240-apartment complex called Republic Palm Coast there.
The apartment complex will not be visible from the road. Rather, eight businesses will line State Road 100 as outparcels. The complex will be built behind the businesses. The combined commercial and apartment development totals 38 acres.




The complex will rise beyond the northwest end of two of the county airport's runways, and east of Aldi, the grocery store. The Flagler County Planning Board had voted 3-1 against recommending the rezoning, citing potential noise and the board's preference for keeping the parcel in its current zoning–general commercial and industrial, rather than high-density residential.
"One thing we're going to face in the future, I think, is that people are really against sprawl these days," County Commissioner Dave Sullivan said. "So at some point, the only way to avoid sprawl is to go up. And this would be an example of that. It's in a commercial area anyway. So putting an apartment house there to me is not that big a deal as long as it's safe."
As is the case with the BJ's acreage, the land is owned by Property Appraiser Jay Gardner, under the corporate name of Flagler Pines. It would be developed by Steve Grigg, president of Republic Properties Corporation, a national developer of apartment complexes, office and retail centers. In Orlando, for example, Republic is developing the 400-unit, $116-million Avida apartment complex on Valencia College Lane, near the college by the same name.
Grigg, who founded the company some 40 years ago, appeared before commissioners this evening to describe a complex that would be integrated with the BJ's development as a community mixing living and shopping, with walking paths connecting the lot.




The eight, three-story buildings would have one, two and three-bedroom apartments–40 percent of them will be one bedroom, half will be two bedrooms, and 10 percent will be three bedrooms. The smaller apartments will rent for $1,600 a month. Two-bedroom apartments will rent for $1,900 a month, and three bedrooms for $2,100. "That's what we think the market rate is right now in Palm Coast," Grigg said. "We don't anticipate it to be a gated community. We don't think Palm Coast needs gated communities, really."
The complex will have a community center, a fitness center and a pool.
When the planning board took up the matter, not a single member o the public addressed the panel (which barely had a quorum, with just four members present). But there are no residential homes next to the planned development, and it is likely those who saw the signs announcing the planning board and county commission meetings, to the extent that the signs could be seen, assumed the announcements were related to the BJ's development. They were, but most people will likely be surprised at the rezoning.
Only one member of the public addressed the commission this evening. "Just about every development that has been happening here in Flagler County has been moon-scaping," James Fisk said. "What jobs or are these apartments going to bring? None. Absolutely none. Oh, excuse me, there will be maids and stuff like that. But what about real jobs? We need commercial businesses. That's what we need, industry. We need real jobs. We don't have it right now." He also cited the airport's noise and the need for an archeological study.




Jay Livingston, the land-use Palm Coast attorney who represents the developer, echoed Sullivan as he advocated for the rezoning. "This is a perfect example of good infill development planning," Livingston said. "It's not an appropriate place for single-family houses, but it is a very appropriate place for multifamily. And there's already other examples in the immediate area as well as elsewhere, where planning decisions have been made, where you're putting multifamily development within commercial areas to create that mixture. It not only provides the opportunity for multifamily housing to develop in a way that doesn't create problems because of residential developments adjacent, but it also reduces trips that allows people to walk and shop. So it has a lot of net positive benefits to place a residential project in an area like this."
A traffic analysis produced by Traffic Planning and Design or the developer shows total morning peak-hour traffic of an additional 112 vehicles, an additional 143 vehicles per hour at peak time in the afternoon, for a total of nearly 2,000 additional daily trips. All that traffic will funnel into and out of already-congested State Road 100.
Livingston attempted to diminish the impact of those numbers by comparing them, accurately but somewhat irrelevantly, to the much larger number of vehicles that would be added to the traffic flow if the land was developed in accordance with its highest commercial potential–as, for example, the BJ parcel immediately adjacent, to the east, is being developed. So in comparison with that nonexistent development, yes, the traffic the apartment complex will bring looks like a "reduction." But in reality, it's a net increase of close to 2,000 vehicle trips a day.




The noise study produced for the developer concluded: "Based on the sound levels measured on the project site for seven consecutive days, and using [Federal Aviation Administration] criteria for land use compatibility, the proposed residential land use on the project […] is compatible with the Airport, and would likely remain so in the future, provided the airport does not expand to include larger/louder commercial airplanes or does not significantly increase the nighttime (10 pm to 7 am) air traffic beyond the current average of two planes per day flown between 10 pm and 7 am."
Livingston also noted a financial boon often overlooked, or misunderstood, by single-family homeowners resistant to apartment complexes: "Residential apartments actually pay more than $2,000 per acre more than the commercial developments," he said.
Commissioner Andy Dance attempted a caveat: "When you compare the tax base," he said, "the multifamily far out uses the services that commercial uses, and the calls to service that the sheriff for instance would be" seeing.
But that's not necessarily born out by the evidence. "So if you compare it to single family in terms of the number of calls in the same number of units, it kind of evens out," Livingston said. "Now residential versus commercial in terms of calls, absolutely." But the assumption that apartments don't carry their tax weight is not accurate, he said. "it's higher, if not the highest tax generator on a per acre basis, so it's at least attempting to carry its own weight," Livingston said.

county-commission-may-15-2023 (1)(1)