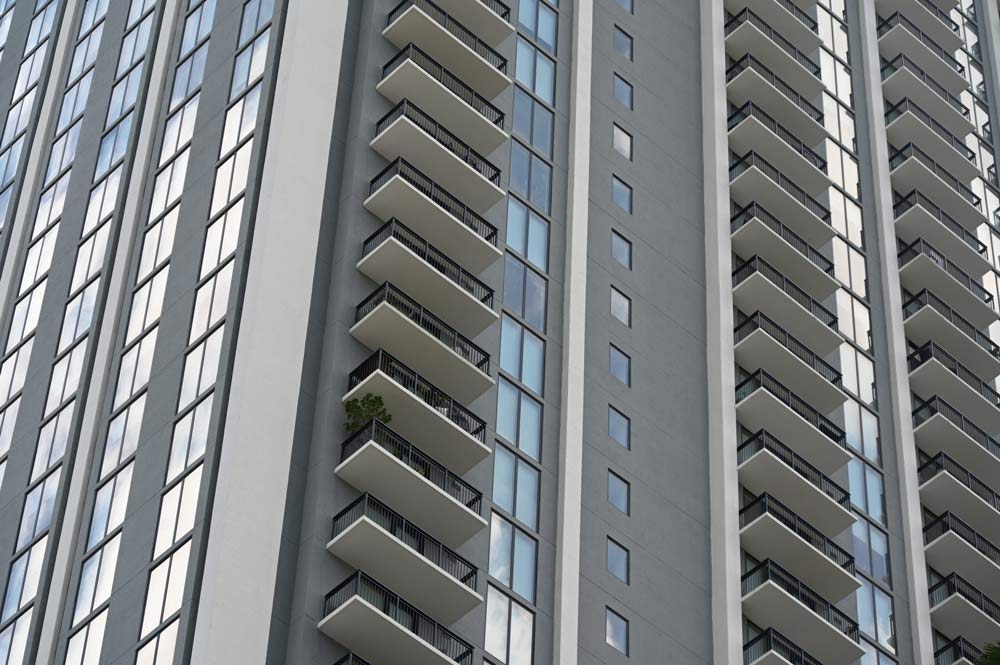 An unprecedented surge in the nationwide construction of new housing — mostly apartments — may finally be making a dent in fast-rising rents that have been making life harder for tenants.
More than 1.65 million housing units were under construction last year, the highest annual number since federal record-keeping started in 1969. This year, the number was even higher — almost 1.7 million in September.




Meanwhile, the typical annual rent increase nationally fell to zero in June for the first time since the pandemic began, after peaking at 17.8% in 2021, according to Apartment List, a rent information aggregator and research firm. In September, rents fell 1.2%.
Vacancy rates are rising, said Alexander Hermann, a research associate at the Joint Center for Housing Studies at Harvard University.
"You've had this huge rush to build apartments in the last couple of years, and projects are bigger and bigger. It's more common now to be building 50 or more units," he said. "You can start to see where new supply is coming online, you see starker and stronger rent decreases."
Federal statistics, which don't track active construction below the regional level, show that construction hasn't been higher in the Northeast since 1987 or in the Midwest since 2005, and it's at all-time highs in both the West and South. A growing share of the country's housing construction is in the South, up from 40% in 2017 to 46% in 2022.
In some places, rents are falling back a little, but they're still plenty high compared with just a few years ago. In Texas, Austin has seen rents drop more than 6% for the fiscal year ending in September to $1,734 for a two-bedroom — but that's still up almost 20% from 2020, according to Apartment List.
Austin's rent decreases are the most in the Sun Belt, according to Apartment List, while its surrounding metro area is issuing more housing permits than any other large metro — "signaling the important role construction plays in managing long-term affordability."
Travis County, which includes Austin, increased its housing units by more than a third between 2012 and 2022, creating 169,700 new units in that time as its population swelled by almost 230,000, according to a Stateline analysis of census estimates.




Among the arrivals to Austin in the past decade is K.N., a single father who asked to be identified only by his initials because he doesn't want his children's schoolmates to hear about his problems. K.N., a tech programmer who moved from San Francisco a decade ago, said his increasingly high rent may force him to move.
The landlord for his two-bedroom townhouse has asked for annual $100 rent increases in recent years, and just asked for another $200, K.N. said, upping his monthly housing costs with utilities to around $2,500.
"It would reduce my disposable income to basically zero, and that's not wise with all the extras kids need in school," K.N. said. "I'd have to pinch pennies to the point that it would cause anxiety. Being housing poor is something I'm trying to avoid."
Despite a good income, K.N. said, he might have to move farther from his children's school, which now is within walking distance. He moved to Texas in the first place partly to save money on rent in hopes of buying a house. But he says he sees apartment construction everywhere in Austin.
His observations match reality: Last year, Austin built 24 million square feet of apartment buildings alongside 8.7 million square feet of single-family housing, according to city records.
It's a similar story nationally, with nearly 1 million apartments under construction as of September. By comparison, there were 914,500 apartments under construction in 2022 and 736,900 in 2021.

The number of single-family homes being built is also high, though the pace has slowed in the past two years. There were about 694,000 homes under construction in September, down from about 736,000 at the end of 2022 and 750,500 at the end of 2021. The last time construction was so high was in 2006, when about 748,000 single-family homes were under construction during the housing bubble before the Great Recession.
The new supply is already having an effect.
Rents dropped in 71 of the nation's 100 largest cities in the year ending in September. That eclipses the most recent large decrease, in June 2020, when 65 cities had year-over-year declines, according to Apartment List. In early 2022, rents were rising year over year in all 100 cities.
Apartment List said in an October report that construction is one reason vacancies are rising, combined with a decline in remote work as more companies call employees back to the office, which has led to fewer renters in "Zoom towns" in states such as Arizona, Idaho and Nevada.
Other areas with big recent drops in rents are also mostly in the South and West, where construction is at all-time highs. The Austin metro area dropped 6%; Portland, Oregon, dropped 5%; and Atlanta, Las Vegas, Orlando, Phoenix, Salt Lake City and San Francisco all dropped by 4% in the past year as of September.




Some of those areas are, like Austin, just beginning to see modest drops in average rents but remain much pricier than just a few years ago. The Miami metro area, for instance, has had the nation's biggest jump in rents since 2020, at 40%. Orlando, Florida, rose 32% over the same time, according to Apartment List.
In the past six months, rents dwindled just 1% in each city.
"Recent gains in housing supply have helped to slow rental prices and housing costs, although I would be cautious about calling rent decreases of 1% very significant," said Randy Deshazo, director of economic development and research at the South Florida Regional Planning Council. Soaring prices are particularly painful in the region, he said, because affordability, in terms of housing costs compared with income, is the worst in the country.
In some parts of the Northeast and Midwest, where the construction boom hasn't been quite as robust, rents have continued to rise in the past six months as of September. Rents were up by 7% in Providence, Rhode Island, for example. During the same period, the increase was 5% in Boston, New York City and Hartford, Connecticut.
Estimates of the nation's housing shortage, which many experts blame for high rents, vary. Fannie Mae last year estimated that there were 4.4 million too few units in large metro areas, and Realtor.com this year pegged the shortage at 2.3 million units. About 1.4 million units were finished in 2022, the most since 2007, and another nearly 947,000 were finished in 2023 through August, according to a U.S. Census Bureau construction survey.
Permits issued from mid-2022 to August 2023 point to likely large increases in housing in Utah, Idaho, Florida, Texas, South Dakota, North Carolina, the District of Columbia, South Carolina, Arizona, Tennessee, Georgia and Colorado.
Those states could all see housing stock grow by about 2% above census estimates for mid-2022, the latest available, according to a Stateline analysis.
Nationwide, the number of permits issued in 2023 is down compared with a peak in late 2021 and early 2022, even as the numbers remain high in some states. That's one reason most analysts expect some kind of slowdown from the recent torrid pace of building, said Hermann, of Harvard's Joint Center for Housing Studies.
South Dakota's building permits have fallen back from a 48% surge in 2020 followed by a 24.8% increase in 2022. This year they dropped 37% in the second quarter.
Even so, South Dakota had one of the highest rates of new building permits between mid-2022 and August 2023 — more than 2% of its existing units, or almost 9,000 new housing units, if they all get built.
The initial pandemic boom was "likely induced by more work-from-home options and increased demand for space and land, of which South Dakota has an abundance," said Aaron Scholl, an assistant economics professor at Northern State University in Aberdeen, South Dakota, who worked on a Dakota Institute report on real estate in September.
The recent decline likely points to stagnation in the state's housing market and eventually its whole economy, Scholl said.
"Building permits are often a leading indicator for not only housing market demand, but the overall economic landscape," Scholl said. "As the housing market cools, I'd expect the economy to do so as well."
–Tim Henderson, Stateline

Stateline is part of States Newsroom, a nonprofit news network supported by grants and a coalition of donors as a 501c(3) public charity. Stateline maintains editorial independence. Read more Stateline coverage of how communities across the country are trying to create more affordable housing.