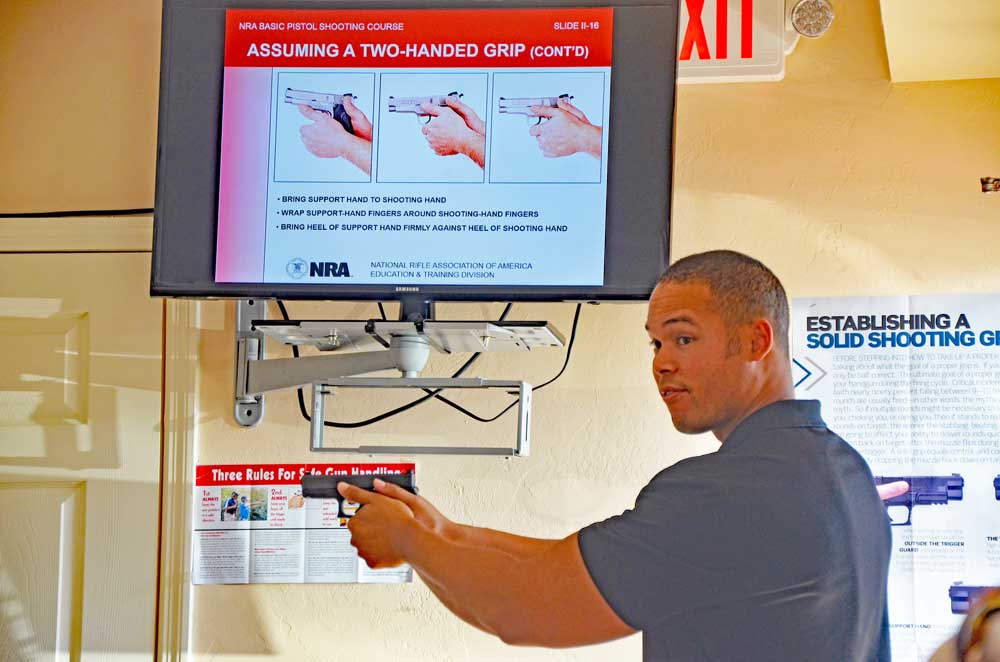 Calling the proposal an effort to "remove the government permission slip," House Speaker Paul Renner on Monday announced legislation that would allow people to carry concealed weapons without licenses or currently-required gun-safety classes.
6Renner, R-Palm Coast, was flanked by Republican lawmakers and county sheriffs who backed the 63-page proposal, which would create what supporters call "constitutional carry."
"Central to the idea of freedom is the right that we can defend ourselves against physical attack, as well as defend those that we love. The Constitution did not give us those rights, the creator gave us those rights. But it does put it down on paper in the Second Amendment. And the courts have interpreted that to mean an individual right to keep and bear arms for self-defense," Renner said.
Under current law, people who want to carry concealed weapons need to apply to the state for a license and go through a process that includes passing criminal background checks. More than 2.8 million people had concealed weapons licenses as of Dec. 31, according to the Florida Department of Agriculture and Consumer Services, which administers the program. In Flagler County, 19,485 people–more than a fifth of the adult population–had concealed carry permits.
Current law also requires that those acquiring a permit complete a gun-safety class. That requirement would be removed.




Kirk Chong, who manages Larry's Guns and Ammo in Bunnell and teaches gun-safety classes several times a mont to new permit holders, says he understands where the permitless-carry initiative is coming from: ""I don't need permission to purchase my gun, and everybody has free will, so if you want to get training, the training is there, if you don't want to get training, that's up to you," Chong says. But he says he'll have to wait and see whether the bill makes it through, though he expects it would have an impact on the number of people who take his classes (15 did so last Saturday).
"I tell people in my class all the time: if you don't know what you're doing, who's the person most likely you're going to shoot? It's you," Chong said. He recommends training of some kind for all new gun owners, even if it means going online to watch videos. And he cautions: even those who think they know the law will end up having to deal with the justice system once they use lethal force in self-defense. "With or without the bill you've got to be confident in your skills," he said. "If you're not confident, then you shouldn't even be getting a gun."
But classes help individuals determine their level of confidence, and with that requirement gone, it would be one less check on potentially lethal overconfidence. In 2021, 20 Floridians died as a result of accidental shootings, according to the Florida Department of Health, and 1,924 died of suicide by gunshot, almost twice the number of those who died in a homicide by gunshot.
Lawmakers will consider the proposal (HB 543) during the legislative session that will start March 7. Under the bill, a person would need to "carry valid identification at all times when he or she is in actual possession of a concealed weapon or concealed firearm and must display such identification upon demand by a law enforcement officer."
Also, current prohibitions on carrying guns at places such as schools and athletic events would continue to apply.




People who are not Florida residents could carry concealed firearms if they are 21 or older, according to the proposal.
Rep. Chuck Brannan, R-Macclenny, and Rep. Bobby Payne, R-Palatka, are sponsoring the House measure. A Senate version, which had not been posted online as of early Monday afternoon, is expected to be sponsored by Sen. Jay Collins, R-Tampa.
A House news release included a statement from Senate President Kathleen Passidomo, R-Naples, supporting the proposal. Also, Gov. Ron DeSantis has expressed support for the idea in the past.
"This bill is a big step to help the average law-abiding citizen to keep from having to go through the hoops of getting a permit from the government to carry their weapons. It is also not going to change who can and cannot carry a gun — people who are prohibited now will still be prohibited," Brannan said.
But Democrats quickly criticized the proposal and pointed to issues such as the elimination of the training requirement that is part of obtaining concealed weapons licenses.
"This is not constitutional carry, this is untrained carry. We have to be very clear and specific as to what the legislation actually does, and that is to remove the training requirement, and you will no longer have the check if you have something disqualifying you in your criminal record," Rep. Christine Hunschofsky, a Democrat who was mayor of Parkland at the time of the 2018 Marjory Stoneman Douglas High School mass shooting, told reporters Monday.
The group Prevent Gun Violence Florida vowed to fight against the legislation and cited "a clear link between lax gun laws and increased gun violence."
"In an era of increased mass shootings and rising gun crime, it is outlandish that our Legislature is being asked to loosen gun restrictions rather than strengthen them," the group said in a prepared statement.
The House news release said the proposal "does not affect laws relating to the purchase of a firearm and will not allow anyone prohibited from possessing a firearm to carry concealed." Renner said it is "important but not required" for gun owners to take courses on things such as firearm safety.
Hernando County Sheriff Al Nienhuis, who is president of the Florida Sheriffs Association, and gun-rights groups touted the bill.
"We see incidents everyday where law-abiding citizens that are armed with the ability to protect themselves interrupt active shooters, interrupt armed robberies, are able to protect themselves in all sorts of different scenarios," Nienhuis said during the news conference at the Capitol.




Art Thomm, Florida state director for the National Rifle Association, said in a prepared statement that the gun-rights group "looks forward to welcoming Florida into the fold of freedom that constitutional carry provides." Maine, Vermont and New Hampshire are blue states that allow carrying a weapon without a permit. The rest of the states, with Arizona's and Georgia's purple exception, have been red states. Florida, Louisiana, South Carolina, North Carolina and Virginia are the southern states without the allowance.
"Half of the country currently recognizes the fundamental right of law-abiding gun owners to carry a firearm for self-defense as enshrined in our Constitution," Thomm said.
Meanwhile, Renner said that the House will introduce additional legislation in the coming weeks to "go after gun crime" such as stealing firearms out of cars and using guns in gang violence.
Renner also took jabs at local officials for "creating an unsafe environment."
"We don't operate in a vacuum. What's happening in our society right now is 'defund the police 2.0,' with these cities and counties and woke prosecutors that are advocating for no bail on third-degree felonies. So, I don't think there's ever been a time in my history here on earth that we've needed the right to bear arms for individuals more than we do now," Renner, who was born in 1967, said.
Florida's crime rate is at or near a 50-year low, according to the Florida Department of Law Enforcement.
–FlaglerLive and News Service of Florida

permitless-gun-carry-bill