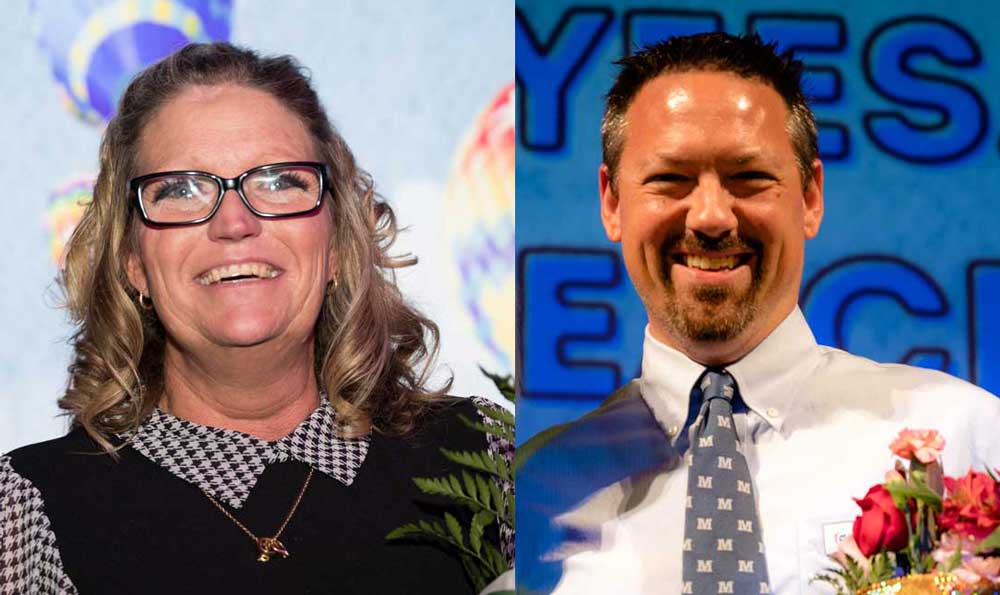 Renee Berry, the Custodial Services department secretary, was named the Flagler County School District Employee of the Year, and Lee Winfree, a math teacher at Matanzas High School, was named the District Teacher of the Year at the annual celebration at Flagler Auditorium Wednesday evening.
It was a packed evening, with a parade of finalists.




The district took time to honor Donelle Evensen, Assistant Principal of the Year, and Marcus Sanfilippo, Principal of the Year (both are at Bunnell Elementary School). The hundreds of people in attendance then watched highlight videos of all our Employee and Teacher of the Year finalists before Superintendent Cathy Mittelstadt was given the envelopes containing the names of our District Employee and Teacher of the Year.
Originally from Texas, Berry moved to Flagler County in 2009 to be closer to family. A year later, she began working for Flagler Schools as a testing coordinator with Flagler Technical College. In 2015, Berry transferred to Custodial Services as their department secretary.
When she heard her name called, she said it was "thrilling…but very humbling. I'm used to being behind the scenes, making sure everything is just right." She went on to say, "To me, it means it's not unnoticed. No matter how much you may think you're not appreciated or how much you work and you think they didn't see it…they do. They do notice you."
Winfree has been teaching for 22 years, with half of that time spent in Flagler County. He's taught AP Calculus, AP Statistics, and Probability and Statistics. He has also taught a pair of dual enrollment classes through Daytona State College.




Winfree is a graduate of the University of Maine and has a Master of Science in Education from Walden University and a Master of Science in Mathematical Science from the University of West Florida. His reaction to being named the top educator in Flagler County? "Gratitude. Appreciation. Surprised. I think all of us want to win it. We don't expect to win it because we know how amazing all the teachers here are in Flagler County."
Berry and Winfree will now represent Flagler Schools for the statewide honors. Flagler Schools wishes them the best of luck as they move forward through that process.