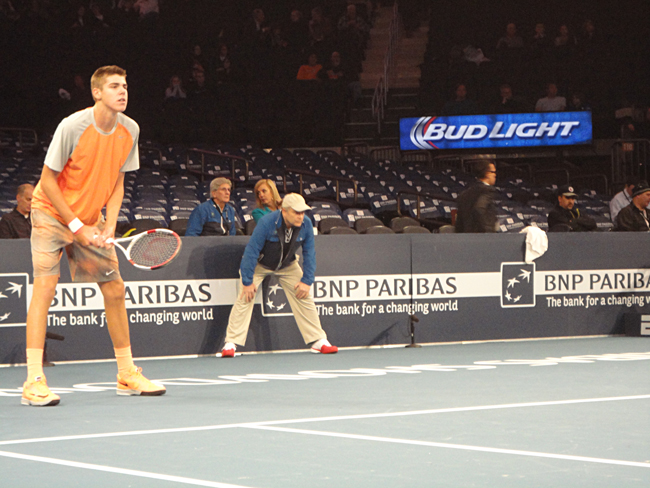 NEW YORK – Four years ago, Reilly Opelka was just a Palm Coast kid dreaming of a tennis future, hoping one day to play in famous arenas around the world.
Monday night, he took one more step toward arriving in the big-time: He played Madison Square Garden.
Along with fellow highly-ranked American junior player Francis Tiafoe, the 16-year-old Opelka played an exhibition match as the warmup to the BNP Paribas Showdown here, serving as the undercard to the top-ranked Bryan brothers doubles team, and a match between Novak Djokovic and Andy Murray, two of the top 10 players in the world.
---
A top junior tennis prospect opens for Novak Djokovic and Andy Murray.
---
"It was an unbelievable experience," Opelka said after he lost to Tiafoe, 5-3 (the two were only scheduled to play for 25 minutes). "It's like the biggest and best sports arena there is. I would love to get a chance to play here again."
Opelka, a huge fan of the Chicago Bulls, smiled when reminded that this arena is where Michael Jordan had some of his most famous games. "Yeah, I knew about that," he laughed.
The 16-year-old Opelka has been tearing up the junior circuit and moved into the conversation of major young American tennis prospects.
He attended Indian Trails Middle School in Palm Coast until 7th grade, when he was invited by the U.S. Tennis Association's junior development coaches to move full-time to Boca Raton and train at their development academy, alongside top players in the country.
He has rocketed up to 6-feet-8 inches tall in the past year, and 2013 saw Reilly achieve a series of career firsts, including reaching the quarterfinals of the U.S. Nationals in Kalamazoo. That led to the USTA granting Reilly a wild card spot into the U.S. Open Juniors tournament at Flushing Meadows in September. Reilly lost there in the first round, 6-4, 6-4, but gained invaluable experience.
"That was big for my confidence, playing there and getting to show I can play at that level," he said Monday. "It really set me up for the rest of the year."
Patrick McEnroe, the head of player development for the USTA, said he was pleased with Opelka's progress.
"He and Francis, they've got a long way to go, but they both seem to be really good kids with a great support team around them," McEnroe said. Playing at Madison Square Garden "will be a great experience for them I'm sure."
Since the U.S. Open, Opelka gained his first ATP pro tour points at a Futures (minor-league) event in Bradenton in November, and reached the third round of the prestigious Eddie Herr tournament in December, losing a tight three-setter to American Stefan Kozlov, the No. 2 ranked junior player in the world.
Monday night, playing before approximately 500 fans as the arena was filling up, including Palm Coast residents (and his parents) George and Lynne Opelka, he and Tiafoe both played well in holding serve until 3-3. Tiafoe, a 16-year-old who's the No. 7 junior player in the world rankings, then broke Opelka's serve and held his own serve to win.
The last time the two played a competitive match, last summer, Opelka beat Tiafoe, and the two are close friends.
"I felt pretty comfortable out there after the first few games," Opelka said. "Getting to play Francis here made it even more fun."
The rest of 2014 figures to see Opelka boost his world junior ranking (it's now at 284), while continuing to take classes at Florida Virtual School (he's a high school junior right now).
"Just keep trying to get better," Opelka said of his goals. "And keep having fun playing."
As for that other match, well, Djokovic beat Murray, 6-3, 7-6 (2), in 90 minutes before a somewhat larger crowd.
–Michael Lewis, Special to FlaglerLive

Follow Michael Lewis, the former News-Journal sports writer, at Wide World of Stuff.