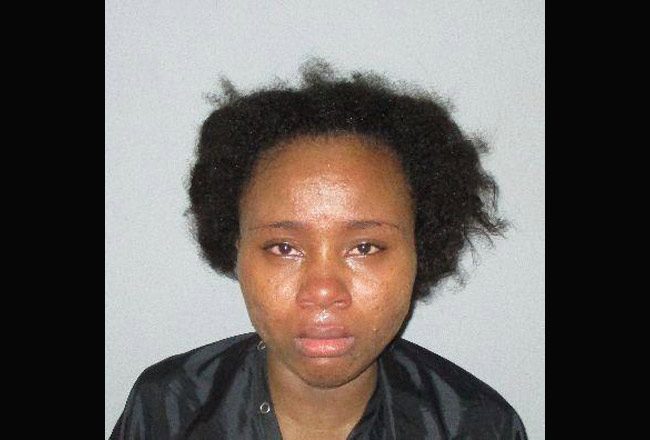 Nadege Joseph, a 29-year-old resident of Regis Lane in Palm Coast, is being held without bond at the Flagler County jail after allegedly threatening to kill her infant child, hurling knives at her cousin. Joseph also threatened suicide.
The incident took place late Tuesday night at a house occupied by several people, including several children, some of whom witnessed the alleged confrontations.
Joseph had her months-old child in her arms when she was arguing with Sarne Bland,  31–her cousin–who was trying to take the baby from her. Bland's husband armed himself and called 911, summoning law enforcement. The women were still arguing when deputies arrived at the scene. The deputy who entered the house drew his gun first, having been told that Joseph might be armed. When the deputy ascertained that Joseph wasn't armed, he holstered the gun and took control of her hands as Bland took hold of the baby. Joseph, described as "hysterical" in the arrest report, was handcuffed and placed in an agency patrol car. She "would not calm down and continued to try to break free from my hold," the deputy reported.
Michael King, a 43-year-old resident at the house (with his son), told deputies of witnessing the incident, and of seeing Joseph throw a knife at Bland without hitting her. Joseph then "grabbed another knife and began to chase [Bland] with it" until Bland managed to get into a bedroom and close the door. Joseph then "began to stand over the baby with the knife and say she would kill her baby," according to King's account to deputies. His son corroborated the account, as did Bland.
Bland said an argument had developed between her and Joseph, who took to shaking her baby violently, worrying Bland for the baby's safety. Joseph would not put the baby down. Joseph at one point went outside with the baby and broke a front window, all the while with the baby in hand. The baby was screaming and crying. When Joseph was back in the house, she picked up the knife, according to Bland, and threw it near her feet.
Baker Act paperwork was filled out as a result of Joseph threatening suicide–the Baker Act gives police authority to send an individual to a locked psychiatric facility against his or her will for up to three days, for evaluation–but Joseph was booked at the county jail on a felony charge of child abuse, two counts of aggravated assault and a county of criminal mischief over the broken window. The child was taken to Florida Hospital Flagler to be evaluated. The Department of Children and Families was contacted.
After her booking at the county jail, Joseph was transferred to a Baker Act facility in Daytona Beach this morning, was cleared, and then returned to the jail, a sheriff's spokesperson said.