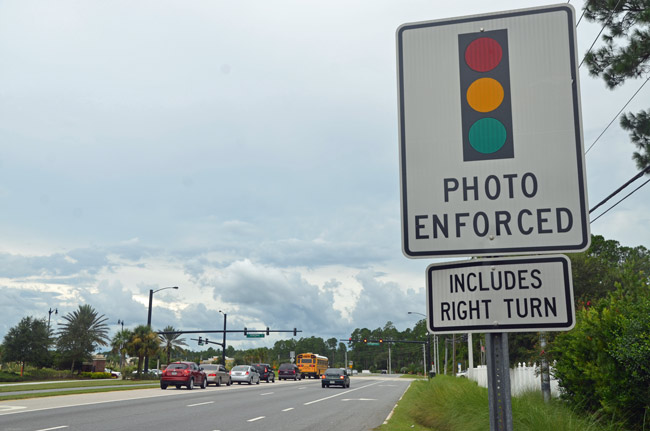 There are almost 1,000 red-light cameras snooping and snapping at intersections across Florida. They are the robotic spies of cities too cheap to hire cops to police their traffic and too deceitful to admit that the cameras have one overriding purpose: to make money by ringing up as many citations as possible.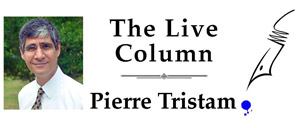 Sometime in 2013, the Florida Supreme Court will decide whether the installation of spy cameras before July 2010 was legal. That was the year the Florida Legislature passed a law allowing local governments to install cameras. The law also strictly regulated the system with a universal $158 fine, more than half of which is due the state, and the right of those cited to appear before a traffic court magistrate.
For three years before that, many city governments across the state, including Palm Coast, circumvented Florida's prohibition on traffic cameras with a clever scheme. They'd installed them as code enforcement devices, essentially turning their code enforcement departments—the same departments that check the length of your grass and your dog's barking decibels—into de facto police departments. Cities did so in alliance with private companies that ran the cameras. The fine amounts were all over the place, and were split between the companies and the local governments. The accused either paid up or contested the citation before a hired gun at city hall, paid by city hall, who naturally favored city hall's cash-cow scheme. (Palm Coast of course is filing a brief in the Supreme Court case in defense of the cameras, because if the court were to declare the pre-2010 scheme illegal, it could also require the reimbursement of fines levied illegally.)
The new law cleans up some of the thuggery, legalizing it by ensuring that state coffers are on the take. But it does not address the fundamental problems with spy-and-snap cameras. There are innumerable reasons to ban them. There's only one reason to keep them, and it's a slimy one: money. Palm Coast proved it when, faced with dwindling revenue from the cameras after the state regulated them, the city discovered that the only way to make them pay was to sprout them at every possible intersection and rewrite the contract with the spy-camera company to ensure a guaranteed $700 per camera per month. The city is on pace to have 52 cameras, netting it more than $300,000 a year. And still, when confronted with either public or county government discontent about the cameras, or shoddy evidence in support of their use, city council members parrot the old lines about "safety."
What few studies have been conducted on the effectiveness of the cameras, including the most comprehensive one by the National Highway Traffic Safety Administration, show either scant or contradictory safety improvements. T-bone crashes decline, but rear-end crashes increase. The net effect is not better than if, say, the duration of yellow lights were lengthened. Needless to say, the Palm Coast City Council has never once conducted its own study. It has never analyzed crash statistics at intersections, because those statistics don't exist in any one database. But it's done an excellent job resting city policy and fine-slapping on its flat-earth method of choice: anecdotal evidence. Money, of course, always talks louder than evidence.
It doesn't stop there. The cameras are intrusive. True, no one has a presumption of privacy on public streets. That doesn't equate to a state presumption of permanent snooping, which cameras enable. Policing should not be synonymous with surveillance. And the policing isn't even done by professionals: the cameras are still mostly under the control of city code enforcement departments, and run by profit-seeking private companies such as American Traffic Solutions, the Arizona-based company that runs Palm Coast's system. And the accused, judged guilty until proven innocent, can never face their accuser. That's some of the reasons law enforcement officials detest the cameras. Matters of judgment, safety and common sense, to say nothing of fundamental constitutional principle, are replaced by the rigged-up rationales of profit-seeking at drivers' expense.
The duplicity of local governments and their camera accomplices is inescapable. They can only keep the scheme in place if the cameras make money. The cameras can only make money by catching a large volume of red-light runners. The system thrives on the very violations it claims to be curbing, an implicit admission that a certain level of red-light running will continue whether spy cameras are in place or not (just as burglars will continue to exist whether doors are locked or not). The difference is this: by gridding intersections with spy cameras, as many cities are doing, local governments are adopting the methods of the extortionist police state. Every driver is a potential target for ransom, every intersection is as hazardous as dark alleys, with our local governments as remote-controlled predators.
The case before the Florida Supreme Court is narrowly tailored to the pre-2010 schemes, so there's little chance that the court might decide whether spy-and-snap cameras as state law appropriated them are legal at all. That's a shame, because the legitimacy of traffic cameras is as suspect as their effectiveness, and as constitutionally corrupt as the cash cows they're made of.

Pierre Tristam is FlaglerLive's editor. Reach him by email here or follow him on Twitter. This column is also syndicated through Florida Voices.