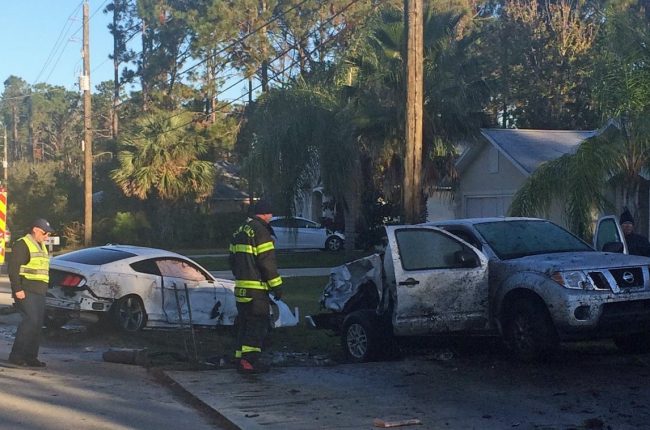 Jacob Reardon may not be getting the message–not from a traffic court hearing officer, who five months ago fined him $356 for speeding at 84 mph in a 40 zone, not from Flagler County Sheriff Rick Staly, who personally pulled over Reardon and sent him to jail two weeks ago on charges of reckless driving and pot possession, and not after crashing his car this morning in Palm Coast's B Section: he allegedly fled the scene immediately after the crash, along with his juvenile girlfriend, who was hurt seriously enough in the crash to require a trip to the hospital.
Reardon, 19, a resident of 1 Banton Place in Palm Coast, was later arrested and charged with leaving the scene of an accident with damage on private property, a felony. As a deputy was going through his wallet subsequent to Reardon's arrest on the hit-and-run charge, the deputy noticed a small bag in the driver's license window of the wallet, which allegedly tested positive for cocaine. So Reardon was charged with cocaine possession as well, also a felony.
He is being held at the Flagler County jail on $5,500 bond.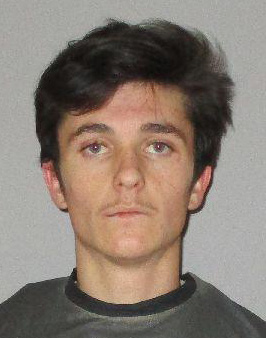 According to Reardon's latest arrest report, he was speeding at the wheel of a white Ford Mustang at 8 this morning, through residential streets of Palm Coast's B Section. He lost control of the car, "left the roadway and struck a driveway culvert," according to the report. "The Mustang became airborne and struck a parked vehicle, a Nissan Frontier, in the driveway at 83 Birchwood Drive."
A witness, a homeowner at a nearby house, observed the driver and passenger exit the vehicle and flee, but she took a picture of the driver and passenger with her cell phone just before they fled. The picture matched that of Reardon's recent booking photo at the jail.
The Mustang was registered to Kimberly Ann Musto at 1 Banton Place. Musto told deputies that Reardon was in possession of the vehicle. Law enforcement records also indicated that his girlfriend lives near the crash, a few doors down from 83 Birchwood.
Deputies contacted the girl's father, who confirmed that his daughter had been with Reardon. Contacted by deputies, the girl told them she'd bring Reardon, but she made no mention of the crash. Reardon was detained at the Birchwood Drive home and brought back to a location near the scene of the crash, where the original witness identified him as the driver of the Mustang. Reardon was still wearing the same clothes as in the picture the witness took.
Meanwhile the girl's father took her to a medical facility "as she was complaining of difficulty breathing and back and neck pain," according to the arrest report. Reardon was arrested.
"Two weeks ago I arrested him for driving recklessly, but I guess he didn't learn his lesson," Staly was quoted as saying in a release issued this afternoon. "Now he's taking another ride to the Green Roof Inn. I hope he gets the drug help he needs and the courts throw the book at him before he seriously hurts or kills someone."