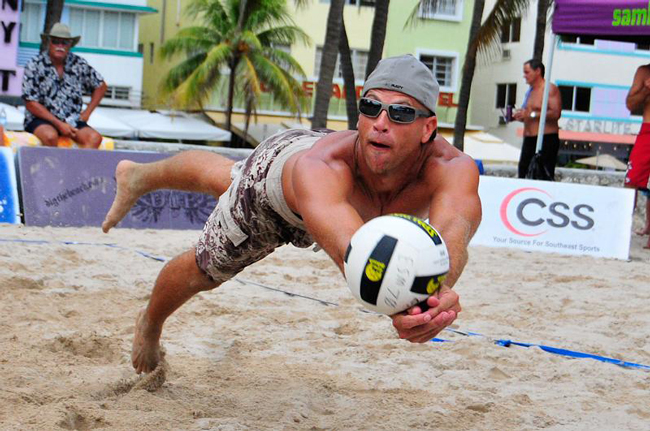 On May 8, Flagler County Firefighter-EMT Ransford Jones was doing one of the things he loved best: playing beach volleyball, going all out—as he usually did, whatever he undertook—during a semi-final match on the sands of Panama City. Half-way through the match he felt ill and walked off the court. Moments later he was on a gurney, being rushed to a hospital. He had suffered an aneurysm. He never awoke again.
Early Monday morning, around 3, Ranse, as he was known to his family, friends and colleagues, died in the skilled nursing facility where he'd been since spring. He was 34.
"Six months to the day after his tragic accident, God brought Ranse Jones home," Ranse's wife Barbara wrote on a web page created for him shortly after his hospitalization. "He went peacefully and I believe with the full knowledge that he had hung on long enough for his friends and family to gather and celebrate his life and say their goodbyes. He could feel the love, smiles and laughter across the miles; He was there. He had fought a good fight but in the end, it was not his decision how long this life would be and I am thankful for the grace of God."
Ranse had been with the Flagler County Fire Department for two years. He was married to Barbara Jones. They had no children. They were due to go to Italy for a vacation shortly after Ranse's tournament in Panama City.
"Right now everybody is grieving. This is a hard time for the family," said Roy Longo this morning. Longo is a paramedic with the Flagler County Fire Department and the vice president of the department's union (Local 4337). "There was a lot of love for Ranse on all different sides, whether it was family, work, his volleyball community, and right now everybody needs time to grieve."
Longo added, "Ranse was he was the type of person who had an immediate effect on people. Everybody liked him as soon as they met him, he always had a smile on his face. He never got involved in any controversy or the day to day soap opera stuff you might see or hear about. He was just very non-assuming, trustworthy, and a good paramedic and a good firefighter."
---
Services:
The memorial service for Ransford Jones will be held at the River to Sea Preserve in Marineland on Sunday, Nov. 14, at 3 p.m. The family is requesting that in lieu of flowers, please make contributions to to the Ransford Jones Special Needs Trust c/o Intracoastal Bank, 1290 NW Palm Coast Parkway, Palm Coast, FL, 32137.
---
---
Plans are set for a service at the River To Sea Preserve in Marineland Sunday at 3 p.m. "Barbara, Ransford's wife, requested that it be done on the beach in memory of his volleyball involvement," Richard Bennett, the president of the firefighters union, said.
Jones was originally from South Florida. He'd spent a few years in North Carolina before joining the Flagler County Fire Department, where he was bounced around on a few trucks but was mostly based at Station 41 in the Hammock. He lived in St. Augustine. "He was always out for the good of the department and the good of his fellow workers," Bennett said. "Very energetic, willing to learn. He intended on having a full career here, got cut short though. Very disappointing."
As Barbara wrote, "While the aneurism took his body, it could not take his spirit, love or legacy….because he gave these to all of us long ago. As we go through the next few days, weeks, perhaps months together, trying to pick up the pieces, I want you to know that it will be sad. It is okay to be sad but please, remember this. This is not his goodbye, it is his challenge: Live, love and laugh everyday as if it is your last. Never take for granted the little pleasures in life … especially the feel of sand on your feet, warm sun on your shoulders, a cold nose nuzzling your hand or the joy of just being there – – wherever that is. Get up early to watch the sun rise. Hug your family – a lot. Let the dog in your bed. Always be a friend. And never, never turn down a chance to get out there and play."
A Ranse Jones Photo Gallery
[nggallery id=11]