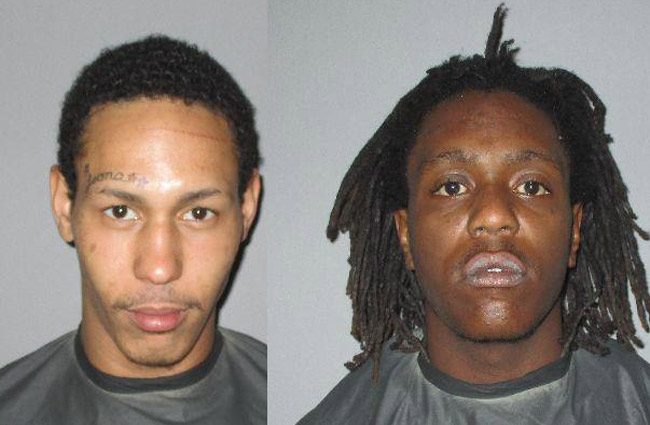 As Flagler County Sheriff's deputy Jacob West was patrolling Palm Coast's R-Section around 9 p.m. Tuesday, he spotted a vehicle allegedly run through a stop sign at Roundtree and Ravenwood drives, speed toward Rymfire Drive, then take several side streets, almost losing control along the way and blowing through another stop sign. At Ramble Lane and Ramblewood Drive, the car crashed into a culvert and ended in the front yard of the house at 126 Ramblewood. The car was heavily damaged.
Two occupants quickly got out and ran, according to their arrest report. They were Jacquise D. Gaines Smith, 18, and Alvero Jackson, 23, both of Jacksonville.
West ordered them to "get on the ground." They ignored him, one running west toward Rae Drive, the other running north through various properties. West gave chase to the passenger but lost him near 130 Rae Drive.
Soon a deputy and his K-9 unit arrived and deployed the dog, which tracked down Gaines-Smith, who was hiding in the back patio at 4 Rivergate Lane. He did not have a valid driver's license, though West had seen him at the wheel of the vehicle.
West went back to the vehicle, which would turn out to have an invalid license plate, though the Jacksonville Sheriff's Office informed local authorities that a Jacksonville resident had in fact sold the vehicle to Jackson three weeks earlier. The deputy noticed strange things in the vehicle: two beanies with their eyeholes cut out and several latex gloves. In the trunk, there were two pairs of bolt cutters and a baseball bat. A wallet belonging to a man in Miami Gardens was found in the glove box. The wallet contained numerous credit cards. John's Towing of Bunnell eventually towed the car.
Gaines-Smith invoked his right not to speak to authorities and was booked at the Flagler County jail on charges of reckless driving, driving without a license, leaving the scene of a crash and resisting, all misdemeanors.
As he was being booked, and after getting support from a helicopter, other deputies located Jackson on Rymfire Drive. Jackson was especially concerned with what was going on with his car. When asked what he was doing in the area, he said he was on his way to Deltona to make amends with his grandmother. Asked why he was in Palm Coast's R Section. Several miles from the Interstate, he said that's where his GPS took him. He also said there was a third individual in the car—a man called "Randy" who he said had been driving, disputing West's contention that Gaines-Smith was at the wheel.
"Everyone was running out of the driver's door," Jackson said in an apparent attempt to exonerate Gaines-Smith, even though West reported he had had the vehicle under observation until it crashed and hadn't seen a third man exit the vehicle. Jackson told the deputy he ran away because he was scared, and didn't remember hearing the deputy order him to the ground. He said he blacked out.
At the jail, Jackson changed his story, saying then that he was coming back from his aunt's house on Round Mill lane in Palm Coast. He was booked on only a single misdemeanor charge of resisting an officer. In 2016 he was arrested in another county on charges of dealing in stolen property and grand theft, a felony.
His arrest report notes that a sheriff's Sergeant that same evening, around the time of the incident, stopped two men walking in the area of Ravenwood Drive who were using a GPS on their phone to go back to the same Round Mill lane address Jackson had provided deputies as being his aunt's. One of those two men had a busted lip. He declined medical attention, and did not explain the circumstances of the injury.