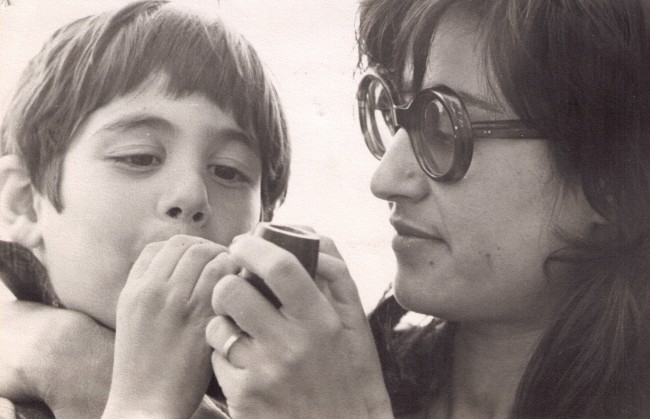 This piece originally appeared two years ago. We're still with Odyssey. And my mother is still, alas, not dead.–pt
The other day we got a condolence note in the mail from Odyssey Health Care, a hospice company ("Big Hearts, Better Care"). It was addressed to "all the family members" of my mother, and written in dry, black ink. "Our deepest condolences to all of you," the note went. Signed: "Odyssey Hospice Staff." Below the fold, in print, ran a few more lines about memories easing pain, and wishes for us to find "renewed strength in the caring support of family and friends." Surprisingly for a health care company these days, no bill.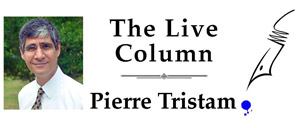 We'd called hospice in to take care of my mother, a resident at an assisted living home off of Belle Terre Parkway, a few months ago. A different hospice company had just finished off my second father (after a long illness, as they say in the necrological business; a heart attack swiped off my first decades ago, when he was the age I am now), so calling in the gentle reapers had something of a reflexive quality to it: Hospice is the humane, legal, slow-mo version of assisted suicide, a concession that postponements of the inevitable are themselves down to their last unassisted breaths. The condolence note from Hospice was a surprise though. It was also slightly premature.
My mother, of course, hasn't died. Not yet anyway, though in most regards she's been dead for several years now: Alzheimer's is the sort of torture that imprisons the body in a fate worse than death while keeping it conscious for the rest of us to see, like spectators at an endless hanging, and for the victim to, for all we know, endure with more awareness than we dare admit. In that sense the condolence note is at least a decade late: the disease began its assault on my mother's mind in the mid- to late 1990s, when she was still in her 50s, and living life more fully than if she were competing with the days of Genesis. I don't think I ever took to religion or the tall tales of my Catholic upbringing because in her presence any deity's deed looked small, and her radiance was more real than any transfiguration the gospels could pull off. For the past ten years it's been more like witnessing her crucifixion, day after day. To believe in a god that capably cruel would be offensive.
So the absurdity of the condolence card had more truth to it than the ironic words of the card itself: "May your memories help ease any pains…," as if the betrayal of memories weren't the problem to start with: to remember on behalf of an Alzheimer's victim is an act of salvation, like writers and artists who preserve demolished worlds. It's also a galleon of guilts, tilting in the crosscurrents of the very act—remembering—that the remembered has been denied. It's not any different than mourning, except that those of us who have parents or grandparents or lovers or—heaven forbid, children—lost to Alzheimer's mourn in their presence, to their blank face, every time we see what's left of them. They are the true living dead, just as we're the disease's accomplice, its fellow torturers, for keeping them alive. It's not just one galleon but a whole armada.
For that and other reasons it wasn't upsetting to receive that condolence card from Hospice, despite its coldness (a white card, essentially a commercial for the hospice company wrapped in rote sympathy). For a moment there I sensed fancied relief mixed with the sort of comedic resignation my wife Cheryl and I have become used to in the past 10 years, dealing with every possible aspect of that earthly afterlife wishfully referred to as elderly care. From ERs to assisted living facilities to nursing homes to rehab hells to sneaking and swindling caregivers suckling at Medicare's teats to supplemental insurers' gangsters to profiteering specialists and their pharma accomplices, we've experienced it all. Not for ourselves. That's to come. But for our parents. We've had a front-row seat to the low-simmer crime against humanity that still manages to pose, in more fanatic eyes, as the world's best health care system. Not even the Pentagon is that wasteful—in lives, dollars or time.
A mistakenly written condolence note from a hospice company doesn't add up to a hill of beans in comparison. To the contrary. The picture wouldn't have been complete without it. We laughed about it, briefly, having long ago moved past even laughing about what used to infuriate us and hurry us along to our own decrepit health, when we'll become wards of elderly care's monstrous maw, if we make it that far. I've learned through all this not to knock the fortuitous heart attack: it can be a hell of a blessing, considering the alternative, assuming it strikes you when you've pretty much completed your responsibilities to parents and children, and your next of kin begin to morph into insurers and health care providers.
A very nice bereavement counselor from Hospice did eventually call to apologize for the note, a few days after we pointed out the error to her home office, just to be sure that my mother's hospice services weren't interrupted. She attributed it to a filing mistake. I assured her it was no big deal and to save her bereavement energy for those who needed it. I'm sure she understood when I told her that the saddest part of receiving this condolence note about my mother is that it was a mistake.
Happy Mother's Day.

Pierre Tristam is FlaglerLive's editor. Reach him by email here.