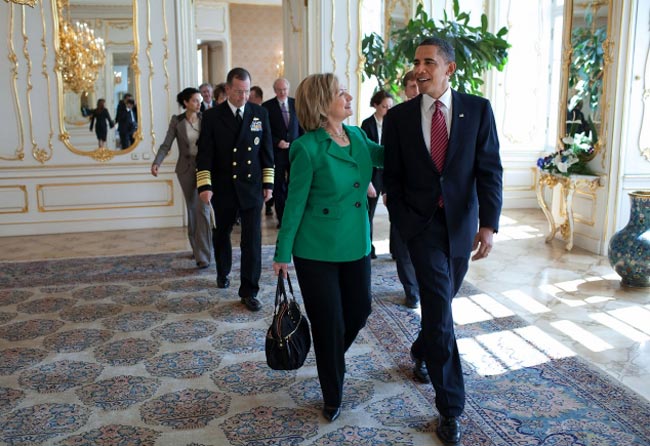 FlaglerLive Editor Pierre Tristam's weekly commentaries are broadcast on WNZF on Fridays just after 9 a.m. Here's this week's.
Those nutty birthers have it all wrong. Barack Obama isn't a Muslim born in Kenya. He's Dr. Jekyll to Hillary Clinton's Mrs. Hyde. Or vice versa.
Imagine if Muammar el Qaddafi had sent an army division or two into Egypt a few weeks ago to help Hosni Mubarak put down the rebellion against his regime. It wouldn't have been unusual. The Middle East is a mass of repression where 300 million people live under the boot of 20 tyrants, most of them enforcing their tyrannies with American weapons and Washington's blessing. Most of those tyrants despise each other until their hide is in danger. Qaddafi, the man Ronald Reagan once so appropriately called the "mad dog of the Middle East," would have happily lent a crushing hand in Egypt to keep the rebellion from spreading to his own sands, though if so much as a camel toe had wandered across the border with Egypt it's likely every American warplane in the Sixth Fleet would have been on the case faster than a Hillary Clinton platitude at a news conference.
Mubarak was a little less mad, a little less rabid, than Qaddafi. His own military pushed him out, and by then Qaddafi was busy killing his people. Yesterday the United Nations Security Council, with five nations abstaining, gave the go-ahead for military action against Qaddafi. It's the right call, but only by half.
On Wednesday Saudi Arabia pulled a Qaddafi on Bahrain. It invaded, at the Bahraini tyrant's invitation, and joined in the skull-crushing of democracy protesters. Civilians have been summarily executed. On Thursday tanks surrounded the main hospital in Bahrain's capital. Opposition leaders are in prison. All with American weaponry, American training, American C-rations, and, implicitly, American complicity: The response from the Obama administration has been something on the order of a shrug that wouldn't dislodge dandruff.
Bahrain is not just a tyranny, but an apartheid regime: a minority Sunni monarch rules, illegitimately, over a majority of Shiites, who are third-class citizens in their own country. A country that happens to be the headquarters of America's Fifth Fleet, whose ships and warplanes are alleged to be making the Middle East safe for democracy—or at least keeping shipping lanes safely open for oil tankers while keeping scopes trained on Iran.
Saudi Arabia is freaking out that democracy, which it considers a cancer, would spread to its own land. The House of Saud has also ruled there, illegitimately, since about the time FDR was first elected. Saudi Arabia is one of the most repressive nations on earth, up there with the likes of North Korea and Syria, its political repression more efficient than the old Soviet Union's, its religious repression a close kin of the Taliban's, which it generously finances to this day. For all that Saudi Arabia is, with Israel, America's closest ally in the Middle East. Being the world's largest oil producer has its perks. Add to those the right to invade another country, crush and kill democracy activists there like the latest mad dogs of the Middle East, and hear not so much as a verbal condemnation from the Obama-Clinton duo. You've got to admire the guile.
Barack Obama didn't deserve the Nobel peace prize a few months into his first term. He deserves it less now. But Obama and Clinton certainly deserve the Nobel prize in physics for reinventing the rules of double-standards.