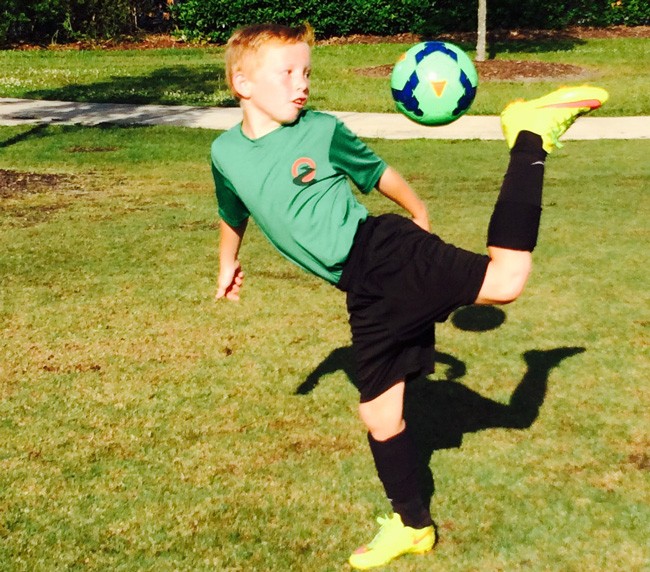 Ryan Maloney grew up in the English soccer system and saw how important it was to develop youth players at a young age, with intensive training to go along with proper academic schooling.
After playing for the Bolton Wanderers FC, Maloney eventually moved to Daytona Beach and became a two-time All-American at Embry-Riddle, getting his undergraduate degree at the flight school in 2010.
But after living in the U.S. for a few years, he grew frustrated by  what he felt was the lack of opportunities for young soccer players to train seriously at a high level. So together with some coaches and friends he knew, Maloney founded Professional Sports Pathways, a soccer and education school based in Palm Coast that opened in 2014.
Boasting on its website of top-notch coaches and superior training methods, PSP hopes to grab a foothold in the area. But after an Oct. 20 decision by the Flagler school board not to award PSP the right to run the Belle Terre Swim and Racquet Club, PSP's stay in Flagler County was looking cloudy.
The board at that time did not choose either PSP or the Belle Terre Swim and Racquet Club Advisory Committee in its meeting (though it clearly leaned toward the advisory committee); instead, it gave the Club a January 19 deadline to increase membership, or risk closure.
Instead of waiting to hear if PSP would still be involved in some way with Belle Terre, Maloney and his team have moved on. He told FlaglerLive Thursday that PSP is in negotiations with a developer in Flagler County to build a new PSP campus from scratch, with the hopes of staying in the area long-term.
Maloney characterized the negotiations as "fairly far along, but not quite done yet," and therefore he didn't want to reveal where the new campus would be located.
There are currently 57 students enrolled at PSP, with the youngest children being in 3rd grade and the oldest in 10th grade. The school began last year with 45 students, and in their current location, in an old Wachovia Bank building in Palm Coast, they're at full capacity.
Here's how a typical day in the life of a PSP student goes: Parents drop students off around 8 a.m., and then students are bussed over to whichever fields the city has told PSP it can use (they've primarily been using Ralph Carter Park this year).
Between 8-10 a.m. the students get on-field instruction and training, mostly skill-set related and focusing on soccer drills and proper techniques. There are seven full-time coaches who work with the students every day, Maloney said.
At 10 a.m. students do an hour of strength training, along with speed and agility training. Sometimes that takes place on the field, while other times it's in the gym or the pool, depending on facility availability.
Lunch is between 11-11:45 a.m., followed by four hours of schooling with the Florida Virtual School curriculum to conclude the day. PSP employs four full-time teachers, along with two volunteer teachers who help tutor PSP students, as well as two teaching assistants.
The classes are split up into a pair of two-hour "subject blocks." Elementary age students are all in their own classroom and learn all subjects together as a traditional grade-school class would, with a full-time elementary teacher leading the way. Grades 6-10 aren't in traditional classrooms, Maloney said.
"They might do an hour on FVS curriculum, and then have an appropriate lesson given them by one of our teachers," Maloney said. "And we group the kids by ability, not just by age, so an advanced 7th-grader might be mixed with 8th-graders for certain subjects."
Maloney said the student average GPA for PSP right now is about 3.6, and that five students have left the program for a variety of reasons since it began.
PSP's ideal student, whose parents can of course pay the $4,500 annual tuition, is the serious soccer enthusiast who has displayed enough talent to show PSP's coaches that a college scholarship is within reason with hard work and training over the next few years. (PSP doesn't play games against other teams as of yet.)
"We want a self-motivated, driven student-athlete," Maloney said. "Without that, we wouldn't really see a fit. I tell parents that we won't make any promises, but from our point of view, we don't see any reason why if, once we get 2-3 years with the kid, why they shouldn't have a chance to get significant scholarship attention from colleges."
Scott MacNeill, a program director for PSP, was recruited by Maloney to help run training for the new school. MacNeill had worked with developmental soccer programs in England, most recently with Blackpool FC, and believes American players are "playing catch-up" to European students.
"There'a always going to challenges, and physically, the young players in Europe are quite far ahead of American players because of training they get at an early age," MacNeill said. "For soccer players, the 'golden years' are 8-11 years old, because that's where they form skills and habits they'll carry through with them."
MacNeill, who had worked soccer camps with Maloney over the past two years before moving from England in September to work at PSP full-time, said he gave up a lot to give this a shot, showing his belief in what PSP is doing.
"It's a huge challenge, but Ryan sold it to me as a chance to make a difference and really give these players an opportunity to become excellent players," MacNeill said.
Of course, only being around for two years there hasn't yet been a track record built up for PSP to point to. But clearly their model is appealing to someone like Dr. Ed Bice, who moved his family, including two soccer-loving children, from Mooresville, N.C. (near Charlotte) to Flagler County this past summer to enroll at PSP.
Dr. Bice, a former youth coach in North Carolina, took his 11-year-old daughter Paris and 13-year-old son Bodie to Florida in 2014 on a tip from a friend in the soccer community and was very impressed.
"I subscribe to the Malcolm Gladwell theory of it takes 10,000 hours of practice to master a skill," Bice said. "What I saw here was 45 students, all in one location, that seemed like they were enjoying themselves so much. The way they were training, and seeing the education plan they were doing … my wife's a teacher and was very pleased with (PSP's) educational plan.
Bice said that PSP's coaches didn't make any promises about Bodie or Paris one day starring on a national team or at a major university, but that he was confident PSP would develop his children properly.
"You're getting more hours of training than you'd get at a regular school, and they're developing you individually," Bice said. "They've really got something good going on here, and I'm telling everyone I know about it."
Whether PSP becomes a big success of course remains to be seen, but these types of hybrid specialty school-skill training programs only seem to be increasing across the country.
Flagler Schools board member Sue Dickinson said she didn't have any opinion one way or the other about the kind of hybrid sports/education private schools that are popping up, across Florida and the rest of the nation.
"I honestly haven't done any research on these types of schools, but I will say that I think having Florida Virtual School as 100 percent of a student's education is not good," Dickinson said. "There's very little teacher interaction and socialization; there's more to school than just books."