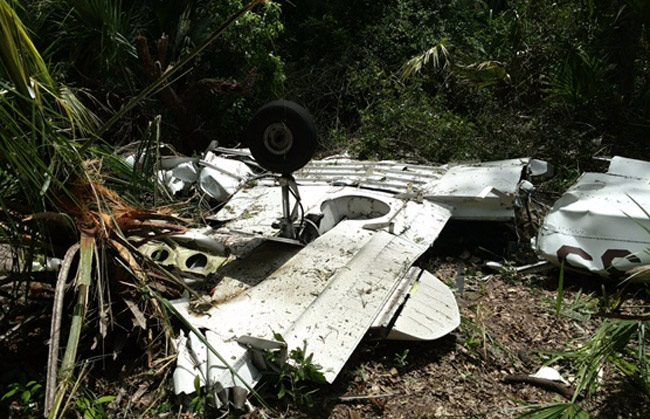 Last Updated: 1:10 p.m.
11:45 a.m. Update: Rescuers have found the plane that crashed late Thursday night in the Pellicer Creek area just to the west of Marineland. The plane crashed in low-lying trees. The plane was found by a news helicopter.
Authorities fear up to three people may be in the plane, though only one death has been confirmed so far, and the Federal Aviation Administration suggested there were two victims.
"We did find it," Mark Strobridge, the Sheriff's chief spokesperson said at 11:45 a.m. "Everybody is heading there now to get all that taken care of."
The plane, a Piper PA-44-180, is owned by Sunrise Aviation of Ormond Beach, according to the Federal Aviation Administration's registry. It was manufactured in 1979, and last certified on March 2.
Speaking to reporters early this afternoon, Sheriff Rick Staly said there may be up to three people feared dead in the crash. "We are aware of one family which we had been contacted by earlier, which they believe it was their plane, or one of the planes that a family member works at, so that's what we were going on," Staly said.
It was later confirmed that in fact two people died: a 27-year-old flight-school student from Saudi Arabia, and his 70-year-old flight instructor from Ormond Beach.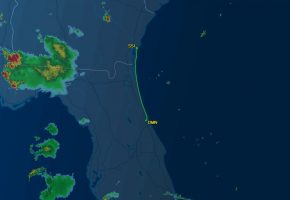 "We put people in on foot and by airboat from FWC,"Staly said, referring to the Florida Fish and Wildlife Conservation Commission. "I've been at the site myself, I just came back from there. It's a tragic ending to a search. You always hope that you can find people alive. There's no indication that we're going to find survivors."
He said he could see only one of the victims in the "very crumpled" fuselage. The FAA said there were two occupants. "We did receive information early on that there were a possible third occupant. Until we get into the aircraft, we won't know that."
The plane's flight log includes 10 flights in July, according to FlightAware, all of them taking off from Ormond Municipal Airport, eight of them landing at Ormond. On July 11 the plane landed at Flagler Executive Airport, and on Thursday it is recorded to have landed at McKinnon St. Simon Island in Brunswick, Ga., at 8:42 p.m.
WESH 2 News helicopter pilot Dan McCarthy spotted the plane around 11:45 a.m.
The site of the crash is accessible enough that rescuers have moved their command operation to the crash site itself. "This one is an easier recovery because it's not head-nose into the muck," Staly said, referring to the last crash in the Pellicer Creek area, in October 2014, when a man was killed flying an experimental plane. "This is on dry, hard ground, so this will be an easier recovery, and it's really going to depend on how quick NTSB gets here and how long their investigation at the scene will take. As far as removing the plane, it's a lot simpler this time than two years ago."
The NTSB is the National Transportation Safety Board, which investigates all plane crashes.
The earlier story is below.

Authorities are searching for a small twin-engine plane that disappeared in the Pellicer Creek area around Marineland at 11 p.m. Thursday, with two people on board.
The plane, a Piper PA44 Seminole, was returning from Brunswick, Ga., on its way to Ormond Beach Municipal Airport.
"Sometime last night about 11 p.m. we received information from the FAA that an aircraft had fallen off radar," Mark Strobridge, the Flagler County Sheriff's Office's chief spokesman, said, referring to the Federal Aviation Administration. "What we had learned from them is that in this particular area [witnesses] had heard something that sounded like an aircraft engine sputtering. We came out in this area and started a massive search."
FAA's Jim Peters said this morning contact was lost with the plane when it was 22 miles north of Ormond Beach "after a witness reported seeing an aircraft go down in the area."
Strobridge said "we have found what potentially looks like part of an aircraft, we're trying to get to it to fully identify it to see if it's the one the FAA has informed us about."
Sheriff Rick Staly provided some details regarding the piece of the plane discovered this morning. "We have found a piece of what looks like a tail wing," Staly said, "in that marsh areas. It's only about 6 inches of water, it's difficult to get to, we're using air boats to get in there."
At 8 a.m. Fire Flight, the county's emergency helicopter, had been pulled from the presumed crash scene to assist a different sheriff's operation on the west side of the county, what Staly described as a "high-risk search warrant" in a drug operation. Staly was at that scene when he spoke by phone, and was to drive to the Marineland area subsequently.
---
8:30 a.m. Update By Mark Strobridge (Video Courtesy of WNZF's Ron Charles)
"We believe we know what plane it is, we have some plane information, but until we can confirm it we don't want to release that," Staly said. Of the people on board, he said "we do have some indication that they could be from this area, when I say this area, it could be Volusia, Flagler area. But again, all that is not confirmed until we can find the fuselage and try to rescue these people."
By 8:30 a.m., Strobridge was saying that rescuers have found "more debris that is suspicious in nature," but still no plane. "We're still hopeful, it's still a search and rescue," nine hours after the presumed crash.
The U.S. Coast Guard, U.S. Customs, resources from Volusia and St. Johns counties, Flagler County Fire Rescue and others are taking part in rescue efforts. Dive teams are also at the scene.
"We are currently in the mode of search and rescue, we hope for a good outcome in this entire process, but we're going to do whatever it takes to find this aircraft and find these people, and we're going to stay on scene and do so," Strobridge said. "With daybreak coming on we feel that we'll have a better view of finding an aircraft. At night in a marsh area it's more difficult to be able to see things even when you're flying overhead because you're limited on vision. So we're hopeful and we're working very diligently to rescue these people."
The area is covered in marshlands, worrying rescuers that the plane could be submerged. "If it's truly an aircraft going down it could have been into the muck itself," Strobridge said.
The plane was lost in the same area where an experimental plane crashed in October 2014, killing Raymond Miller, 77, of Palm Coast. That plane was found half submerged in the Pellicer Creek marshes, and took days to recover.