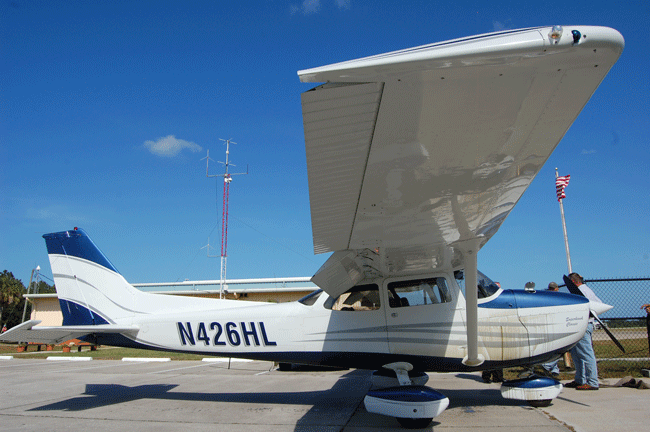 Leslie and John Nixon, long-time residents of Ormond Beach, were on their way to dinner in Georgia just before 4 p.m. this afternoon when their Cessna 172 blew a cylinder over Flagler County, forcing them to make a hard landing on the westbound lane of State Road 100, near the intersection with Old Kings Road. Nobody was hurt.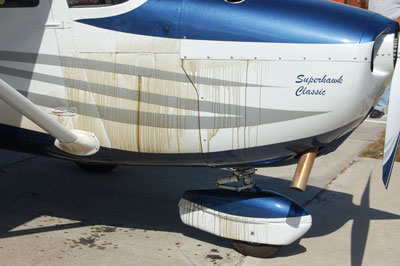 "We took off from Ormond," Leslie Nixon, 53, who got her pilot's license just over a year ago and was piloting the plane, said. "We were headed to Jekyll Island for dinner, and we were having trouble on the climb-out. We didn't have any power, and all of a sudden the engine started rattling, and I tried to get it going again. I couldn't, and then it stopped. So we turned toward Flagler and didn't make it to the airport, but had to land on 100."
Standing by their plane, which was still leaking oil as it sat at an entrance to the Flagler County Airport tarmac, where it'd been towed, the couple looked remarkably calm for two people who'd just replayed a local version of US Air Flight 1549.
"She's had her license for about a year, and this is the best landing she's ever made," John Nixon, 57, said. He described his wife avoiding a truck, avoiding power lines, watching the head-on traffic, clipping a signpost with the left wing, and finally making the landing. "We just went through the check-list and she did a great job putting it down. I was counting on her."
---
Listen to Leslie and John Nixon [media id=27 width=250 height=100]
Leslie Nixon described trying to land on the westbound lane first, hoping the traffic would see where she was coming from. "I was about to hit a pick-up truck, and he couldn't see me, so I had to pull up a little bit in order not to hit him, and somehow I avoided him, and then when I was stopping, I guess I ended up into the eastbound lane." Traffic made way for the plane as it saw it head-on, making the landing. Stare Road 100 eastbound was closed briefly, between 4 and 4:15 p.m., as public safety crews craned the plane unto a tow truck and moved it to the county airport.
Frights on the plane? "Actually," Leslie Nixon said, "it's amazing how calm I was. That's what everybody says in emergencies, somehow you remain calm, and I was remaining calm, and trying to go through my check-list of emergency and figure out what to do."
[Note: See more pictures below.]