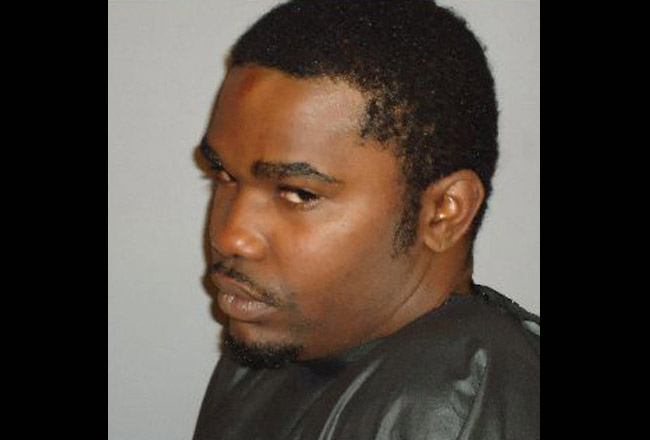 Last Updated: Saturday, Feb. 18, 5:56 p.m.
It's not been a good week for Sahmi Green. Then again, it was a worse week for a female pit bull that, according to an arrest report filed Thursday, Green stabbed seven times and killed.
The State Attorney's office will be prosecuting Green, 24, on a cruelty to animals charge. If convicted of the third degree felony, Green faces a maximum sentence of five years in prison or a $10,000 fine or both.
Initially, Green told Flagler County Sheriff's Office deputies on Feb. 12, the day of the stabbing, that he he had killed the dog in self-defense, because the dog attacked him. Samantha Lee, an 18-year-old resident of Prospect Lane in Palm Coast, a few doors down from Green's house, told police on the 12th that her friend Green had come over to take the dog for a walk. A little while later, Green returned, and told Lilly that the dog had been involved in a fight. The dog was bleeding, and soon died. Green then left the house. When police responded to Lilly's call, deputies searched the neighborhood for Green or the dog, initially in vain.
Then deputies followed a blood trail to the area around 9 Prospect Lane, #B–not to the house itself. "There," a police report states, "a bloody kitchen knife without the handle and a pair of eye glasses were discovered and placed into evidence." The residents of 9 Prospect Lane were not involved in the incident, nor has Green ever had anything to do with the house, or its residents. Green was later found, and told cops that when he got to Lilly's house, the pit pull charged him and chased him down the street. "At that time, Sahmi stabbed the dog multiple times in self-defense," the report states. Green was not arrested.
The following evening, police responded to Prince John Lane on a disturbance call. Several women and Green were involved in an argument there. One of the women was taken to Halifax Hospital under the Baker Act (essentially, incarceration on psychiatric grounds), another was arrested and put in a restraint chair at the jail. Green was part of the commotion: cops asked him several times to leave the property. He kept returning. He was arrested on a trespassing and a battery charge.
But numerous charges were subsequently added, including the animal cruelty charge. Those include resisting arrest without violence, grand theft over $300, the use of an anti-shoplifting device, and resisting a merchant. Total bond was set at $11,000.
Thursday's arrest warrant, served Green while he was in jail, states that he "intentionally walked the victim's dog behind the house and excessively stabbed it approximately seven times and repeated infliction of unnecessary pain and suffering causing its death." It also states that police made contact with Lilly and two other people who told police that Green "admitted to them that he stabbed the dog" and killed it, saying, after the incident: "It's just a fucking dog, who cares," according to the report.
The deputy's report continues: On Feb. 15, "I observed Sahmi in the Flagler County Inmate Facility making squealing noises. Intake deputies advised that while Sahmi was making these noises, he was advising that they were the sounds that the dog was making as he was killing it. Flagler County Inmate Facility Corporal Sa advised that Sahmi told him that he killed the god on Sunday, and his neighbor's dog last Sunday. Sahmi also told Corporal Sa that he was practicing on how to stab someone and that he wants to commit a mass murder."
Green has been booked into the Flagler County jail seven times previously, going back to January 2008. Charges have included armed robbery, aggravated battery, throwing a deadly missile, violating probation, strong-armed robbery, trespassing, shoplifting, disorderly conduct and resisting arrest.
On Sunday, a petition was started by the animal advocacy group Hand4Paws to, in one of its advocates' words, "that Green receives the maximum sentence for stabbing and killing" the dog. " In just a few hours time, more than 800 people outraged by his actions have signed," an advocate writes.