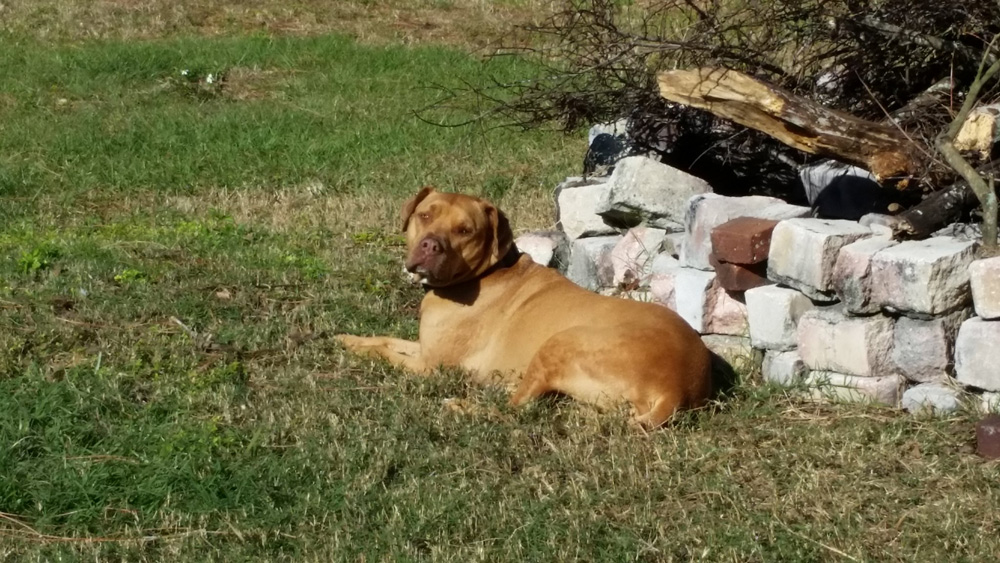 Keith Fynan had come out of his house in response to calls for help only to see a pit bull rush at him.
By the time a Flagler County Sheriff's deputy arrived at the scene of the reported dog bite incident at 70 Rolling Fern Drive in Palm Coast the afternoon of Feb. 7, the dog was lifeless and Fynan was injured and laying down at the door to his house.
Fynan, 60, a resident on the street, was holding a tan-colored pit bull that he said had just bitten him and a 12-year-old child who was walking home from the bus stop.
A deputy took control of the situation as paramedics tended to Fynan's injuries. He had several small puncture wounds on his left calf, according to a sheriff's report. The dog had no collar and no other identification.
A parent who had picked up her children from the bus stop at Rolling Sands Drive was driving home when she noticed the pit bull on the side of the road. She told deputies she then saw the dog take off running toward several of the children walking home from the bus stop. The dog then jumped on the 12-year-old child and pinned him to the ground, according to the witness. The parent drove her car up to the boy, enabling him to get in her car. The boy had "several small puncture wounds on the left side of his face and left lower leg," according to the report. The parent then began honking her horn to let other children and others know that a dog was on the loose, biting people.
Fynan was sitting at home when he heard the honking. He walked outside and heard a woman yelling for help–then noticed the pit bull running toward him. The dog at first sniffed his leg, then bit him on the left calf. Fynan told deputies "he grabbed the dog and pinned it to the ground as his wife called 911." He kept the dog pinned until deputies arrived. By then, the dog was dead.
The 12-year-old boy's father was contacted and responded to AdventHealth Palm Coast, where the boy was taken for treatment. Stephanie Hawkins of Flagler Animal Control took custody of the dog and began an investigation.
Sheriff's deputies located the dog's owner–Tarrance Morton, 46, of 3 Rolling Place (spelled with an a in the report). He'd been driving around the neighborhood, inquiring to people whether they'd seen a tan pit bull. A deputy showed him a picture of the animal, which Morton recognized. Morton told the deputy he'd left his dog in the fenced-in backyard so it could relieve itself, but the dog got loose and ran off. He claimed the dog had never been aggressive.
None of the victims had life-threatening injuries.
Reader Interactions