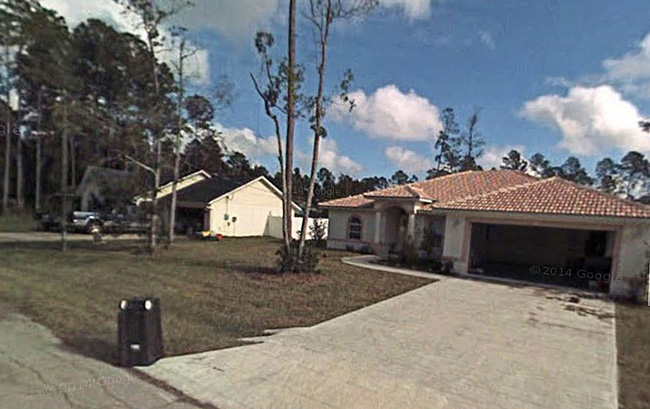 A 10-year-old autistic boy was hospitalized Tuesday afternoon with dog bites to both legs after he was chased and bitten by two pit bulls from his neighbors' house on Zonal Court in Palm Coast.
A Flagler County Sheriff's deputy responded to the location of the incident after 2 p.m./ Tuesday, when the dogs, called Trinity and Isis, were still loose. The deputy helped secure the dogs and return them to their address at 18 Zonal Court, while the victim was being transported to Florida Hospital Flagler by his mother.
Tammy Von Tausch, the victim's 50-year-old mother, told a deputy that her son had been chased into the woods by the two dogs. The young boy had left the house from the back door when his mother wasn't looking for a brief moment. Von Tausch immediately ran out when she noticed he'd left, and saw him running from the dogs, according to an incident report. The dogs bit the boy "several times," the report states.
The neighbors' garage door had been left open at 18 Zonal Ct. The young boy, the report states, "has been known to go to the home and open doors." The boy's mother told police that the neighbors are aware of that propensity "and still do not lock their doors."
Randy Hasher, a 21-year-old resident at 18 Zonal Court, acknowledged that the child had walked into the house several times before. Hasher told a deputy that "he left his outside garage door open, but he knows for a fact that he closed the interior garage door and that his dogs were inside."
A neighbor and witness who was outside during the dog attack told police she saw the young boy running into the woods as the dogs were biting him. Animal Control arrived on scene and said the pit bulls would have to be quarantined for 10 days at the Humane Society, though Hasher was allowed to take the dogs there himself.
The attack is the latest in a series of attacks by dogs on Palm Coast and county residents, most of those attacks by pit bulls or pit bull mixes, the last one resulting in injuries to a 76-year-old woman in the F Section in October.