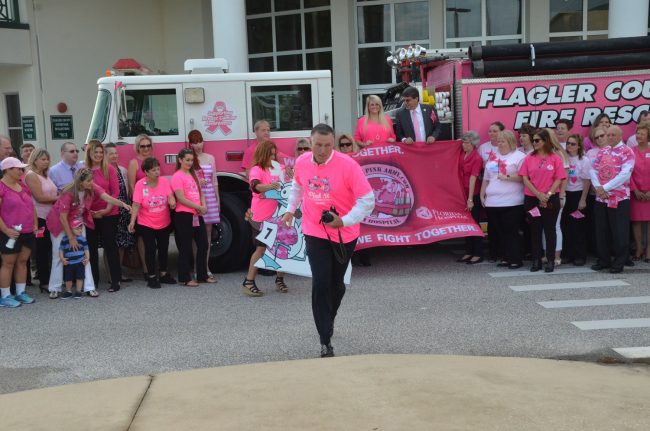 It's true that at the annual flag-raising for the Pink Army's breast-cancer awareness month this morning in front of the Government Services Building, nine of the 10 people raising the flag were men, a proportion inverted from those who suffer from the disease: 99 percent of the 250,000 breast-cancer diagnoses a year in the United States affect women, and fewer than 500 of the 40,500 deaths attributed to the disease affect men.
That doesn't mean this morning's all-male cast of Flagler County Commissioners and Florida Hospital Flagler officials—whose initiative the Pink Army has been since 2009—couldn't eloquently speak of the disease's impact. Like a civil war, it leaves no one unscathed, and at times goes after family members one by one.
That's been County Commissioner Dave Sullivan's story, starting with his grandmother, who was born in 1884. She died of breast cancer. So did his mother. All three of his sisters have dealt with breast cancer. His youngest has had repeated surgeries, and now has stage four cancer. "They were all loved and cherished," he said of his family members. And not just those related by blood: his own wife, though diagnosed with a different type of cancer, just completed seven months of radiation and chemotherapy at Florida Hospital Flagler, an experience that, despite the hardship, Sullivan said was "uplifting," because of the manner in which the care was provided.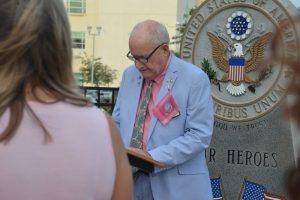 The Pink Army fans out from the Florida Hospital Flagler Foundation, with Foundation Executive Director John Subers as its commander in chief. It dresses up the county in pink down to a Flagler County Fire Rescue fire truck, firefighters from other agencies usually join in, so do cops, teachers, the hospital's staff and many others throughout government and private industry. But it's no gimmick: the Pink Army this year alone is expected to raise $30,000, Subers said, through partnerships with local restaurants that will be donating parts of their proceeds, through direct donations, and of course through the annual 5K, scheduled for Oct. 15 this year, that starts just after dawn on the hospital's grounds and runs through Town Center.
Since 2009, the Pink Army has raised $120,000. The money is then put to work helping women pay for mammograms—early detection is key—and other procedures. The money has helped 212 patients and underwritten 600 procedures. "So we know we're making a difference," Subers said. "Clinically, we get a lot of referrals from the Flagler County Free Clinic," the non-0profit that cares for poorer people in the county.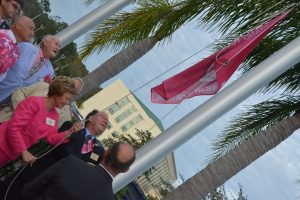 From a broader perspective, Florida Hospital Flagler in January invested $4.5 million in the installation of new radiation treatment equipment, what's called a True Beam, as Cory Domager, the hospital's chief financial officer, and Robert Davis, its chief nursing officer, described it. It's the only one between Orlando and St. Johns County. "It provides pinpoint accuracy to target the malignant lesion without creating harm to adjacent structures," Davis said. "It allows us to expedite treatment. For treatment that might require 40 to 50 sessions, this might reduce that treatment to 10 sessions, so it's a significant reduction in radiation exposure because of the accuracy."
Anyone who's experienced the slow-burn, debilitating effects of radiation stretched over five, six and seven weeks could appreciate the vast improvement.
It was another man, Tony Papandrea, chairman of the foundation, who closed out the morning's eloquence as he accepted the County Commission's proclamation, read by Sullivan and declaring October Breast-Cancer Awareness Month.
"It means so much to us to see Flagler County turn pink in October once again, and that's a result of the partnerships that we have formed over the years between the county commission, the county, Florida Hospital Flagler Foundation, the hospital, and indeed the community, because that's where the benefit is," Papandrea said. He spoke of the sobering numbers that usually accompany the ceremonies.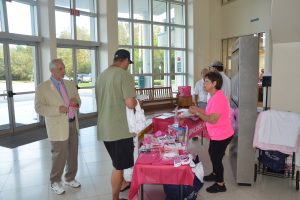 "The procedures and the patients and the numbers, they tell a story," he continued, "but they don't tell the whole story. You really get the flavor of what the story is when a girl named Michelle comes up, puts her arms around you and says, you've saved my life. That's where the story is. That's the real meaning.
"The harsh meaning is that one in eight women will face breast cancer. The harsh meaning is, 250,000 people will be diagnosed this year, and I hope it's not anyone here. My prayers are with you if they are. I'm also positive that there's no one in this room who is not acutely aware of breast cancer awareness. But how do we go from awareness to cure? Because that's the goal, that's where we want to get. The only way to get there, as David pointed out in the proclamation, is early detection, screening, diagnostic, treatment, and of course, research. And folks, that all costs money. So please join us in support of all the events that we have this month and throughout the year. Eat at our participating restaurants. Come join us on the 15th for the Pink 5K. That is one hoot. We will have a great time. And if you don't want to do any of that, just write us a check, because we will put it to good use. I'll leave you with one thought. I have two great granddaughters, one named Piper, the other named Peyton. One is 3, one is going to be 1. And I would hope and pray that we can affect and find a cure before those two little girls grow boobies."
You can sign up for the 5K here now or here. It's scheduled for Sunday, Oct. 15.