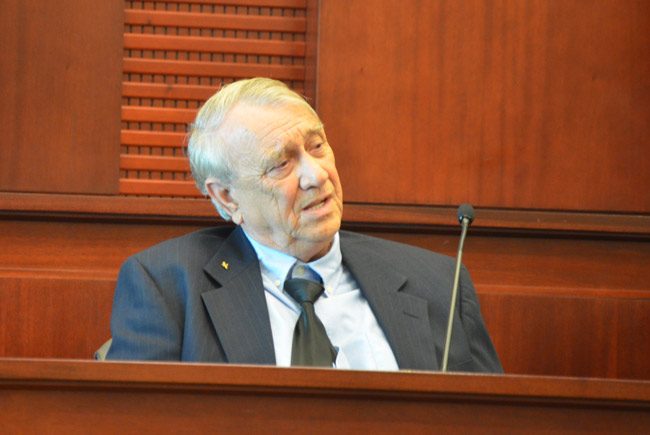 Paul Miller, the 70-year-old man serving a life prison sentence since a jury convicted him of murdering his neighbor Dana Mulhaull in Flagler Beach in a dispute over a barking dog in 2012, is returning to court in Flagler next week to contest his sentence.
Miller is arguing that he got an ineffective defense from his Doug Williams, his private attorney at the time, because Williams never retained a use-of-force expert even though "the theory of defense at trial was self-defense," according to Miller's motion.
"Defense counsel failed to present a use of force expert who could have opined tht Defendant Miller had an objective fear for his safety in light of the events of the evening (and the previous encounter with Mr. Mulhall) and that the use of force and amount of force used by Defendant Miller was justifiable."
Miller shot Mulhall on March 14, 2012. Miller lived at 1340 South Flagler Avenue. Mulhall, 52, lived in the house next door, across a white, plastic picket fence Miller had installed, at 1336 South Flagler. They'd had words before over Miller's small, barking dogs. Miller claimed Mulhall had previously threatened to kill him. That day, after Mulhall complained of the dogs, Miller went into his house, picked up a 9 mm handgun, and sat on the porch, waiting for Mulhall to come out again. Mulhall did. When he did so, Miller walked toward him, meeting him across the fence dividing the two properties. Mulhall, he said, kept yelling at him and at one point may have had his hand behind his back. Miller claims he feared Mulhall was going to pull out a gun.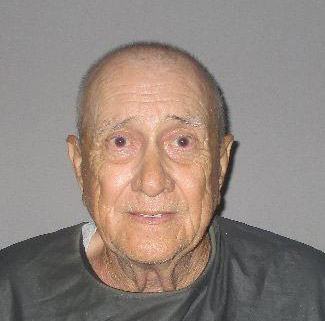 Mulhall never did. He had been drinking—he had a blood-alcohol level of 0.188—and he'd been cursing at the dogs, but he was not armed. And he never did more than hold the picket fence. He never crossed it, or acted as if he would. Yet Miller took out his gun and started firing, slowly, five shots, all of which struck Mulhall. The last two were in Mulhall's back as he was crawling toward the door to his house.
Originally from Maine, Mulhall had moved to Florida in 1992 and started a landscaping business.
The prosecution made much of the facts that Miller at several points had the chance to retreat if he felt threatened, to call law enforcement, or simply to remain in his house: had Mulhall crossed over to Miller's property or entered his house, Miller's claim of self-defense would have been more justified. But Mulhall never did.
At trial, Miller had been his own worst witness. Central to the case against him was the recording of the 911 call he made after the shooting, telling the dispatcher immediately after killing Mulhall that he'd "shot his fucking ass." He'd spoken the words with an audible sneer, the same sneer that would characterize his testimony on the stand as then-Assistant State Attorney Jackie Roys cross-examined him. He projected an air of contempt toward her, at times making sexist remarks, at others refusing to answer her questions. He showed no contrition, no regret. The jury took just 90 minutes to find him guilty of second degree murder.
"I will note that lack of remorse is not a proper basis for the court to determine a just sentence," Circuit Judge J. David Walsh said at sentencing the following month. "I am not considering such—if that were true, I'm not considering possible lack of remorse. But the seriousness of this crime, in the court's view, stuns the sensibilities of reasonable people. There is no sentence that is appropriate in this matter but for the maximum allowed by law."
That was a life sentence with a mandatory term of 25 years. Miller was 66 at the time and in poor health.
In June 2014 his then-wife Derrol filed for divorce. The marriage was dissolved that Sept. 11. Weeks later, she sold the house on South Flagler Avenue. It has since been converted into a rental unit.
Within days of the house selling, the 5th District Court of Appeal affirmed the sentence against Miller. It's not clear why Miller waited two years to file the current motion, though that sort of motion is not in itself unusual when all else fails. It is more of a legal Hail Mary than a sound argument. The state sought to refute it in its answer to the motion. Testimony from a use-of-force expert would have been inadmissible as the "Florida Supreme Court has held that it is generally improper to permit an expert to express an opinion which applies a legal standard to a set of facts," the state argued.
The hearing is set for Dec. 1 at 9 a.m. before Circuit Judge Dennis Craig in Courtroom 401 at the Flagler County courthouse. Miller, looking emaciated and now 70, was booked at the Flagler County jail Sunday morning. He's been serving his time at Sumter Correctional Institution, a 1,600-bed prison north of Tampa. He'll be represented by a public defender. Mark Johnson is prosecuting the case for the state.