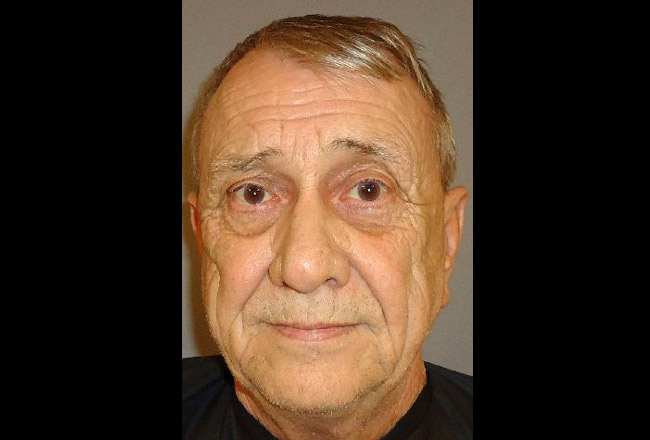 Paul Miller is calm, relatively collected and seemingly unshaken by the gravity of the situation as he tells Flagler County's 911 dispatcher that "you might send an ambulance" because he'd just shot his neighbor, Dana Mulhall. "His first name is Dana. I don't know his last name," Miller says. At no point does Miller suggest that his life had been threatened.
The dispatcher, toward the end of a 150-second conversation, asks him to stay on the line until authorities arrive at the scene. He hangs up on her, saying he had to call his wife to tell her what happened.
The Flagler County Sheriff's Office released the redacted recording today. Miller is in jail since last week, without bond, facing a seco9nd-degree murder charge in the killing of Mulhall. Miller shot Mulhall five times at the height of an argument over Miller's dogs. All five bullets struck Mulhall, four of them as Mulhall was running away.
The 911 recording the sheriff's office released is redacted. The office normally redacts self-incriminating evidence and names of those involved. Miller's name is redacted, for example. So is a phrase quoted by the original Flagler Beach police report that Miller spoke to the 911 dispatcher–that Mulhall had "jumped on him" so he "shot his fucking ass."
Miller throughout the recording answers every question the dispatcher poses, telling her first that the gun was on the porch and ignoring the dispatcher's request to "leave the gun alone." Miller is heard saying that he's taking the gun to the living room to put it on top of a cabinet.
"OK. OK, I'm going to probably have to keep you on the line though until we can get law enforcement–" the dispatcher tells Miller, only to be interrupted as MIller says, for the second time during the call, that he will be calling his wife: "No, I gotta, I gotta hang up and call my wife. I'll be right here on the porch," he says.
The dispatcher is heard telling others that he'd just hung up on her.
The recording is below. The full text of the recording is below it.
---
Paul Miller's Call to 911[media id=269 width=500 height=400]

Text of the 911 recording:
"Flagler County 911, where's your emergency?"
"You might send a ambulance."
[Garbled.]
"He's laying in his yard over here. […] We've had trouble before."
"OK, is he, and where are you right now?"
"I'm in the house, my house."
"Where's the gun."
"Hunh?"
"Where is your gun?"
"Laying outside." He lets out what sounds like a nervous laugh. "On the porch."
"OK, so we don't know if he's breathing or anything?"
"Nope. Don't know."
"OK, are you going to stay in the house?"
"Yeah, I'll be out here on the porch."
"OK, is anybody out with him?"
"Nope."
"Do you know the male's name?"
"His first name's Dana. I don't know his last name."
"OK."
"He made threats here a couple of weeks ago and I had to call law on him. He come over here doing it again right just a few minutes ago."
"What happened?"
"He says my dogs was barking. They may [garbled] yap a little bit as the dogs walk up the street but he's drunk or somethin' and his face is blood red and he's just cussing and calling me names and threatening me and every damn thing." He lets out another laugh. "Calling me names. Threatening."
"OK, and what is your—what is your name sir? […] OK, And you're on the porch and your gun is on the porch with you?"
"Yeah."
"OK, I want you to leave the gun alone. Did you unload it?"
"I think I did."
"OK, all right. Where is the—where are you putting the gun?"
"Out through the back of the house."
"OK."
"Probably outside."
"OK. All right, put–"
"I'm going to call my wife and tell her what's happening. She's […]"
"OK, I need to know like where you're going to put the gun in the home."
"I put the gun in the living room on top of the cabinet."
"OK. And you're calling […] OK, do you know his, house, where he is?"
"He lives next door here."
"Just next door?"
"yeah."
"OK. OK, I'm going to probably have to keep you on the line though until we can get law enforcement–"
Miller interrupts the dispatcher: "No, I gotta, I gotta hang up and call my wife. I'll be right here on the porch."
"He just hung up on me."
Earlier: