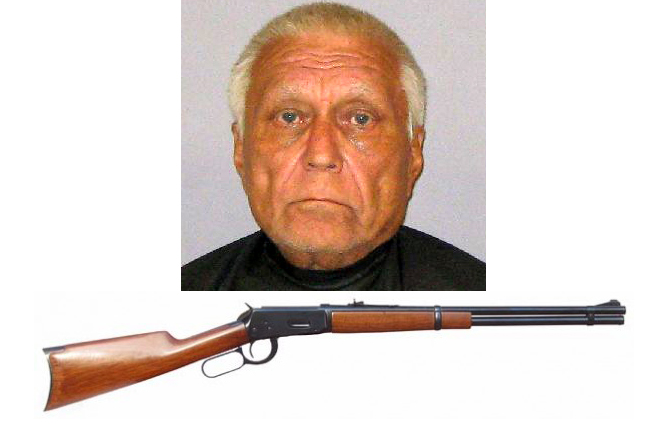 The Florida Legislature is going out of its way to ensure that Floridians can carry guns, hide guns, sell guns, buy guns, manufacture guns and shoot guns with as few restrictions as possible—and forcing local governments to strike from their books any ordinance that could be interpreted as regulating guns and ammo beyond the scope permissible by state law. Palm Coast will be discussing that very matter at a council meeting Tuesday, erasing from its current gun ordinance a dozen lines that currently imply that the city has a say in issuing firearm permits or defining where and how people may carry guns.
But for now, it's still illegal to shoot a gun, or to threaten others with a gun, absent a matter of self-defense. Patrick Kilichowski, a Brooklyn-born, retired 64-year-old resident of Plain View Drive, found out when he allegedly walked out of his house with a loaded Winchester rifle, angrily, and shot it (into the ground) Friday evening, with several people around him. The incident took place about 1,500 feet east of the campuses of Wadsworth Elementary School and Buddy Taylor Middle School. It took place after 7 p.m.
Kilichowski was reportedly not happy about one thing: his girlfriend was outside, chatting with neighbors. He walked out of his house "swinging" his Remington Arms 30-30, according to a sheriff's report. He was "yelling incoherently." Three of his neighbors—a 26-year-old man, a 37-year-old man and a 48-year-old woman, all black; Kilichowski is white—said in sworn statements that they felt threatened, that Kilichowski was going to shoot them.
Another individual, Patrick Neumeyer, 39, who was there but who lives on Kathryn Place in Palm Coast, walked up to Kilichowski and asked him what he was doing. Kilichowski, the sheriff's report states, "then raised the gun to a shooting position and aimed it at  Neumeyer's stomach. Neumeyer took hold of the firearm and moved it away from his body at which time Kilichowski pulled the trigger of the weapon, causing it to discharge into the grass. A spent shell casing and a spent bullet were found in the grass of the residence."
Police were called at 7: 20 p.m. Kilichowski was ordered to the ground and cuffed. Kilichowski was tested for alcohol. His breath alcohol concentration measured 0.092. The legal limit is 0.08. He told deputies that the gun went off accidentally. He was charged with four counts of aggravated assault with a deadly weapon, discharging a firearm in public, and possession of a firearm while intoxicated.
As of Monday, he remained in jail on $22,000 bail.