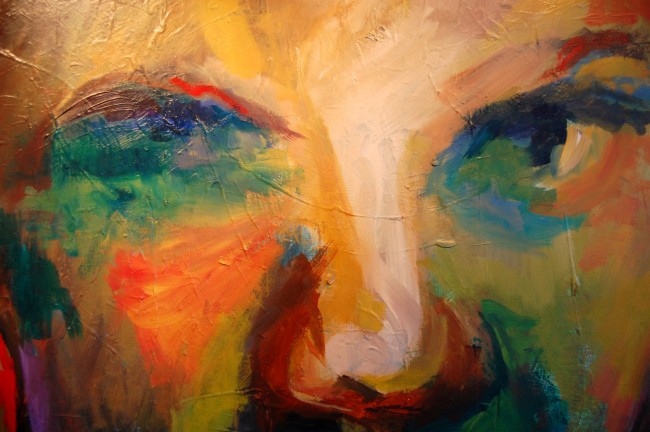 Patricia Zalisko does heads. Karlene McConnell does trees.
That puts it a bit crudely. Artists' works are usually about more than immediate representations on canvas, particularly expressionistic and abstract painters like Zalisko and McConnell. But as you walk into the latest show at Hollingsworth Gallery (opening Saturday evening at City Market Place), that's partly what you'll see: big, imposing, arresting heads with disconcerting stares despite brush strokes and color combinations that seem to dissimulate the familiar creasing associated with a face. And sometimes equally big though less imposing—because more serene— trees painted much as Zalisko paints heads: as plays of color and dissimulation, as suggestions that invite the viewer to see things that may or may not be there, much as a walk in a forest is an individual experience even if the trees are all the same.
---
Patricia Zalisko
and Karlene McConnell


Opening at Hollingsworth Gallery at City Market Place Saturday, Feb. 12, with a free reception and live music, 6-10 p.m.
---
---
"I play back and forth with the positive space and negative space," McConnell says, meaning literally what you see there and what you don't: the actual tree, and what's in between, the "dark matter" of the painter's universe that, like the universe's actual dark matter, is not necessarily empty at all, or even dark, but something filled in by the inexplicable (astronomers haven't yet figured out what dark matter is, having that in common with artists). "That's my process, back and forth, back and forth," McConnell says.
The viewer is invited to do the same. It's not difficult. Pick a painting, and walk through it, if not into it with your eyes. Most of the interpretation is up to you. The crucifixion in McConnell's "Whispers" (for example) turns out to be entirely imaginary, or at least not something she had intended or even seen herself, though she doesn't mind the leap: McConnell is no longer a practicing Catholic, but she remains spiritual."When my daughter was very young," McConnell writes, "she drew a picture of a tree. She said it was God.  I too am drawn to the relationship between creator and creation."
The relationship between curator and creation can be just as interesting when the curator is JJ Graham, Hollingsworth's owner.
In preparation for this latest of his monthly shows, he did a call for artists for a two-person exhibit. Most submissions came in from Florida artists. Zalisko's and McConnell's works went well together. Graham picked them. He had no idea the two artists shared a studio (Zalisko has been in New Smyrna Beach after retiring as a prosecutor in New Jersey; McConnell, in Ormond Beach since the mid-1970s, taught art for 10 years and now devotes her time entirely to painting). "That's why this work sings so much in chorus," Graham says. "Even though it's very different, it does tend to flow very well, which is why I mix the work up. I didn't separate it, you, know, one artist in the front and one artist in the back," as in previous shows with more than one artist.
It's also unusual for Graham to go for paintings of trees, or landscapes: he wants his visual music to have more dissonance than the pull of landscapes that artists can fall prey to. "Generally I don't show palm trees," he says of McConnell's work, "but these palm trees are different. She's painting them arbitrarily," by which he means she leaves her mark on her scenes—literally: the notion of brushstrokes' marks in thick, distinct, almost rhythmic movements, like an artist marking territory in color instead of scents, is all over her work. The reds in her trees (as in red trunks, not red leaves) are like the reds in Zalisko's heads. It's the harmony of the unexpected.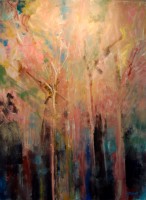 "And I like the way Zalisko goes off the surface but she brings you back in with her gesture and her movement," Graham says, standing in front of "Emma," a 60×48 acrylic portrait in strong primary colors that makes you wonder at first what, as is often the case with artists in their conceptual worlds, the hell Graham is talking about, until he makes it seem elementary: "That's a mark right there and a mark here and a mark here," pointing to the clear dashes of red that seem at first arbitrarily to stray on the portrait's lower lip, in back of the ear, above each eye, forming that circular movement that explains what Graham meant by throwing you out of the surface and bringing you back in, what keeps the eye from straying off and what's likely to keep the viewer reading the face longer. "Those are things that most people don't think about," Graham says. "If you're a painter, you look at that, and you have to analyze—OK, that's going off, why am I not being pushed out of the painting? And that's why: she's figured out how to adjust." Those bold marks: even artists have their traffic signs.
Every one of Zalisko's head has a story to tell. To say that they're in your face is part of the visual pun she's creating. "I don't know why this happened, but it did," Zalisko writes about her heads. "It started with an abstraction. I turned a large piece of unstretched canvas upside down, saw a head, and a series was born. The 'Heads' number 10, so far." As a lawyer, all she'd seen were heads. It was her job to decipher them. She's still at it. Two more heads in her series and she'll have her 12 angry men, some of whom may be women (since it's not 1957 anymore.)
Don't be fooled: there's a lot more than heads and trees in this show. Some paintings more challenging than others, which makes Graham happy: "This area still has to catch up when it comes to this kind of art," he says. "People who look at abstract painting need to kind of understand, there's this intuitive process that's born out of understanding these rules and then trying to twist them in new and interesting ways." The show invites you to see the rule-breaking at play.

Hollingsworth Gallery is located at City Market Place, 160 Cypress Point Pkwy. in Palm Coast, suites 209B & 210B. Call 386/871-9546.