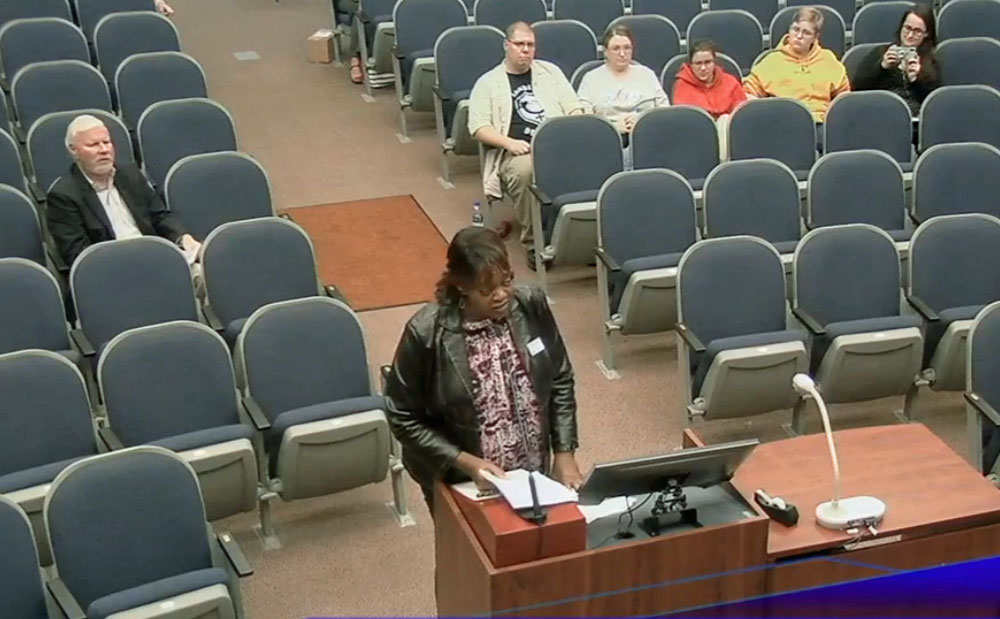 No one in their right mind would go before the school board and claim that, contrary to what students are taught in class, the ovens at Auschwitz never existed, the Armenian and Cambodian genocides were inventions, slaves loved their slave-masters and women were not treated like mules without rights for much of America's past. Deniers still exist of course. But they generally spew their nonsense in the gutters of the anonymous internet, technology's equivalent of Klannish white sheets.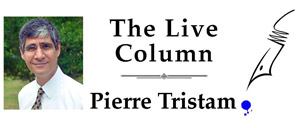 So it was unusual when the Rev. Charlene Cothran of Palm Coast's Zion Baptist Church, and a Realtor in town, appeared before the school board Tuesday to spew that nonsense denialism about gays, lesbians and transgender people. Or maybe it wasn't unusual. LGBTQ bigotry seems to still be fair game. The U.S. Supreme Court this very term is deciding whether employers should have the right to fire gay and transgender people. Employers still have that right in most states, including Florida. As astounding as it seems that this is still a debatable issue (the question is no less preposterous than asking whether an employer should have the right to fire a Presbyterian, a Democrat or a redhead), it's even more astounding that the outcome is uncertain, and based on oral arguments in October, likely to favor employers. 
With the Pulse massacre in Orlando as an obvious backyard example, it's no mystery why LGBTQ people are now more often the targets of hate crimes than Jews, Muslims or blacks in the United States. The Rev. Charlene Cothran added her bit of hatred to that end Tuesday. 
Randall Bertrand, the parent of a transgender boy who objected to the disrespectful way his son was treated at Matanzas High School (the boy is transferring), had just addressed the board when Cothran spoke. She described herself as a former lesbian advocate and board member of many gay and lesbian organizations. She said she had a "radical change of heart" and "finally humbled" herself to the teachings of Jesus Christ. I don't know what one thing has to do with the other. Christ taught the golden rule without exceptions. But bigotry has this in its favor: it is not accountable to logic, fact or compassion. It thrives on its own closed-circuited delusions, under that all-indemnifying cloak of "faith." Cothran showed how. 
Her right to express her beliefs, however perverted, is not in dispute. But she attacked Bertrand personally, repeatedly calling him "confused," ridiculed his parenting and presumed to tell him how he should be raising his son. She insulted Bertrand's son, refusing to refer to him as a boy, calling him "this young beautiful lady," which is no less offensive than slurring anyone's sexual identity, and calling him "mentally ill" twice as he sat a few rows behind her.
Neither the school board attorney nor the school board chair intervened. Maybe they didn't realize how offensive Cothran was being. The board has procedure rules, which it enforces, that forbid public speakers from making directly disparaging attacks on school staff. How is a student, a minor, different? Cothran wasn't discussing potential policy. She was talking about a student in a derogatory, degrading way, and attacking his father publicly. The gavel has sounded for far less. That goes to show the very disconnect in question here, the remaining lack of sensitivity from a board and a district that nevertheless have, on the whole, been making the right strides in this regard. But clearly not enough. Some of the officials, including the superintendent, apologized to Bertrand after the meeting. It's too easy. Public bullying must be confronted and condemned publicly. 
The 15 year old finally got up and left the board room. He shouldn't have had to. Just as he shouldn't have had to transfer schools to resume his passion for his chosen academic field.
Then Cothran made recklessly false claims, citing discredited numbers and organizations that deny the severity of LGBTQ suicides or the facts of gender identity. So I don't hesitate to call her out in turn, both for her personal offenses and her intellectual dishonesty.
"There is no evidence genuinely supporting gender identity. There is none," she said. That may be true in official policy in Iran, in Taliban-controlled areas of Afghanistan and in Saudi Arabia, and apparently in certain American congregations in sympathy with Islam's most regressive fringes. It's not true anywhere that abides by the American Academy of Pediatrics' position on transgender and "gender-diverse children," the American Medical Association's advocacy for "gender-affirming care," the American Psychological Association's recognition and advocacy for "gender identity and gender variance," the American Psychiatric Association's elimination of the term "disorder" from its literature on gender dysphoria, and non-medical organizations' recognition of gender identity as a human right, whether it's the United Nations Human Rights Council, Human Rights Watch, Amnesty International, or the gender identity equality laws in 22 European Union countries. I'll take all that as evidence of "gender identity" over Cothran's baseless claim. 
Bigots love their cloaks, especially when they parade in academic-sounding garb. Cothran pulled that trick on the school board, too. To support her points, she could not cite a single peer-reviewed piece of literature or respectable media, but she cited the official sounding "Gender Resource Guide" produced by the American College of Pediatrics. 
"By and large homosexuals are not interested in evidence or statements by the American College of Pediatrics," Cothran told the board, "who say that exposing gender identity, ideology as a normalized lifestyle to children is extremely unhealthy, and downright dangerous to children's mental, physical and social development." It's not just homosexuals who are not interested. For all its respectable sounding name, the American College of Pediatricians was flagged by the Southern Poverty Law Center as "a fringe anti-LGBT hate group that masquerades as the premier U.S. association of pediatricians to push anti-LGBT junk science, primarily via far-right conservative media and filing amicus briefs in cases related to gay adoption and marriage equality.​"
Cothran in her three minutes had time for yet another falsehood, that one a reverse blood libel that denies LGBTQ people are killing themselves in far larger proportions than the general population. "Obviously this means that teen suicide does not have much to do with whether they're gay or not. It has to do with improper or no treatment of mental illness," she claimed. In fact, a 2016 report by the Centers for Disease Control found that the "prevalence of having seriously considered attempting suicide was higher among gay, lesbian, and bisexual students (42.8%) than heterosexual students (14.8%) and not sure students (31.9%)." 
School Board member Colleen Conklin, the only board member to pay more than lip service support for Bertrand and his son, at least publicly, strongly and unequivocally refuted Cothran by citing GLSEN's 2017 National School Climate Survey, which found that "71 percent of LGBTQ students had reported having problems within the previous year with bullying based on their own sexual orientation. Sixty percent said they felt unsafe at school due to sexual orientation, and 45 percent felt unsafe at school due to gender identification. Thirty-five percent did not go to school for at least one day because of feeling unsafe." Conklin said LGBTQ people who come from families that reject them "are over eight times more likely to attempt suicide than those families who accept them." (You can listen to Conklin's full statement to the right.) 
When Cothran's time was up, she told the board she'd submitted the rest of her statement in the form of a letter–a three-page, single-spaced letter under the double-plus doublethink banner of "The Evidence Ministry"–rich in links to more bogus evidence  and references to "so-called transgenders." (Here's an idea Ms. Cothran: Perhaps you could abstain from referring to human beings as so-called transgender and we'll refrain from calling you a so-called pastor.)
Cothran then took her seat. The chamber was almost empty. She could have chosen to sit anywhere. But graceless to the end she chose to be in Randall Bertrand's face. It reminded me of those Baptist picketers who brandish their "Fag troops" signs at military funerals, heedless of mourners' grief. Maybe Cothran is a guest pastor there. School Board Chairman Janet McDonald offered her the same gushing thanks as she would, say, a student who'd just showcased a wonderful school project, adding a "thank you very much, we appreciate your attendance and your information," without so much as a balancing word of warmth or support to the family Cothran had just harassed publicly for three minutes. 
At the end of the meeting Bertrand spoke again to assure the board that he was not confused, and to ask whether board members really thought that a policy or procedure on protecting LGBTQ students was not necessary. 
Cothran had left. But she'd been no less abusive than anyone getting in a student's face and demeaning the student's identity, whatever it may be–sexual, ethnic, religious, physical, racial. She would never have expressed her aggression about any of those identities, with that one exception. Attacks on sexual orientation are still somehow a permissible slur, even in a setting as public as a school board meeting. It's how LGBTQ people continue to be dehumanized. It's how the Pulse massacre in 2016 was no more of a aberration than the lynching of Matthew Shepard 18 years earlier. It's how the nation's highest court and most state's laws can still be divided over the basic human rights of millions of people whose identity injures no one, whose differences only honor and enrich our diversity. 
Cothran was one person, one bigot. But the numbers Conklin spoke point to the depth of the discrimination and the toll it's taking, and will continue to take. The answer is not silence, as was inexcusably the case from most board members. It's not just thanking fanatics for their attendance and information–to which they're entitled as long as it doesn't turn to insults. It's letting the community in words, deeds and procedures know that this is not what we stand for. It is not what we'll accept.
Unless our board and community do find it acceptable.

Pierre Tristam is FlaglerLive's editor. Reach him by email here or follow him @PierreTristam.