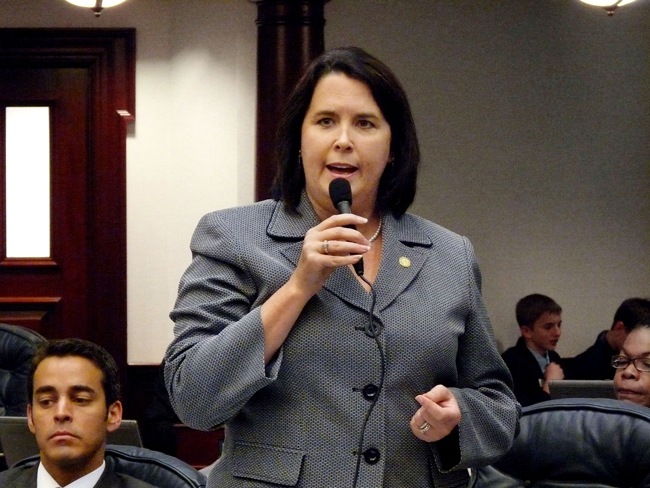 If teachers are being graded for their student's performance, is it only fair that parents also be held accountable for how well-prepared the student is?
That's the question a House committee pondered Tuesday when it took up HB 255, by Rep. Kelli Stargel, R-Lakeland. The bill, referring to "parental involvement and accountability in the public schools," would require teachers in grades Pre-K through 3 to grade parents on their involvement, including factors like homework completion, whether the child is physically prepared for class and their absences.
"It's not grading whether the parent fed a three-course breakfast or what time they went to bed, but is that child prepared for school?" Stargel said. "It's mostly so we can identify those parents who are not involved."
Stargel's own parenting skills might have been exempt: the 45-year-old mother of five–she got pregnant with her first child at 17, subsequently married and had five children–home-schooled four of them for part of their education. But the bill got Stargel some national exposure. In January she made an appearance on Fox and Friends and was interviewed on CNN.
Stargel said the intent is not to punish those parents, but to figure out what can be done to motivate or help them.
"We all know a more involved parent (has) a more successful student," Stargel said. "Without proper parental involvement in all aspects of a child's life, the child's prospects to be a well-equipped and useful member of society are greatly diminished," the bill reads in the first of a series of social and pedagogical assumptions about what causes "student underachievement." The bill lists inadequate rest, lack of supplies, tardiness, absences, poor communications and poor homework preparation. It does not mention issues that have become increasingly relevant among Florida families, Flagler families in particular: unemployment, underemployment, foreclosures, transience, overwork and other economic stress factors.
Some lawmakers questioned whether the bill was inappropriately targeting parents who do not have significant amounts of time to devote to homework preparation and test quizzing.
"How will the grading system be fair to that parent who wants to have that involvement but his or her financial situation won't allow that to happen?" asked Rep. Charles Chestnut, D-Gainesville.
The report card would include a section in which the teacher grades the parental involvement on given criteria as satisfactory, needs improvement, or unsatisfactory. The proposal doesn't mention penalties or consequences in case of an unsatisfactory grade. But it provides for an appeals process that would have to be developed by the State Board of Education, enabling parents unhappy with their grade to have a face-to-face meeting with the principal and the teacher to discuss how the grade was determined, and how it may be improved.
The Florida Parent Teacher Association spoke out against the bill. "Mandating one more school accountability issue is not the best idea at this time," said Cindy Gerhardt, the President of Florida PTA. "We love the bill, but we don't feel that the teacher having to grade the parent is really going to improve that relationship."
The concept of grading parents has caught a lot of flack, Stargel admitted, and said whether it would work is "up for debate."
"What I do like about a grade is it is a clear measure of your accountability," Stargel said. Lawmakers said charter schools have long required parents to sign contracts promising a certain level of monitoring and involvement.
The concept of grading parents is not totally foreign to Florida public schools. In rural Gadsden County, near Tallahassee, the school district has adopted a grading system called "Different Levels of Parent Involvement."
Gadsden County Parent Services Coordinator Audrey Lewis told the committee the Gadsden initially considered a more formal "grade" but that parents pushed back.
By just changing the name to the DLOPI acronym, Lewis said, more parents came on board.
The program now ranks parents on five different categories, from attendance, to communication with teachers, tutoring, volunteer effort and leadership. "Parent involvement is not all about carnivals and bake sales," Lewis said.
The bill appears unlikely to pass this year, though it may provide a preview of the Legislature's education agenda for next year. The House committee took no vote on the bill Tuesday and with just about a month to go in the session and no movement on a Senate companion, its prospects appear slim.
–Lilly Rockwell, News Service of Florida, and FlaglerLive