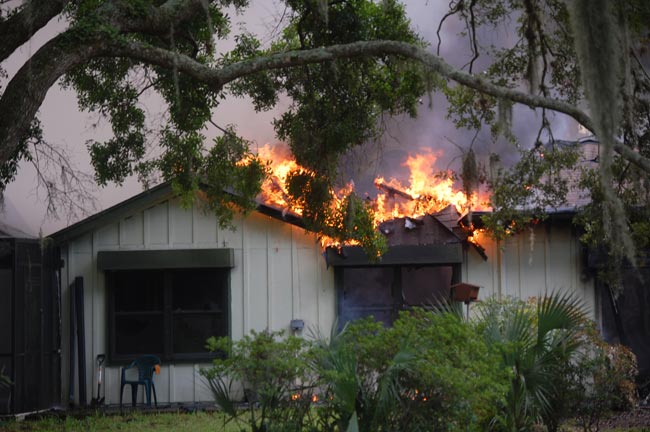 A 2,500 square foot single family house belonging to Will and Deborah Morningsun, abutting the third hole of the Palm Harbor golf course in Palm Coast, was on fire this afternoon. Several units of the Palm Coast Fire Department had responded shortly after 3 p.m, along with two units of the Flagler County Fire Department. The fire is still active, but it is contained. No one was reported injured.
The house was inhabited, but no one was there at the time of the fire.
By 4:45, a few flames were still visible on what remained of the middle portion of the roof in back of the house, with more flames toward the center of the house. The screened-in pool area looked damaged but not destroyed.
The house, built in 1981, is located along wooded, mossy greens of the golf course, at 6 Cole Place, off of Clubhouse Drive. None of the trees overhanging the property appeared significantly affected by the fire. By shortly after 5 p.m., some fire units had left, and remaining firefighters were ensuring that the fire would stay contained as they progressively moved to eliminate it entirely. It was likely to generate smoke through the evening.
The property owners bought the house in 2006 for $450,000. It is valued this year at $212,000. It is a homesteaded property.