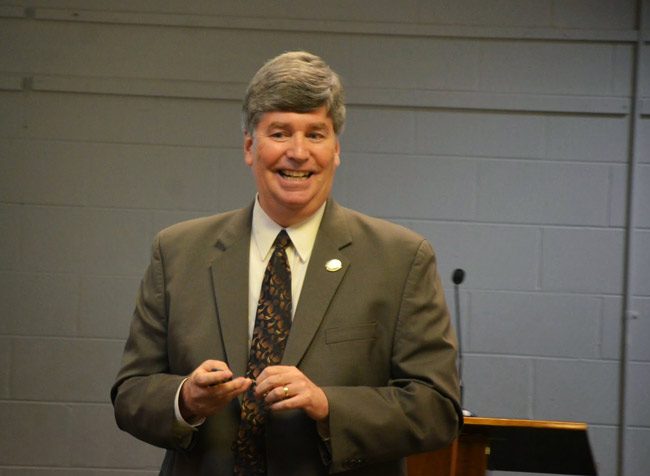 Palm Coast City Manager Jim Landon finally got the raise he's been pushing for since last year, his first in eight years. He's been Palm Coast's manager for 10 years.
The city council this evening unanimously agreed to a $6,700 raise for Landon, raising his pay 4 percent to $175,600. The council also awarded him a 1 percent automatic annual raise through 2021, unless the council intervenes either to give him less or more, following a September evaluation.
The base pay does not include Landon's additional deferred and defined compensation, and car allowance, which adds $51,100 to the package, for a total compensation of $226,700. The sum does not include health premiums the city pays for. Nor does it reflect the six-month severance package in Landon's contract. The contract itself is unchanged, except for its amendments. Had the council chosen to re-negotiate the contract, it would then have had to comply with a state law in place since 2011 that limits all public employees' severance packages to 20 weeks.
The vote came at the end of an hour's discussion of the council, including public comment from eight residents who split their opinions between those favoring a raise and those not.
Mayor Milissa Holland took to Landon's defense, describing the city as very well run and at one point alluding to her six years as a county commissioner for comparison's sake. "I'm not going to say anything disparaging about the county," she said, and in the same breath—or the same sentence—did just that, adding, "but it is night and day."
"I have confidence that the city is in good hands, he has my support," the mayor said.
Council members Steven Nobile and Heidi Shipley at one point were ready to delay approval of the raise, pending further research and answers to questions they had. Nobile is especially concerned about the severance package, which awards Landon a base of 26 weeks, not including the benefits and personal leave he's accumulated. He is awarded 30 days of personal leave every year, and required to use only 10 of those days a year. Depending on how many he's used above that 10-day minimum, he could have potentially accrued some 200 days of personal leave, the equivalent of 40 weeks, which would be added to his severance. In essence, Landon likely has the equivalent of well above a year's severance, and counting: those days keep accruing every year.
Those numbers were not presented during the discussion.
Two members of the public who addressed the council asked for specifics about Landon's benefits and total compensation package. Holland asked him to elaborate on the point.
As has repeatedly been the case with Landon over the years, he was his own worst enemy, clouding his undisputed skills as a manager with a tone seemingly deaf to lesser mortals' concerns and typical salaries while skirting contempt for questions probing the fine print of an extremely generous contract.
Remarkably, he described his benefits package as "similar to the other employees, there's health insurance, retirement, I do have the car allowance." He never mentioned the amounts the city pays in addition to his salary for his defined and deferred compensation plans. "I may be missing something, that's my benefits package," he said.
He conceded that with his six months' severance, there's vacation days not taken, and said "it's substantial," but never gave an actual figure. Nor did council members ask for the details. "Severance is basically six months of my salary plus my benefits package," Landon said, though after he offered a defense of his severance by describing how it affords people in his position the time to look for a job after being potentially fired by any new council, council member Heidi Shipley reminded him: "Florida, right to work state, all of us, tomorrow, we can get fired."
Nobile, along with council members Nick Klufas and Bob Cuff, defended the raise based on their own research that showed Landon's salary to be closer to the median rather than the extremes, for a city of Palm Coast's size and its number of employees (about 450, including its utility department).
And it was Cuff who in the end provided the sort of compromise that won over any reluctance to vote for the raise this evening, offering the limit on automatic future raises to 1 percent. He did so only after noting in comments prefatory to his motion that he was not making a judgment on Landon's personality, which he candidly–explicitly–said had rubbed him the wrong way on some occasions.
"For tonight and for the amount of the requested increase, I'm prepared to support an increase," Cuff said. "Whether you like Jim Landon or you hate Jim Landon, and I've had moments–I wouldn't say I've hated him, but he certainly has kind of chapped my you-know-what like a snow cone about this tall. But I don't think that's the issue. I think the issue is that we need to evaluate what the position is worth and from what I have seen both as a citizen and admittedly only for a few months as a city council member, it's a job that not many people could do."
Cuff called the pay package "in line with the responsibilities of that job."
Landon's comments never swerved past the minimum he did say about his contract or the pay raise he was requesting–until the very end of the meeting, when he said, simply: "Thank you for the kind comments and the consideration on the salary."