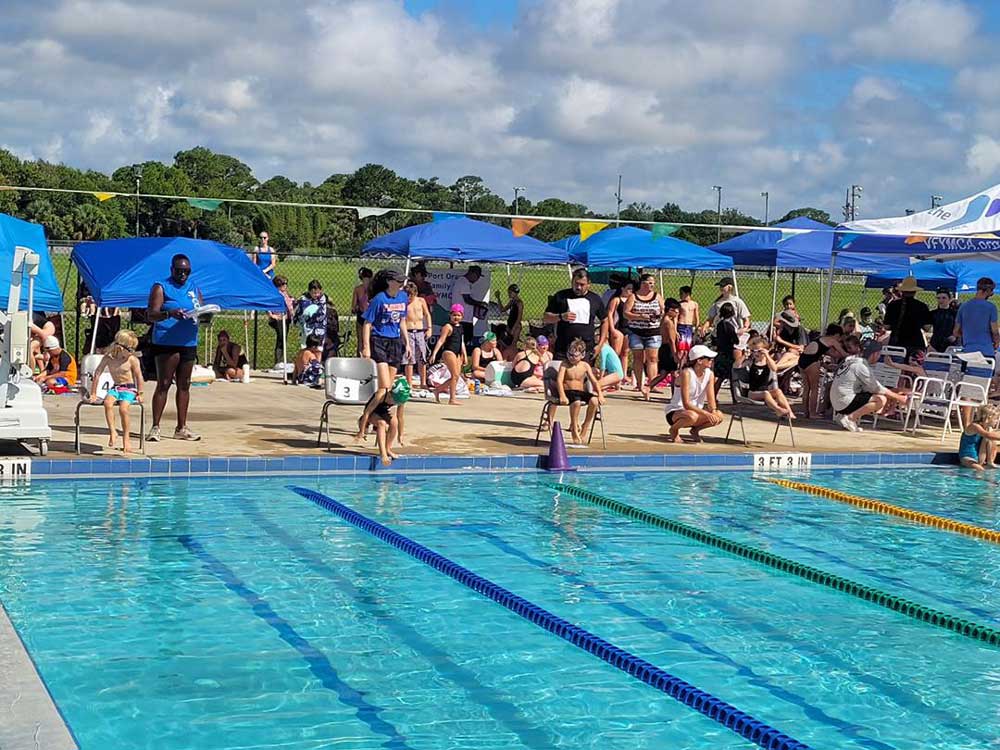 The Volusia Flagler Family YMCA is working with Palm Coast Mayor David Alfin and a corps of local community members to bring a YMCA to Palm Coast, with a rough goal of having a local facility under construction or near completion in about two years.
The city may donate land. The city, with the YMCA, is working to secure capital seed money from the legislature. The YMCA is establishing a local advisory board, with two members already spearheading the effort, and will build both fund-raising campaign from that basis and seek public input on what the local Y should provide, since all Y's are uniquely tailored to the community they serve: there are no cookie-cutter Ys. But an aquatic center appears assured, that being the Y trademark.




"I'd love to be up here in two years, but I don't know if that is too fast because construction takes time,": said Volusia Flagler YMCA President and CEO Chris Seilkop. "All I can tell you is that this is a priority for the YMCA. The timeline, we do not have control over. We want to be up here as soon as we can. But I can't tell you what that looks like."
Palm Coast, Alfin said, is Alfin: "certainly ripe" for a YMCA, 12 years after it lost one. Seilkop and Alfin outlined the vision and plan in an hour-long interview at Alfin's City Hall office on Thursday.
If successful–and neither Seilkop nor Alfin think it would not be–a YMCA in Palm Coast, especially with a swimming pool, would reconfigure both Palm Coast's and the Flagler County School Board's ongoing debates over whether and how to modernize their own swimming pools, or even, in the case of the school district's Belle Terre Swim and Racquet Club, whether to close it to public uses. A Y in town would make those decisions easier.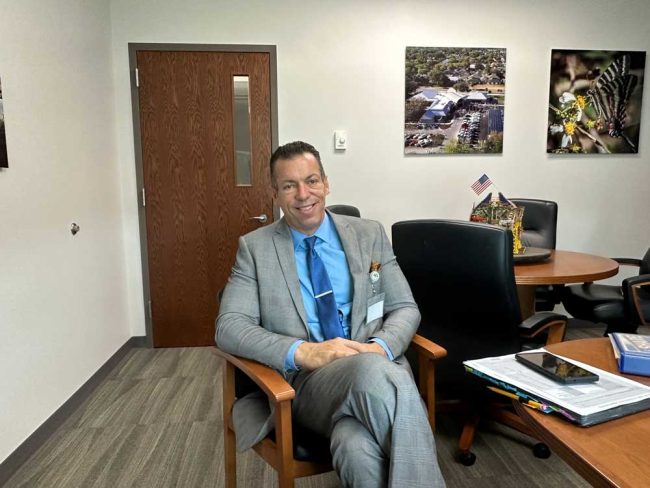 "So if we can create a win win win," Seilkop said, "it's a win for the city because they can relieve a financial burden, a win for the community because they get additional services, and then a win for YMCA because we have a home now that we can provide services. So if we create a win win win, then that's the best case scenario and that's kind of our goal here. We've done this before."
How soon? "That really depends on the partners. That depends on the city's timeline," Seilkop said.




For the record: the Volusia Flagler YMCA is not interested in taking over the Belle Terre Club, both because the facility is too old, and the location to restrictive: YMCAs like to have room for expansion. But its location and the services of the local Y will depend on what the community wants and needs, at a time when the closest Y is in Ormond Beach.
That 35,000 square foot YMCA is "busting at the seems," Seilkop said, with its membership growing 68 percent just in the last 10 months, after having registered 6,000 members the day it reopened its doors after a renovation. Facilities can be anywhere from 20,000 square feet to 60,000 square feet or more. They can cost $12 million to $18 million. The Ormond facility employs five full-time workers and 70 to 100 part-timers.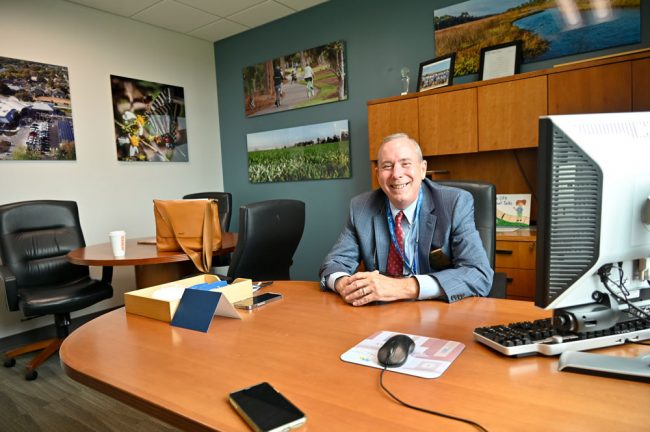 "We're trying to bring as many partners to the table as possible," Seilkop said. "So we're talking to anyone who's interested about hey, here's our vision. Here's what we want to do. Do you want to come along and be a part of it. So it's just a city or a YMCA venture. We're trying to have a big tent and see how many other organization may want to come along and participate."
Input would be sought through a needs-assessment, talks with stakeholders, and market studies both the Y and the city have conducted or are conducting. Seilkop through his own meetings has gotten the sense that the community wants an aquatics center, indoor and outdoor sports–there are no indoor basketball or volleyball courts except at school campuses, which are not always easily accessible–and summer camps.




"The city is is unable to to execute or bring forward an initiative like this on its own. It doesn't have the expertise, the know-how or the experience someone like Chris does. So I've reached out to Chris to help us," along two prongs. First, Seilkop is identifying locations, including some that the city owns and could donate. Second, Seilkop and Alfin are speaking with Volusia and Flagler County's legislative delegations to secure seed funding for the project. The current ask is for $3 million for the Volusia Flagler YMCA, $1 million of which would be earmarked for the Flagler project. "There are monies available on a cyclical basis to support Y projects," Alfin said.
"At the conclusion of this session, we'll have hopefully some momentum to look at the possibility of a tight timeline," Seilkop said. "The other thing the YMCA bringing to the table is the ability to get private donations. So our goal is to tackle this from a fiscal standpoint from a number of different directions. It's from state funding, but also doing some private funding to get this moving."
Alfin, who plans to attach the YMCA project to coming discussions on the city's comprehensive plan, favors a Y in Town center. That may not be the Y's approach: "You want to be someplace close to the rooftops, you build Y's where people live, not really where they work," Seilkop said.
Either way, while there'd been some consideration for waiting until West Palm Coast is developed to place a Y there, "we have made a decision to move forward at the speed we can within the traditional geography of Palm Coast," Alfin said. "Our residents, our children, our older folks deserve and need that service now. That doesn't preclude us from doing something big and wonderful on the other side down the road. But I'm not waiting. We're doing it now."




In the 1980s YUSA, the parent corporation of the YMCA, opened a branch in Palm Coast. It didn't last long. In 2002 the Y's Greater Daytona Association opened a Y at what was then Florida Hospital Flagler (today's AdventHealth Palm Coast). The lease was not renewed in 2011 despite having 900 memberships serving 1,200 people.
The Volusia/Flagler YMCA has been looking to return since. Its 26-member board has made that return a priority, Seilkop said. "The mayor has been a huge advocate on this project. He seeded the vision," he said. "We've been talking with a number of different individuals in this community about bringing a Y up here."
The Y would also be a benefit to the growing presence of the University of North Florida and Jacksonville University in Palm Coast, to the growing corps of health care employees–with the new AdventHealth hospital opening in August on Palm Coast Parkway–and with prospective residents and businesses. The city's demographics have been skewing older rapidly since the 2010 census. Alfin would like to reverse that trend to a degree, and make the city more appealing to families.
"I am trying to find every way I can to respect the aging community that we have here in Palm Coast, but to help change the demographic skew, which points towards an aging demographic, and bring in the amenities and the magnet for younger families and younger career minded professionals for the community, of which the frontier and westward expansion are full of that concept." He said "A city that doesn't have balance and doesn't offer a balanced set of amenities is doomed in the long term."
The Y offers programming for all demographics, from preschool all the way up to seniors, a programming referred to as cradle to grave: swimming lessons for infants to group exercise, stretching classes for seniors and everything in between such as sports, summer camps, day care, adult swim lessons. Pools, Seilkop said, "are in our DNA."




It is also a founding principle at the Y that no one will be turned away for lack of ability to pay. Users either pay full fare or pay what they can. The Y's fund-raising campaigns focus on capital and for financial assistance that helps offset what some users cannot pay. In Volusia County last year, the Y gave out over $260,000, enabling children and families to participate in programs at the Y.
That ecumenical, giving aspect of the Y–one of the reasons its brand is beloved and almost immune to negativity–is a particular attraction to Alfin.
"I'm deeply concerned about the the divisiveness and the separation in our community as we step forward into another election cycle," the mayor, who's dealt with the divisiveness first hand at the council, said. "What Chris was saying with the philosophy and the vision of the Y is that they don't turn away anybody: this is a place now where everybody can be a part of a unified, coherent, cohesive, help-each-other community. You can't find many places like that anymore. And nobody, nobody pushes back on that."