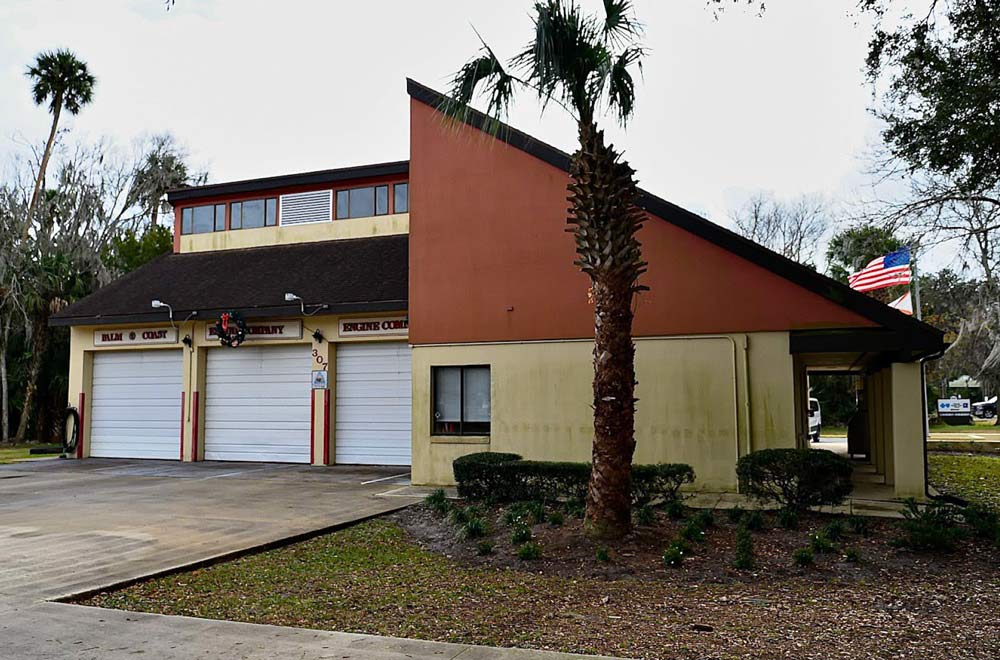 Palm Coast is focusing on the positive: scoring $54.6 million out of $59.6 million in legislative requests, not including more than $1 million to be earmarked for a new YMCA in the city.
Seven of the city's eight requests for money from the Legislature survived Gov. Ron DeSantis's veto. The exception was $5 million earmarked for a new Fire Station 22 further east from the current Station 22, the oldest in the city's five stations.




"It's hard to feel like you had a bad day when the ability to move forward with station 26 got signed," Palm Coast Fire Chief Kyle Berryhill said. Fire Station 26 would be a new addition to the city's inventory. It will be built on Seminole Woods Boulevard, about a mile south of State Road 100. That project got a $5 million appropriation.
"We certainly would have loved to have had the funding for both. But we understand, we made our case, and everybody's trying to be responsible with taxpayer funding," Berryhill said. "We're going to continue to try and figure out what the timeline is for Station 22 Because I think as a city, we're committed to that project. But projects move up and down as funding becomes available from time to time. And we're really excited about the potential for building a station in the Seminole Woods neighborhood."
The station would be located near Grand Landings Parkway, which would eventually link up to the west with Citation Boulevard, enabling fire coverage for Seminole Woods and Quail Hollow. The city has already retained a design firm –SchenkelSchultz of Orlando. The station is being designed for about $480,000. It would be built next year and open in October 2025.
Station 26 would be staffed with nine additional city firefighters and would have room for a county ambulance and its two-person crew, or six paramedic-firefighters to cover the three shifts. Station 22 would not require additional staffing since it would only be moving a few blocks west. The city is hoping to repurpose the building, or demolish it. Either way, it would expand Palm Coast Community Center parking to land in and around the current Station 22. (See: "'Historic' Fire Station 22 Will Move to Colbert Lane and Make Room for Community Center Parking.")




Palm Coast Mayor David Alfin said a new Station 22 will still be built, even without a state appropriation. "I do believe that we will build it. I've already asked staff to to identify the funding source to pay for it," Alfin said this morning. The city has fire impact fees and other sources of revenue to rely on. "The timeline is inviolate," he said. The design firm will also design Fire Station 22.
The fire department is under a council directive to arrive at the scene of an emergency within 7 minutes, no fewer than 85 percent of the time.
The Volusia Flagler YMCA has been looking to life up to its name–to return an actual YMCA to Flagler County–for a few years. Its legislative request was for $3 million, in part to complete renovations of YMCA facilities in DeLand, Ormond Beach and Deltona, to replace soccer fields, and to build a sidewalk at Camp Winona in De Leon Springs. Plus, $1 million was to be earmarked as foundation money to bring a YMCA to Flagler County, in cooperation with Palm Coast government. The Volusia Flagler YMCA was to match the request with $7.5 million of its own. How much of that was to be part of the Flagler project was unclear.
"Dollars will help construct a new family center in Flagler County," the request stated. "For the new YMCA in Flagler County we are partnering with the city of Palm Coast to build a 35,000 square foot facility. We anticipate a membership base of 6,000 in addition to 17,000 individuals utilizing the facility through program use for aquatics, youth sports, child care, summer camp, community programs and event rentals. The facility and program usage are modeled after the current Ormond Beach Family YMCA. We anticipate similar usage patterns as many of the community needs we meet in the Ormond Beach community are similar to the needs identified in the Flagler County community."




The Legislature instead approved $5 million, and the governor let that stand.
"I am hopeful that I can lobby the YMCA to accelerate their timeline and perhaps even increase the–I don't want to say the size, but the the level of the YMCA," Alfin said today. "I am lobbying for the best quality state of the art model YMCA for the 18th fastest growing city in the United States."
To Alfin, the YMCA project in palm Coast is no longer in doubt. "I'm 100 percent committed and confident that we will break ground," he said. The city is providing a "priority option" in Town Center for the new facility. The YMCA has not yet committed to a location.
Its presence in Palm Coast would be critical not merely as a new Y in and of itself, but as a solution to the school district's and Palm Coast's own challenges with their own fitness facilities and aquatic centers. The school district is looking to the eventual YMCA as a way to possibly phase out public use of the Belle Terre Swim and Racquet Club. The city's swimming pool is aging, as is the facility around it. (See: "3-2 Vote to Keep Belle Terre Swim Club Open Is Only One More Uncertain Reprieve for Troubled Facility" and "Coming YMCA Could Give Belle Terre Club a Few Years' Reprieve. 2 School Board Members Won't Hear of It.")
DeSantis cut just over half a billion dollars with line-item vetoes from the $117 billion budget the Legislature approved. It was far less than the $3.3 billion he vetoed last year. Almost all of the projects benefiting Palm Coast, Flagler County and its cities survived, including a $5 million appropriation for the Flagler Beach pier and a fire station and administration building for the county. The county's and cities' success is a reflection of its representation by Rep. Paul Renner, the Speaker of the House this year and next.
Among the funding requests that DeSantis vetoed were a Black History Month celebration for Orlando and a $200,000 project designed to highlight Florida's contribution to Black music. The governor also cut 17 drainage improvement projects and $6.4 million that had been earmarked for renovations of 21 public broadcasting stations across the state. DeSantis is not a fan of public radio.

2023 Appropriations
Government Agency
Project
Appropriation
Palm Coast
Volusia-Flagler YMCA
$5 million (*)
Palm Coast Fire Station 22 Vetoed
$5 million
Palm Coast Fire Station 26
$5 million
Weir replacement
$1.25 million
Belle Terre Parkway Safety
$4.5 million
Matanzas Woods Parkway Extension West
$25 million
North Old Kings Road Widening Phase 2
$18.3 million
South Old Kings Road Phase 2 Study
$500,000
Flagler County
Combined Fire Administration and Fire Station
$10 million
Integrated Stabilization Unit and Men's
Substance Abuse Treatment Facility
$10 million
Wildlife Corridor Tract Acquisitions
$4.3 million
South Library funding grant
$500,000
Flagler Beach
Pier Removal and Replacement
$4.5 million
Bunnell
Water Treatment Plant and Distribution System
Projects
$4.5 million
Remediation of the Historic Coquina Bunnell City
Hall
$870,000
Flagler County Sheriff's Office
Rapid DNA Technology
pilot program
$250,000
Flagler County Schools
Adults with Disabilities Program
$535,000
Daytona State College, Palm Coast
Amphitheater Improvements
$3.35 million
Florida Highway Patrol
Supplemental Pay for Flagler-Based Troopers
$5,000 (**)
(*) In early April, Chris Seilkop, president and CEO of Volusia Flagler Family YMCA, said the organization was requesting $3 million from the legislature, $1 million of which would be devoted to starting up a YMCA in Palm Coast. It isn't yet clear how much of the $5 million would be earmarked for Palm Coast, should it survive a veto.
(**) Per trooper.
Final-Veto-List-2023