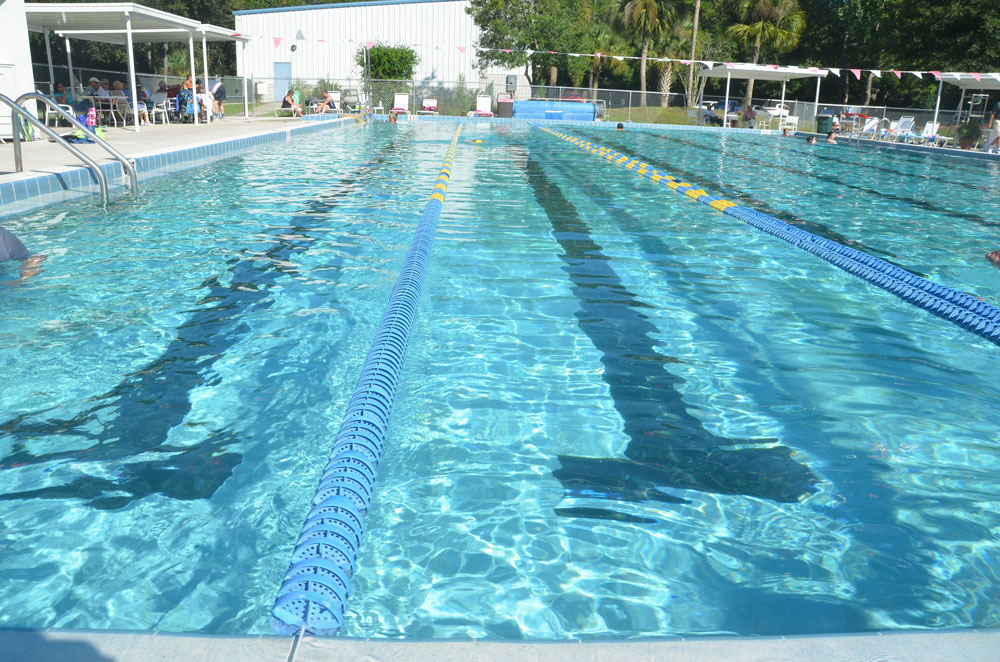 After yet another round of hardened, inconclusive debate over the fate of the Belle Terre Swim and Racquet Club during the school board's workshop on Tuesday, the board agreed to vote on the matter one way or the other at its May 16 meeting. But this time a new element is in play, with the very strong possibility of a YMCA coming to town in a few years.
The when the board votes choice will be between keeping the facility open as is, with public memberships, or closing it to the public–at least in its current model–and re-focusing it on students. The public could still rent the facility by the hour, through the same district use-of-facilities agreement and fee structure that enables school property rentals for churches, sports or other events.




When the board last discussed the matter at a special workshop on April 4, for what seemed like the hundredth time since 2015 (it's only a slight exaggeration), Board members Colleen Conklin and Cheryl Massaro were for keeping the facility open for the public. Will Furry and Christy Chong were for ending the public membership model and running it as a student-centered facility. Sally Hunt was undecided.
If that breakdown holds, the fate of the facility will be in Hunt's hands. There were no indications on Tuesday that any of the board members had changed their mind, or made it up, in Hunt's notoriously indecisive case.
But there was that key development. Since the April 4 meeting, the Volusia-Flagler YMCA's plan to open a YMCA in Palm Coast, possibly in two years (that's the most optimistic projection), changed the dynamics of the conversation, since a Y with a pool could fill the Belle Terre club's role. (See: "Volusia-Flagler YMCA and Mayor Alfin in Big Push to Open Y in Palm Coast in About 2 Years.")
"We have heard from multiple members and the community through our Let's Talk app who have asked us to keep the facility open until the YMCA comes online," Dave Freeman, the district's Chief of Operational Services, told the board. "So with that being said, I would want to ask you if you would like us to table this discussion and continue current operations at the Belle Terre Swim and Racket Club for another year while we work with the city of Palm Coast for bringing the YMCA to the community and we can focus on our K-12 needs."
"I would love that," Conklin immediately said.




Furry would not. He acknowledged that the Y's projects appears stronger than past possibilities, but he didn't buy the two-year timeline. (But the Volusia-Flagler YMCA itself only offered up that timeline as a hope, not a certainty.) Furry continues to see the club as "a distraction that is keeping us from our core mission. And it has been for a long time. And I really believe that it is not the place of a school to provide a community amenity." He would also close the gym there.
He argued that even if the facility were closed to memberships, the public, by renting time there, could form an organization that could buy blocks of time–and end up paying less per person than it would through memberships. (Those numbers have not been worked out and seem off the mark: while the facility could be rented for $50 an hour, those costs would add up fast over time.)
To run the facility only for students would cost $81,000 for the year. It would cost double on a membership model, according to figures provided the board, though Conklin and advocates for the facility say that figures don;t reflect what a membership drive could bring in, and how the last few years' uncertainty and the pandemic depressed revenue there. Still, the facility has been bleeding red for many more years than that.
"This is something that's on life support and has expired in my opinion," Chong said.




To Conklin, closing the facility to public uses is short-sighted. "If we're going to keep it for student use, no matter what we do, we're going to have to do the capital improvements, period, whether it's community use or student use. The capital improvements have to be done. It doesn't matter. It's not going to be cheaper." She said the county is growing fast, with only Palm Coast's swimming pool and the district's as public options. She sees the facility as underused.
"You could do swim lessons," she said, "you could provide certified lifeguard classes. You could do swim classes, you could do aqua aerobics. You could maybe talk to Advent about utilizing the pool for therapy. You've got the Synchro Belles, the Fluid, you could do underwater hockey, even beginning of water polo. There's all sorts of classes that could be developed. For the last year or two years nobody's been doing anything because everybody's just been waiting for this doom to end it, pull the plug, ever since Covid. The effort's never been put in to bring it back post-Covid."
Conklin pressed for at least giving the facility another year. "At the end of the day, this community needs more than just one community pool," she said, "and I agree, no offense to anybody tied to Bell Terre Swim and Racquet Club, but I'm sick and tired of talking about it as well." But she doesn't want the place unnecessarily "sabotaged."




Furry sensed that Conklin's argument could pick up momentum, especially if it had time to propagate. He wanted to vote on the issue at Tuesday evening's meeting. He said it should have been on that agenda. Kristy Gavin, the board attorney, told him it wasn't.
"I thought you said you reserved a space at the last meeting for tonight," Furry told the attorney. "I didn't check but I just remember what you said."
"I don't believe that it's on for tonight, because they were coming back with proposals," Gavin said.
But Furry remembered correctly. Gavin had said the item would be on the agenda, at least as a place-holder.
At the special workshop in early April, she had said that "we could have it on the board meeting as an agenda item for a vote. Just because it's on the meeting for a vote, it can always be pulled from the meeting for a later time to be voted upon. If at that one o'clock hour you're not ready for a vote, if you still need more time."
Tuesday's workshop was that 1 p.m. meeting, and in some board members' views, and Freeman's, the operations director, there clearly was new information worth considering.
The board could not agree which direction to take just yet. Hunt did not tip her hand. So the vote will take place on May 18, once again giving the advocates and opponents of the Belle Terre Swim and Racquet Club to mobilize.