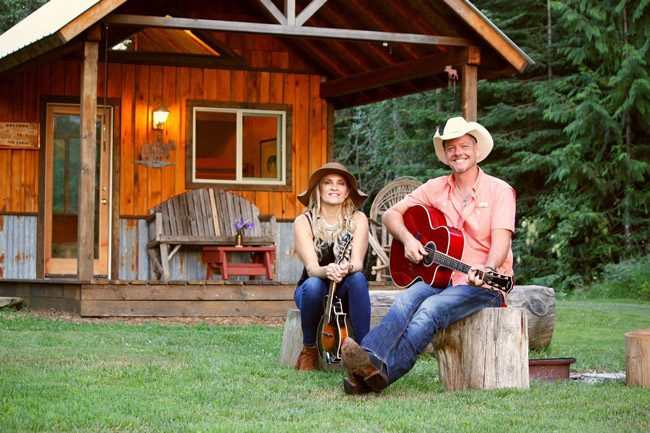 When country music artists Thom Shepherd and his wife Coley McCabe played in Key West a few years back, McCabe performed "I Am a Woman."
"It's a beautiful ballad, a tribute to women," says Shepherd, who co-write the song with Nashville-based songwriter Mary Sue Englund. "This guy came up to us after the show and started talking to Coley, and he couldn't even talk — he just started bawling. He was just so choked up. He said the song reminded him of his mother. He could hardly get it out."
Shepherd, McCabe and 12 other songwriters with more than 50 number-one hits between them – mostly on the country charts – will not only perform their works but talk about the stories behind them at the Palm Coast Songwriters Festival. The event will be held at two outdoor venues with covered seating in case of rain: at the Daytona State College Palm Coast Amphitheater Friday May 3 and Saturday May 4, and at the Palm Coast Arts Foundation's stage on Sunday May 5. A full schedule, ticket prices and other details are included below.
Shepherd, known for writing or co-writing such hits as "Riding with Private Malone" and "Redneck Yacht Club," and McCabe, known for her hit "Grow Young with You" from the film "Where the Heart Is" starring Natalie Portman and Ashley Judd, will perform those songs and take audience members behind the scenes of their creations.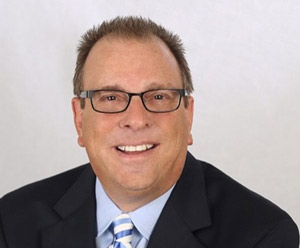 Garry Lubi, a senior vice president at CenterState Bank in Palm Coast and a co-founder of the festival, recalls the first time he heard Shepherd perform "Riding with Private Malone," a heart-tugging tale about a modern-day army vet who buys an "old Chevy" and discovers in its glovebox a letter from a vet who died in Vietnam.
Lubi was a fan of the Eagles, James Taylor, Dan Fogelberg, Jimmy Buffett and Jackson Browne when he began adding country music to his listening mix in the early 1990s. When he and his wife Barbara moved to Nashville in the late '90s, they visited a downtown honky-tonk where Shepherd happened to be playing.
"I'll never forget when he played 'Private Malone' in that honky-tonk and he told the story behind it and how it became a hit," Lubi says. Yet it wasn't until the third time Lubi heard it, over the next several weeks, "that it clicked for me. I'm looking at my wife and saying, 'Are you listening to this song?' I almost had tears coming down my eyes."
Shepherd and the Lubi's became friends, to the point where Garry calls him "the little brother I never had," and Shepherd would invite "Mr. Drysdale" – his nickname for Lubi, drawn from the banker character on "The Beverly Hillbillies" — to strum rhythm guitar onstage when Shepherd's band performed such Eagles hits as "Take It Easy" or "Lyin' Eyes."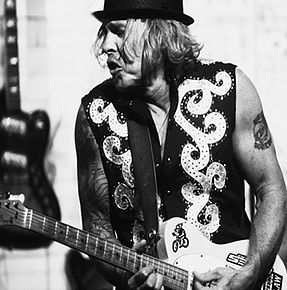 After the Lubi's moved to Palm Coast in 2007, they remained friends with Shepherd and McCabe, who had relocated to Bandera, Texas, just outside San Antonio, to continue their songwriting and country music careers. Several years ago, Garry organized a small, intimate concert for the country music couple at Canopy Walk, the condominium community where he lives in Palm Coast.
Lubi had attended the decades-running Tin Pan South Songwriters Festival in Nashville, and he and Shepherd kicked around the idea for such a fest in Palm Coast. Lubi invited David Ayres, vice president and general manager of Flagler Broadcasting and its stable of area radio stations, and John Walsh, publisher of the Palm Coast Observer, to a 2017 Canopy Walk concert by Shepherd and McCabe.
"It was like the lightbulb went on in them," Lubi says.
Between the foursome, the Palm Coast Songwriters Festival was born. With the help of Flagler County's Tourist Development Council, the first fest was held in May 2018.
"The great thing about a songwriters show is you get the story behind the song — where it came from, what was the inspiration, why the song was born," says Shepherd, who graduated from George Mason University in Virginia and moved a week later to Nashville, where he landed a job as a staff songwriter at various music publishers over the next five years.
"We kind of tell the story behind the song and then play it," Shepherd says. "Typically when we do a songwriters show, you do your hit songs and sometimes some new stuff that you think might be a hit in the future, so people kind of get a sneak preview of what's coming up. It's amazing to see people's reactions when they hear the original songwriter's version of it. People always have a story, some connection — especially with 'Private Malone.'
"When you write a song, you don't know how it's going to affect people. You don't know that it's going to be a hit. You don't know that it's going to make you any money. But there are those times where you've written songs that have really touched people's lives."
He tells a story behind "A Father's Love (The Only Way He Knew How)," a song he co-wrote with two others.
"It's a song about my dad and my co-writers' dads," Shepherd says. "The hook of that is he was saying 'I love you' the only way he knew how. Basically he never said the words but he came over and fixed the stuff at your house, helped you whenever you needed him and things like that.
"I've had people tell me that song brought their family back together. One friend told me her dad and her brother were estranged for years and years. She finally made them sit down and listen to that song together, and it actually mended their relationship and brought them back together. Powerful stuff."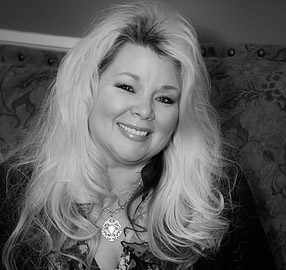 Other festival performers include Jesse Rice (co-writer of "Cruise," that mega-hit by Florida Georgia Line, and "A Little Dive Bar in Dahlonega"), Jim Collins (co-writer of the Kenny Chesney hit "She Thinks My Tractor's Sexy"), Leslie Satcher ("When God-Fearin' Women Get the Blues," "Rock of Your Love"), Stephony Smith ("Perfect Love," "How Was I to Know"), Chris Wallin ("I'm Tryin'," "Don't Blink"), Jeffrey Steele ("The Cowboy in Me," "Knee Deep"), Anthony Smith (co-writer of "If That Ain't Country" and the George Strait hit "Cowboys Like Us"), James Slater ("Key West Address," "In My Daughter's Eyes"), Lee Thomas Miller ("Crushin' It," "People Loving People"), Kylie Sackley ("You Broke Up With Me"), Tyler Reeve ("A Bar for That," "Bud-Wiser," "I Owe You a Beer,") and Brett Jones ("Little Past Little Rock," "Crazy Town," "If Heaven Wasn't So Far Away").
A songwriters workshop will be held at 1 p.m. Saturday, May 4 at the Daytona State College Palm Coast Amphitheater. The panel discussion, included with festival admission, will feature some of the headliners talking about their craft, plus a question-and-answer session with local and-or aspiring songwriters and audience members. Three local songwriters will perform immediately following the workshop: Taylor Phillips, a senior at Mantanzas High School who is dually enrolled at Daytona State College; Palm Coast resident Michael Scerbo, and Satellite Beach resident Damon Pullias.
The Palm Coast Songwriters Festival will be held 6 to 10 p.m. Friday May 3 and 1 to 10 p.m. Saturday May 4 at the Daytona State College Palm Coast Amphitheater, 3000 Palm Coast Parkway SE, Palm Coast, Florida. The third day of the festival will be held 1 to 5:15 p.m. Sunday May 5 at the Palm Coast Arts Foundation stage, 1500 Central Ave., Palm Coast.
General daily admission lawn-area tickets are $20 per day. Silver daily admission covered-area tickets are $30 per day. Silver covered-area three-day passes are $75. Gold VIP front-area three-day passes, which include Friday night dinner and an artist meet and greet, are $125. As of press time, Lubi said only seven VIP passes remain (out of 177 seats).
Tickets are available at the gate and online at palmcoastsongwritersfestival.com. Seating is first come, first served. General-admission ticket holders should bring chairs; blankets to sit on are not allowed. Silver daily ticket holders will have chairs provided on Friday and Saturday. Sunday Silver daily ticket holders will need to bring a chair to the Palm Coast Arts Foundation. Silver three-day and Gold ticket holders will have seating provided on all three days.
Both venues have a covered area and the show will go on rain or shine. Coolers, pets and firearms are not permitted. Food trucks will be at the festival, and beverages, including beer and wine, will be available for purchase (cash, debit and credit cards accepted).
Gold VIP ticket holders and those with sponsor ticket package admission are advised to arrive between 4:30 and 5 p.m. Friday May 3 to allow time for dinner prior to the show starting at 6 p.m.
A portion of festival proceeds will benefit the Daytona State College Foundation and the Palm Coast Arts Foundation.
​See the website for more information.

Here's the schedule, which is subject to change:
Friday May 3 (gates open 4:30 p.m.)
* 6 to 7:50 p.m. — Jim Collins, Leslie Satcher, Stephony Smith and Chris Wallin
* 8 to 10 p.m. — Smith Steele (Anthony Smith and Jeffrey Steele)
Saturday May 4 (gates open 12:45 p.m.)
* 1:15 to 1:55 p.m. — Songwriter panel discussion
* 2 to 2:55 p.m. — Local/Florida songwriter round featuring Taylor Phillips, Damon Pullias and Michael Scerbo
* 3 to 4:05 p.m. — James Slater and Leslie Satcher
​* 4:15 to 6 p.m. — Jim Collins, Thom Shepherd and Coley McCabe
​* 6:10 to 8 p.m. — Lee Thomas Miller, Stephony Smith and Kylie Sackley
​* 8:10 to 10 p.m. — Anthony Smith, Chris Wallin and Tyler Reeve
Sunday May 5 (gates open at noon)
* 1 to 2:45 p.m. — Thom Shepherd, Coley McCabe and Lee Thomas Miller
​* 2:50 to 4:20 p.m. — Jesse Rice and Brett Jones
​* 4:25 to 5:15 p.m. — James Slater