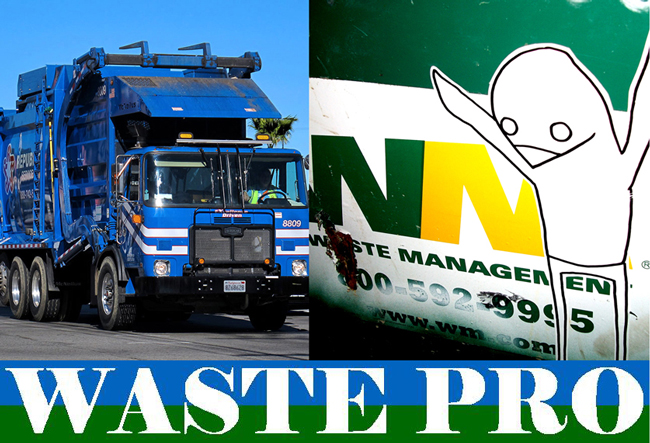 In a striking turn-around, Palm Coast City Manager Jim Landon this morning withdrew his recommendation that he be given authority to negotiate a five-year extension of the contract with Waste Pro, the city's garbage hauler. Landon recommended instead that the city open up the process to a competitive request for proposal from all companies interested in bidding for a contract valued at more than $7 million a year.
The switch is reflective of mounting public pressure on council members not to skirt the bidding process. The Palm Coast City Council's meeting room at the Community Center was filled with residents and waste hauler representatives–including Waste Pro employees in uniform–ready to address the council. Most would have opposed Landon's original recommendation to merely re-negotiate. Landon's move preempted what would have likely been an excoriating experience for council members, two of whom, including Mayor Jon Netts, are running for re-election.
Netts, who was strongly behind Landon's initial proposal to extend the Waste Pro contract, also switched position.
"I'm going to surprise Diane here, so Diane don't fall off your chair," Landon said, prefacing his explanations on the switch this morning. Dianne Torino is the city's contract manager. She had just taken a seat at the presentation table before council members. "But I do my best thinking in the shower and this one has been a real struggle," Landon said. "Process is, actually I always say, is about 98 percent of what is important to the public, and that is, you have to have a fair process. And even if your outcomes are good, if your process is not, and it's not perceived as being fair, then your outcomes are usually criticized."
Bill Lewis, the council member who, alone, had openly and strongly opposed the city manager's approach of not going to bids until now, was pleased by the outcome, but not without remarking on the way it was achieved: the council could, in other words, have directed the administration to go out to bid last week, when it first discussed the matter broadly.
"It's unfortunate that we're doing this today as opposed to not doing it at the workshop," Lewis said, "because I think when you look at the population of Palm Coast, a lot of people come from the northeast, and they have a term they use up there when they see something like this, I think you all know what it is, it's called a sweetheart contract. That's what I've been bombarded with–what's the city doing, they're not going out to an RFP. Everyone who's talked to me have been satisfied with the actions of Waste Pro." But, Lewis added, "it's the method or the process we're about to enter into that I think got people upset."
Landon said he was looking to preserve a quality service, preserve the 60 jobs that Waste Pro provides, and "guarantee a reduction in the monthly bill that every resident pays in Palm Coast, and actually have that monthly charge that we put on the utility bill go down." He added: "The only way that you can guarantee that those three outcomes to occur is to extend the current contract."
Competing garbage haulers disagree: Waste Management and Republic Services Inc., the nation's first- and second-largest haulers, who are interested in bidding on the Palm Coast contract, claim they can lower prices and maintain quality services, as they do elsewhere. What jobs would be lost would be made up through the new contract, though disruptions would inevitably occur. Indeed, Waste Pro itself is making the very same arguments in Hillsborough County, where the county commission is considering extending a contract with Waste Pro competitors–and keep Waste Pro from bidding.
"The problem is that most people proceed the fair thing to do is to have a competitive bid process," Landon said, " And I know that city council's gotten a lot of feedback from the community about open bid process is the right thing to do." As he has on occasion lately, Landon then got slightly personal to describe his other line of thinking, what he described as "a concept that my wife taught me many years ago, and that is that I usually have on key issues at home two options. I can fight about it and do it her way, or I can just do it her way. But it's my choice."
In other words, the city council had no choice, given public sentiment. "I think that very likely needs to go out to bid. From a business standpoint, it makes more sense to guarantee your outcomes, but from a public process standpoint, your credibility is hurt if people don't believe you're being fair."
It won't be just a request for low bids, but for broad, detailed proposals that will include but not be limited to price. "I want to stress this will not be a typical bid just give us your price. This will actually be an evaluation. And I guarantee you, because I've done this before, that the waste haulers will not make this easy," Landon said, saying the RFP will be written in such a way as to require that the haulers provide items that have to be in the contract and items that may be optional, but at an additional price. "But we do this with a lot of the other contracts that we go out and request for proposals for, and local preference will be one of them."